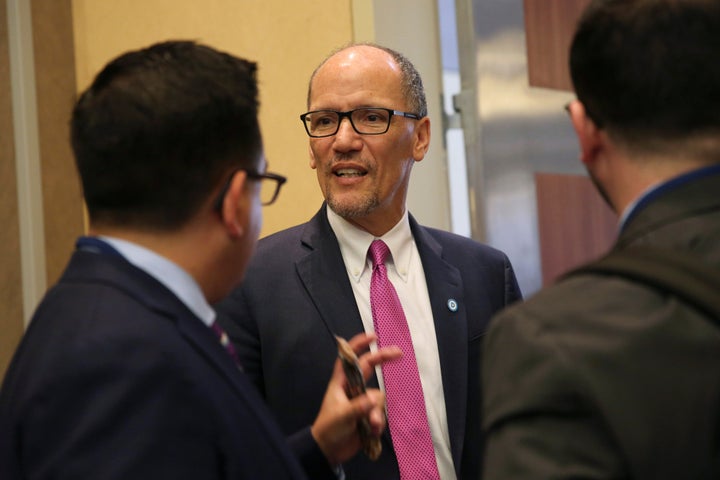 CHICAGO ― A dispute over how changes to Democratic Party rules would affect racial representation dominated official debate in the final days and hours before Saturday morning's vote on a historic reform proposal.
The biggest and most controversial change that the more than 400 voting members of the Democratic National Committee are due to consider is a proposal to greatly diminish the power of so-called superdelegates ― the presidential nominating convention delegates free to support a presidential candidate of their choosing, regardless of how primary or caucus voters cast ballots in their state.
Curbing the influence of superdelegates, which include members of Congress and all DNC members, was a key goal of Sen. Bernie Sanders' supporters following the 2016 presidential primary. They argue that Democratic rival Hillary Clinton's early support from superdelegates created an air of inevitability that unfairly tilted the race in her favor, whether or not it affected the contest's final outcome.
At the DNC's summer meeting in Chicago, which began earlier this week, a small but vocal group of DNC members critical of the reform plan has argued it would diminish the influence of African-Americans and other minorities.
The argument, presented chiefly by veteran black officials such as 2016 Democratic National Convention Committee CEO Leah Daughtry and former DNC Chairwoman Donna Brazile, is that, after decades of hard work climbing into the halls of power, black Americans enjoy stronger representation among the ranks of superdelegates than ever before. Their presence in Democratic officialdom ensures black influence on the presidential nominating process even if ordinary, "pledged" convention delegates do not.
As a member of the DNC's powerful Rules and Bylaws Committee, Daughtry helped develop the superdelegate reform proposal and voted in favor of its passage out of committee in late June. The plan, supported by DNC Chairman Tom Perez and key Sanders loyalists, strips superdelegates of the ability to vote on the first ballot at a presidential nominating convention ― unless a candidate already has such a large delegate advantage from caucus and primary wins that he or she would win the nomination without superdelegate support.
Members of Daughtry's community in Brooklyn, New York, beseeched her to reconsider her support for the reform in the weeks after the committee's vote, prompting her to change her mind, she said.
"People from my community who have their various issues ― with me, with the [Congressional Black Caucus], with other people ― they're like, 'You get on our nerves, but at least we know you're in the room for us. And that's better than us having nobody in the room,'" Daughtry said.
The grassroots are more diverse. And more participation from the grassroots would mean more diversity at the convention.

Ron Harris, Minnesota DNC member
Michelle Bryant, a Democratic Party activist from Milwaukee, Wisconsin, who was attending the DNC meeting as a guest, said the reform might have an especially acute effect on black convention representation in Wisconsin, where African-Americans are less than 7 percent of the population but benefit from a disproportionate presence in party officialdom.
The Democratic officials advocating a reduction in superdelegate influence claim it is essential to winning the confidence of the millennials who went for Sanders (I-Vt.) and are less likely to formally identify with the Democratic Party.
But Daughtry claimed that in her African-American community in Brooklyn, millennial activists, many of whom voted for Sanders, do not care.
Asked whether she thought concerns about superdelegates were mainly limited to white voters, Daughtry replied, "Yeah, in some cases, I do."
Daughtry also denied that Perez's decision to dismiss her as head of the party's scouting efforts for the 2020 national convention site had contributed to her change of heart on the reform proposal.
"I have more integrity than that," she said. "I have always supported the prerogative of the chair to hire who he or she pleases."
However, proponents of the reform ― who include both Sanders and Clinton voters of diverse racial backgrounds ― expressed confidence Friday that the DNC membership would approve the proposal Saturday morning.
In making their case, reform proponents maintain that the change would actually increase the influence of people of color in the party, since the pledged delegates were more diverse than the superdelegates.
The greater diversity among pledged convention delegates simply reflects the fact that even in the Democratic Party, the racial makeup of elected officials has yet to completely reflect the diversity of the party's voters, according to Texas Democratic Party Chairman Gilberto Hinojosa.
"The rule strengthens minority and ethnic groups' position in our party," he said.
Rather than reflect a division between black and white Democrats, the disagreement over the role of superdelegates appeared to break down along generational lines.
DNC Vice Chair Michael Blake, Wisconsin Democratic Party Vice Chair David Bowen, DNC Black Caucus Treasurer Khary Pennebaker and Minnesota DNC member Ron Harris are among the younger black DNC officials who support reform and have publicly advocated for it.
"The grassroots are more diverse. And more participation from the grassroots would mean more diversity at the convention," Harris said.
Harris, who travels across the Midwest in his capacity as chairman of the DNC's Midwestern Caucus, said he often meets voters who agree with Democratic policy positions but have the vague impression that the party is not attuned to their needs. Diminishing the power of superdelegates was about demonstrating to those Americans that the party was committed to giving them an equal say, Harris argued.
"The average American will never be able to say what a superdelegate is or a DNC member or even articulate what we did this weekend," Harris said.
But, he continued, "what we'll be able to say to them at the doors or the conventions or the rallies is, 'Yeah, you may not know all this stuff, but what you'll know is we listened. We reflected your voice and we reflected your values. And even though it was uncomfortable for us, we listened.'"
REAL LIFE. REAL NEWS. REAL VOICES.
Help us tell more of the stories that matter from voices that too often remain unheard.
BEFORE YOU GO
PHOTO GALLERY
2017 Scenes From Congress & Capitol Hill