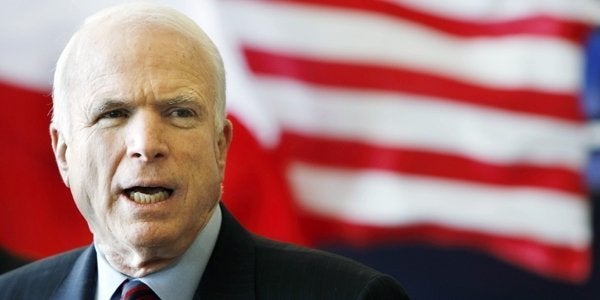 John McCain "defended himself Friday against television ads that accuse him of advocating a 100-year war in Iraq," the AP reported. (The Huffington Post unveiled the DNC's Iraq ad -- you can view it here.)
The ads tie McCain to President Bush and cite McCain's comments that there could be an American military presence in Iraq for 100 years. They are being run by the Democratic National Committee and the liberal group MoveOn.org.

"One hundred years in Iraq? And you thought no one could be worse than George Bush," an announcer says in the most recent ad, run by MoveOn.org.

McCain brought up the commercials at a town hall meeting Friday in Denver, saying they are lies. He doesn't deny saying "100 years" in connection with U.S. military operations in Iraq, but says he was clearly referring to a possible peacekeeping force -- not a centurylong war, as critics imply.

"You have seen an ad campaign that is mounted against me that says I wanted to stay and fight in Iraq and fight for 100 years," McCain told about 300 people at the Robert E. Loup Jewish Community Center.

"My friends, it's a direct falsification, and I'm sorry that political campaigns have to deteriorate in this fashion," McCain said. "Because there's legitimate differences between myself and Senator Obama and Senator Clinton on what we should do in Iraq."
But the DNC is hardly backing down. In a statement released to The Huffington Post late Friday, DNC communications director Karen Finney said, "John McCain should stop whining. We can see why John McCain doesn't want people to see this ad, but its time for him to defend his own words. Clearly John McCain knows that the more people learn about his real record and his willingness to keep our brave troops in Iraq for 100 years, the more they'll see he is not the right choice for America's future."
Moreoever, the Dems pointed to a new poll showing why McCain is "so upset":
Results from a new national study among 629 self-reported Democrats, Republicans and independent voters showed that after viewing a new DNC ad attacking Senator McCain, independent voters' favorability ratings of the senator decreased by 10% points.


The study was conducted by HCD Research on April 29, 2008, to obtain Americans' perceptions of a new DNC ad entitled "100" that attacks Senator John McCain. The ad features a clip from a January 3, 2008 town hall meeting in Derry, New Hampshire in which Senator McCain responded with his hundred year remark to a comment from an audience member who mentioned last year's White House statement about the U.S. having a possible 50 year military presence in Iraq.

Among the study findings:

• Prior to viewing the ad, 57% of independents rated Senator McCain as either "Very Favorable" or "Mostly Favorable." After viewing the ad the number dropped to 47%. On the same measure, favorability ratings of Senator McCain by Republican viewers decreased by 4% points after viewing the ad, 80% to 76%.
• In response to a hypothetical election matchup between Senator McCain and Senator Barack Obama, survey participants favored Senator McCain 39-36 prior to viewing the ad and favored Senator Obama 40-36 after viewing the ad.
• In response to a hypothetical election matchup between Senator McCain and Hillary Clinton, survey participants favored Senator McCain 40-38 prior to viewing the ad and favored Senator Clinton 41-38 after viewing the ad.
Calling all HuffPost superfans!
Sign up for membership to become a founding member and help shape HuffPost's next chapter