I've spoken before about the extreme differences between the Republican Party and the Democratic Party as regarding LGBTQ rights in General and transgender rights in particular, but in this election year, 2016, the extreme is pushed to the limits.
Despite the efforts of the few social moderates who remain with a voice, the 2016 RNC Convention Platform has apparently reached a new nadir in fostering hate and discrimination in their platform by also encouraging torture of LGBTQ youth by embracing conversion therapy, supporting North Carolinas HB2 and similar State legislation, and rejecting same sex marriage. (See the report in Time.)
The 2016 DNC Convention Platform is poised to be the most inclusive and positive for transgender Americans ever. The Rules for the Convention, the "Call" is the most inclusive and as of a week before the Convention begins, we have now identified 28 out Transgender Delegates who have been elected or appointed, a whopping 100 percent increase over the record 14 of 2012. Although the overwhelming majority are first time delegates, and come from states who are sending trans delegates for the first time, it is a very diverse group reflecting the overall demographics in the Democratic Party's umbrella. Youth, Seniors, People of Faith, Labor leaders, progressive activists, Educators, Small Business entrepreneurs, Veterans, NGO employees, long term Democratic Party officials.
1.Laura Calvo -DNC Member -Oregon, LGBT Caucus Vice-Chair, this is her 2nd Convention
2.Barbra Casbar Siperstein-DNC Executive Committee Member-NJ-This is her 4th Convention
Delegates, Alternates, Committee Members:
3.Janice Covington Allison-NC-Credentials Committee, this is her 2nd Convention
4.Q Taylor Banister-CO-Alternate-1st time
5.Brandi Bowers-NE-Delegate-1st time
6.Joanne Carroll-PA-Delegate-1st time
7.Kimi Cole-NV-Delegate-1st time
8.Sharron Cooks-PA-Delegate-1st time
9.Monica Paige DePaul-FL-1st time
10.Mara Glubka-MN-Delegate-1st time
11.Anita Green-MT-Delegate-1st time
12.Sophia Jean Hawes-Tingey-UT-Delegate-1st time
13.Mara Keisling-DC-At-Large Platform-1st time as officially part of Delegation
14.Jennifer Long-NJ-Delegate-1st time
15.Wendy May-NC-Alternate-1st time
16.Merrick Moses-MD-Delegate-1st time
17.Teresa Ninneman-WI-Delegate-1st time* (unable to attend)
18.Danielle Jessica Pellett-TX-Delegate-1st time
19.Lesley Rebecca Phillips-MA-Delegate-2nd time
20.Cole Richardson-OR-Delegate-1st time
21.Mia Satya-CA-Delegate-1st time
22.Tessa James Scheller-OR- Delegate-1st time
23.Nico Serra-OR-Delegate-1st time
24.Melissa Sklarz-NY-Delegate-4th time
25.Jeanne Smith-IN-Delegate-1 Time
26.April Spilker-CA-Delegate-1st time
27.Lou Weaver-TX-Delegate-1st time
28.Tiffany Woods-CA-Delegate-1st time
Stunning is the number of 1st time delegates and the number of states sending delegates for the first time, such as CA, MT, FL, UT and NV!
States with multiple delegates are Oregon with 4, California-3, New Jersey, North Carolina, Texas and the host state, Pennsylvania each with 2.
The actual platform when approved at the Convention will be the Strongest ever for LGBT non discrimination and full inclusion!
Indications are that the LGBT Delegation will be the largest ever as a percentage of the total delegate representation.
The DNC Convention July 25-28 will be extraordinary!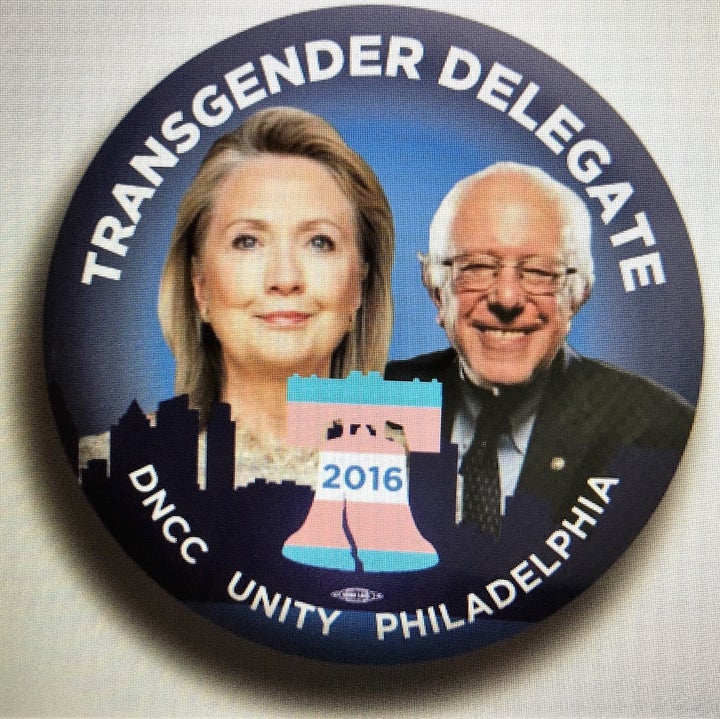 Popular in the Community