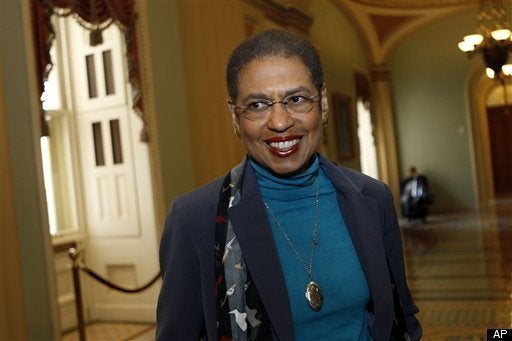 Far be it for me to criticize the campaign arm of the White House/DNC, Organizing For America, seeing as they have successfully gotten one more president elected to office than I have. But I have to think that if you want to maintain this reputation of being awesomely granular sorters of voter data and skilled messaging micro-targeters who can quickly and effectively align voter support for key priorities, then the emails you send out to constituents ought to demonstrate that you have a functioning understanding of how... say, the U.S. House Of Representatives works. That way, you avoid sending voters perplexingly useless missives, like the one that Mitch Stewart, Director of OFA, blasted out to residents of the District of Columbia:
[NAME REMOVED] --

This is it -- the House of Representatives will vote on health insurance reform tomorrow. All signs point to it being incredibly close, possibly even coming down to a single vote.

With the clock ticking, insurance company lobbyists are going all out to stop reform. Please call Rep. Eleanor Holmes Norton at 202-225-8050 now.

Today, President Obama is visiting the House to call for reform, and I hope you'll add your voice to his. If you haven't called before, now is the time. And if you have recently called, thank you -- now please ask friends, family members, and co-workers in your district to join you.

http://my.barackobama.com/HouseVote

Everything we're fighting for comes down to moments like this -- and every second counts.

Thanks for stepping up,

Mitch
Well, I have to say, if the House health reform bill does come down to a single vote, reform proponents better hope like hell that single vote doesn't have to come from Eleanor Holmes Norton! This is not because Norton isn't an awesome lady -- she is, as evidenced by her many appearances on the Colbert Report. But while Norton is an ally of the White House and supports the larger effort to expand health care coverage, as the duly sworn representative of the District, she does not enjoy voting privileges. So, as far as her vote goes, she would vote if she could vote but she can't vote so she won't vote.
Anyway, thanks, Mitch Stewart, for reminding the residents of the District of Columbia that they enjoy second-class status and their hopes are largely tied to other people's representatives.
[Would you like to follow me on Twitter? Because why not? Also, please send tips to tv@huffingtonpost.com -- learn more about our media monitoring project here.]

Popular in the Community