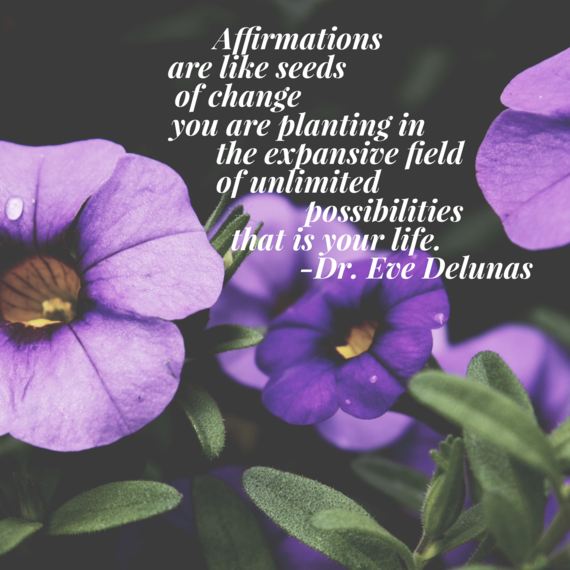 Perhaps you have heard that affirmations can be powerful tools for activating positive changes in your life, yet you have tried them without success. You are affirming that you have an intimate relationship with someone wonderful in your life but you find yourself sitting home each weekend with only your cat for companionship. Or, you affirm that abundance is flowing into your life while watching your checkbook balance dip below zero. At these moments it is easy to conclude that affirmations are a waste of time. But before doing so, consider the following:
How do you feel when you repeat your affirmations? Do you feel expansive, open, lighthearted, and uplifted? Or do you feel fearful, heavyhearted, constricted, or hopeless? The right affirmations for you are the ones that engage both your mind and your heart, and that help you feel uplifted and empowered. If an affirmation doesn't make your heart sing, then consider changing it.
Are your affirmations too specific? When our affirmations are too specific, they can trigger fear instead of a delightful sense of positive anticipation. This negates the affirmation's effectiveness. If you find that repeating your affirmation triggers worry that you cannot or will not attract what you desire, it is time to make it more general. So, instead of "I now have a terrific, intimate relationship with Chris," try " I am now enjoying a mutually joyful, loving relationship with a person who treats me with caring, respect, and kindness." This not only leaves the door open for a relationship with Chris, but also with someone else who may be an even better match for you.
Where are you placing your attention when you are not saying your affirmations? Are you focused on the lack of what you are wanting in your life? If you affirm that abundance is flowing into your life and then spend much of your time focused on, talking about, and worrying about your lack of abundance, then that is what you are likely to continue to experience. When you find your attention dwelling on what you don't want, shift your focus to that which you do want to create. Be on the alert for even the smallest positive shifts and know that there will be many more to come.
Are you impatient? Our human nature makes it difficult to be patient when we are eager for a change to take place in our lives. Affirmations are like seeds of change you are planting in the expansive field of unlimited possibilities that is your life. It is vital to nurture those seeds by holding them lightly in your heart and giving them ample time to germinate. Do so and you will find they take root and grow at the right time and in the perfect way.
Are you ignoring nudges from your intuition to take action? As those seeds of change you have planted begin take hold, you will receive guidance from within to take steps in a new direction. Perhaps your desire is to become a writer and an announcement for a new creative writing class lands in your inbox. Or maybe you are longing for a deeper connection to your spiritual essence and you suddenly feel drawn to attend a local meditation group. Know that as you heed your inner guidance and take action, you are signaling a willingness to have something new unfold in your life. You may be surprised and delighted to discover that these initial, seemingly small steps lead you to a new place in which your affirmations have become your reality!
I would love to hear about your experiences with affirmations! What are your favorite affirmations? What are some changes you have created for yourself using affirmations? Are there any affirmations that don't seem to be working for you? How might you make use of the information in this blog?
For more information about using affirmations, click here.
Join me on Facebook here.