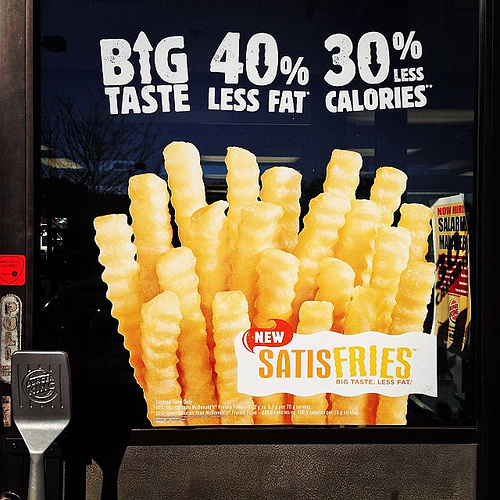 It's the fast food industry's ultimate conundrum: Americans say they want healthier items on menus, but they don't end up buying them.
Don't take my word for it. According to food research firm Technomic, 47 percent of Americans say they want healthier restaurant options, but only about 23 percent actually order them. So Wendy's and Burger King and McDonald's can offer all the apple slices and plain baked potatoes and yogurt parfaits they want, but despite what customers say, these items aren't selling. Heck, the CEO of McDonald's actually said in an interview last May that salads made up no more than 3 percent of the burger chain's sales!
So what's the deal? Are people lying when they say they want healthier options? Or are the healthier options that have been available over the past several years simply not meeting this need?
Personally, I think it's the latter. I'm someone who wouldn't mind healthier fast food options. I'd love to satisfy my craving for Carl's Jr. without as much fat and calories. But offerings like a grilled chicken salad with balsamic vinaigrette don't exactly jump out at me when I pull up to the drive-thru.
But you want to know what does for me? Healthier versions of already popular items.
This is an idea I can sink my teeth into. You see, I'm not about to swap a burger for a salad. But I'll swap a taco for a healthier taco -- like Del Taco's new Turkey Tacos, made with ground turkey instead of ground beef and containing only 150 calories without sacrificing taste. I'll also happily exchange Burger King's regular fries with its new Satisfries, made with 40 percent fewer calories while remaining a nice complement to my Whopper.
Can healthier versions of popular items satisfy people's cravings for better-for-you fast food fare? It's a good question. Taco Bell tried the hardest to accomplish this. Back in 1995, the chain launched its Border Light menu featuring items like beef tacos with 5 grams of fat and Burrito Supremes that were 350 calories each. I loved the food! The menu came out when I was in the midst of going from a 200-lb. 15-year-old who never exercised and lived on junk food to a 140-lb. ball of energy who worked out daily and started counting every calorie. The Border Light menu allowed me to satisfy my junk food cravings without packing on the fat and calories.
Was it successful? It depends who you ask. The Border Light Menu failed in its goal of accounting for 30 percent of Taco Bell's sales, instead accounting for only 9 percent (or $600 million). But when you consider that McDonald's salads -- its most prominent line of healthy items -- bring in no more than 3 percent of sales, perhaps the Border Light menu was successful in hindsight.
We don't know yet whether healthier versions of popular items will sell today. But it might be time to find out.
Nevin Barich is the Food & Beverage analyst for Industry Intelligence, a Los Angeles-based market intelligence firm. It's the perfect job for him: He loves junk food, he often works besides a glass of Diet Dr. Pepper, and anytime one of the health nuts in his office gives him grief for eating a Big Mac, he gets to smile and say: "Hey, this is my job." Email him at nevinsbarich@yahoo.com or follow him on Twitter.
Popular in the Community