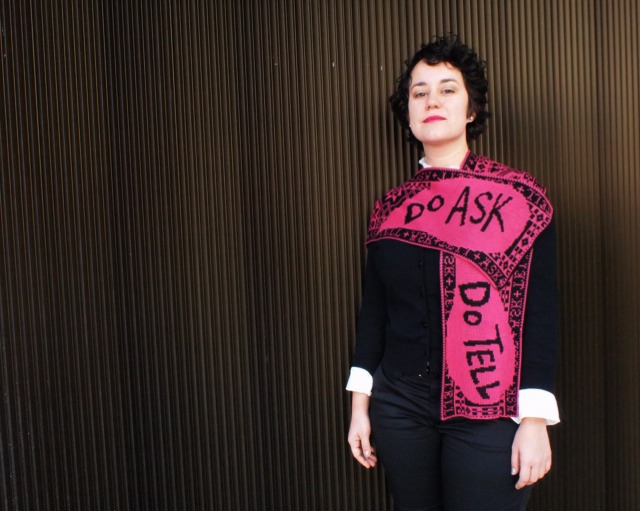 "Do Ask, Do Tell" celebrates conversation. Though the obvious reference is the policy on gays serving openly in the US military, the text can also be read as a proclamation about openness in general. When worn in public, it invites dialogue and discussion.
In my knitted work, I generally make sweaters that reflect my own thoughts on various political and personal issues. The text is often tied to a particular time, by referring to specific events. I'm interested in the way time changes their meaning, how fabric can outlast sentiment. I've been making sweaters for six years now, and I occasionally still wear my old John Kerry sweater around, just to feel the sting of bittersweet nostalgia and remind those around me of the not too distant history. My sweaters are made in only in my size, and part of the work is the public performance of wearing them. It's difficult for me to make sweaters for others. Putting text on a sweater feels like putting words into someone's mouth. When the Hammer Museum invited me to make an edition for them, my goal was to make something that was politically topical, celebratory, and not overly confrontational. Something wearable, maybe even polite.
"Don't Ask Don't Tell" provided the inspiration for this piece. To quarantine one aspect of identity through silence is ridiculous.
An antidote to "Don't Ask Don't Tell" is "Do Ask Do Tell." Counter secrecy with openness. Collapse discord through discussion. Ask a lot of questions. Talk back. Bring a voice into the conversation, change a mind or have yours changed. Do Ask Do Tell!
The scarf will be available in February but you can pre-order it through the Hammer Museum.
*Please note the color shown online is not the actual color of the Hammer Edition. The scarf produced for the Hammer Museum is a true purple and will be available for pick up in February 2011.

Do Ask, Do Tell 2010
Knit, 100% Merino Wool
Dimensions: 8"x56"
Edition of 90
5 APs
Related
Popular in the Community