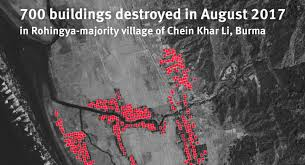 UNITED NATIONS - They have watched their loved ones murdered, they have been gang raped and their children are dying from bullets or lack of food. So why should they go home to Myanmar (formerly Burma)?
Some say home is home is home is home. Even so, the Rohingya refugees fleeing to Bangladesh are living in flimsy tents made of tattered tarpaulin and plastic sheets in the port city of Cox's Bazar. UN agencies are trying to supply basic needs.
Calling for a dignified and voluntary return, Kofi Annan, the former UN secretary-general, said:
"This is not going to be easy. They will only go back if they have a sense of security that their lives will be better," he told reporters after a closed meeting of the UN Security Council that included delegates from Myanmar and Bangladesh.
The latest onslaught occurred on Aug. 25, when the insurgent Arakan Rohingya Salvation Army attacked police posts and an army base. The reaction was collective punishment in northern Rakhine state. At least 1,000 people were murdered, others were raped and many homes were burned to the ground.
The stories of survivors are horrific. S.K., 30, told Amnesty International that after watching executions, she and many other women and younger children were taken to a ditch, where they were forced to stand in knee-deep water:
"All of the women were stripped naked. They had very strong wooden sticks. They first hit us in the head to make us weak. Then they hit us [in the vagina] with the wooden sticks. Then they raped us. A different soldier for each [woman]."
Annan said it seemed the military action against the Rohingya had stopped. But they are still leaving on an arduous trek or flimsy boats. The latest figure is 582,000 since August, said UN spokesman Stephane Dujarric on Tuesday.
In late August, Annan gave the final report of his advisory commission on Rakhine state. Myanmar's de facto civilian leader, Aung San Suu Kyi, had requested the report that includes short term proposals and long-term development recommendations.
Suu Kyi, herself, has never expressed sympathy for the Rohingyas, a Muslim group in the largely Buddhist nation that has been denied citizenship, despite many years in Myanmar . But diplomats are wary about disparaging her, something the military would welcome.
The military kept her locked up for 15 years and know, refusing to name her president. While she is the de facto leader of Myanmar and its foreign minister, the army controls defense, home affairs, border security and the police. It can veto measures from the civilian government. So it is obvious Suu Kyi has to watch every word.
She has agreed to set up an implementation committee and has accepted the recommendations in the report, Annan said.
So far the UN Security Council has not been able to introduce a resolution that China, Myanmar's neighbor, would approve, especially if the military is criticized. Russia is expected to back China.
Annan said he hoped any resolution would emphasize the government's obligation to allow the refugees to return "with dignity and with a sense of security."
He said they should not be returned to camps, where the military has locked up a considerable number of civilians. "They should help rebuild."
Annan said countries were beginning to put pressure on the military in "military to military talks." He said the Security Council should agree with Myanmar on a "roadmap" to take action or "we are going to have a long-term festering problem."
Speaking at the same Council meeting was Andrew Gilmour, the assistant secretary-general for human rights, who released his text.
This "has been decades in the making, through the systematic discrimination against the Rohingya population, in particular denial of their human rights to citizenship, freedom of movement, and access to healthcare, education and livelihoods," he said.
As the human rights high commissioner, Zeid Ra'ad al Hussein put it, "this seems a 'textbook example of ethnic cleansing' and the Government's actions appear to be a cynical ploy to forcibly transfer large numbers of people without the possibility of return."
Jeffrey Feltman, the UN undersecretary-general for political affairs went to Myanmar after speaking to a number of officials and travelling by air over northern Rakhine State. But he has not released conclusions yet.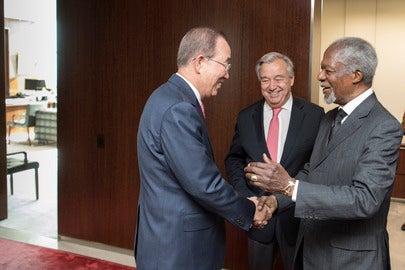 REAL LIFE. REAL NEWS. REAL VOICES.
Help us tell more of the stories that matter from voices that too often remain unheard.
This post was published on the now-closed HuffPost Contributor platform. Contributors control their own work and posted freely to our site. If you need to flag this entry as abusive,
send us an email
.