One of the most repeated theories this primary season has been that the closed primary has been beneficial to Hillary Clinton and has somehow denied Bernie Sanders an equal footing in the Democratic nomination process; that the very process was somehow stacked against Sanders. So, I looked into this and found the following surprising results.
Clinton has won 12 open or semi-open primaries and caucuses and 13 closed or semi-closed ones. Among primaries alone, she has actually won one more open one than closed. There seems relatively little advantage to her, open or closed.
Sanders has won 8 open or semi-open primaries and caucuses and 11 closed or semi-closed ones. He has actually benefited slightly more from closed ones than open ones and more so than Clinton. This runs completely counter to the internet meme that the closed primaries used by the Democratic Party somehow conspire against Sanders.
Delegates
What about delegates awarded? Clinton has won 891 delegates from open voting and 821 from closed. She has benefited slightly more from open than closed and once more this runs counter to what you may have read. Meanwhile, Sanders has won 734 delegates from open voting and 697 from closed. Similar to Clinton, he has benefited just slightly more from open voting and neither seems to have gained any large advantage from open or closed with regards to delegates awarded.
The only clear advantage by process at all appears to be Sanders' larger edge from the caucus system, one that is inherently more closed than open, more favorable to smaller, influential groups.
In addition, there is a report that in the latest primary, last night in West Virginia, 39% of the voters for Sanders actually intend to vote for Trump over Sanders in November. This is not the first time that Republicans have appeared to use the open primary system to attempt to influence the Democratic nomination process, for whatever reason, whether to slow the advance of Hillary Clinton or to hand pick Sanders as their opponent. In particular, there were similar reports of this from the Wisconsin primary.
So, closed or open? The advantage to either candidate seems negligible. But the open primary may actually invite unwelcome influence from the opposition party, especially now that the Trump nomination process has all but come to an end. Food for thought.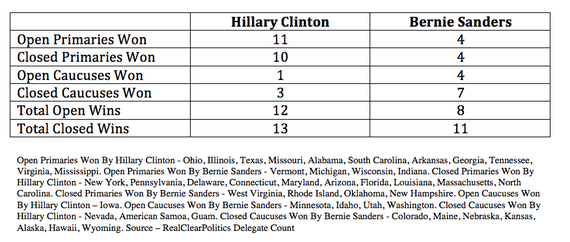 Popular in the Community