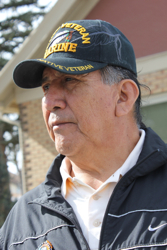 "They wouldn't even bring it to the floor," said Mark Wandering Medicine, a Northern Cheyenne spiritual leader and voting-rights advocate. It was the afternoon of March 9 in Helena, Montana, and he and several other Native Americans had just met with the Montana Democratic Party leadership. The Native voters had asked -- unsuccessfully -- for support from the Democrats for satellite registration and voting offices on reservations during the month leading up to federal elections.
This was the latest skirmish in a battle that started in 2012, when Wandering Medicine and other American Indians filed a federal voting-rights lawsuit. In it, they contend that satellite offices would give reservation residents the same ballot-box access as those living off reservations. The latter register and vote in county courthouses during the month preceding Election Day. Democrats have led the charge against the lawsuit; the lead defendant is Montana's Democratic secretary of state and her attorney is a state Democratic National Committee member. Additional defendants are mix of Democratic and Republican county officials.
Keeping voting inconvenient for minority groups is a common GOP ploy. However, it's a peculiar philosophical choice for the party of Jack and Bobby Kennedy, Lyndon Johnson and Barack Obama. Nor is it legal, according the Justice Department. And for Democrats, it's hardly strategic. Montana's Native Americans make up 6.5 percent of the state's population and register overwhelmingly Democratic -- more than 90 percent on some reservations -- in a state of hard-fought elections and razor-thin margins. Montana's Democratic U.S. Senator Jon Tester has credited his one-percent 2012 win to Native voters.
For more on how the Democratic Party ended up waving off minority voting rights in the second decade of the 21st century, as well as a look at GOP involvement in both suppressing and "reaching out to" the state's Native vote, please go to this article on Indian Country Today Media Network.
Calling all HuffPost superfans!
Sign up for membership to become a founding member and help shape HuffPost's next chapter