While waiting in the "ready room" at the Rio Olympics before the 200-meter butterfly semifinal, Phelps threw what can only be described as a death stare at seemingly oblivious South African rival Chad le Clos. And thus, #PhelpsFace was born:
It's not a coincidence that Phelps' directed his grimace at le Clos. In 2012, le Clos upset Phelps by taking gold in the butterfly, and went on to trash talk Phelps for having a slow butterfly time in 2014. Phelps, who clearly had his game face on, went on to beat le Clos in the semifinals.
But did Phelps' game face have anything to do with edging out his rival?
It's certainly possible, according to Stephen Graef, a sports psychologist at the Ohio State University Wexner Medical Center.
"When I put on a suit to go to a friend's wedding, I might start to feel like I have more swag and confidence," he explained. "Perhaps, putting on a face is like putting on the suit. It brings out that which you need to have swag."
While there isn't extensive research on game face science, in a small study published in the journal Biology Letters in 2014, the longer young children persisted at trying to open a transparent box with a reward inside, the more likely they were to arrange their expression into a "determination face."
Given a similar task, chimpanzees did not display similarly determined expressions, although they are capable of them, indicating that this is a uniquely human trait. It's not clear whether the determination face is an innate behavior or a learned one, but the study researchers said they though it was an unconscious action.
"Humans have evolved to demonstrate their frustration or determination or effort — however you want to describe it," Bridget Waller, study author and evolutionary psychologist at the University of Portsmouth in the U.K. told LiveScience in 2014.
While focused intensity and a serious expression might help some athletes mentally prepare to compete, putting on a somber mask might not be beneficial to everybody.
"I would be encouraging athletes to do their own thing and be less concerned about what their competitors are doing or what face they are making," Graef said.
Though Phelps claims that he wasn't paying attention to le Clos during the infamous #PhelpsFace moment, Paul Ekman, a psychologist at the University of California at San Francisco, doesn't buy it.
"It's just classic. His chin area thrusts upwards. That gives off anger, disgust, and disappointment," Ekman told WebMD. "On a truth meter, I wouldn't be able to give Phelps more than a half point on a 5-point scale when he says he wasn't angry."
Angry or not, Phelps' determination paid off. And while we don't recommend imitating Phelps' game face in the work place, feel free to channel the Olympic star's focus next time you're under pressure. It just might work.
For more Olympics coverage: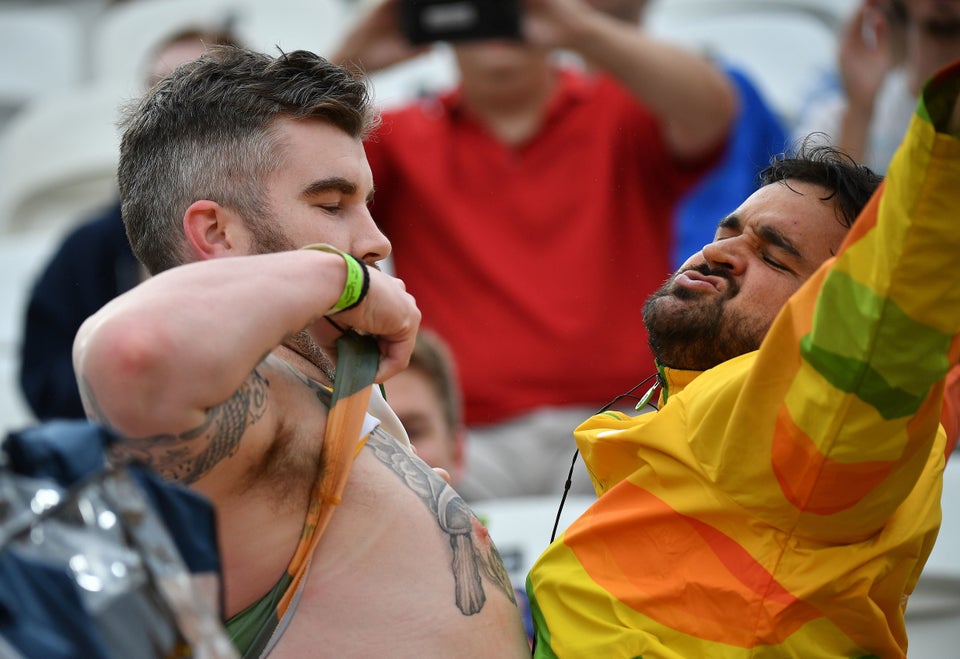 Photos Show Olympics Fans Are The Best Fans