Chinese social media is a revolving door.
Multiple platforms on the mainland mimic Western sites like Twitter, YouTube and Facebook, which are banned in China.
In their place are Weibo, Youku and the rapid-fire star, WeChat.
They are the social media platforms that sway consumer choices -- and a powerful megaphone for European and American luxury brands.
Dominated by a generation born after 1975, these are the voices of the chattering offspring of the "one-child policy" who find the "big sisters" they might not have, online.
Their conversations endorse and sway each other's choices and purchases. And while luxury brands were once reluctant to join the conversation, Chinese social media is now a non-negotiable priority of any marketing plan worth its gilt chain.
As luxury brands make complex choices on their preferred social media platforms, a new social site has emerged, called Bomoda, adding a further choice to the vast social media menu.
Mid-November Bomoda's mobile iPhone app gave voice to a quarter of a million, young Chinese fashionistas who had already signed on for Bomoda's newsletter.
The hybrid Instagram-Pinterest-like app offered them the ability to "curate," tag," and "favour," the brands and looks they love.
Think: "I am my own stylist, and I can curate and share my wish list." It also won corporate interest, with companies like Estee Lauder and Coach taking up positions.
On day one of its launch, Bomoda became the sixth most popular fashion app in China.
As a measure of Bomoda's success, Benedicte Bro-Cassard, a Beijing-based fashion blogger for Le Monde newspaper in France and Vogue China, garnered over 7,000 fans in eight weeks for her personal musings.
Bro-Cassard's following reflects the mood among Chinese luxury consumers, who are much younger than their Western counterparts, increasingly shop abroad and have a voracious appetite for news and views from fashion's front row -- where Bro-Cassard sits.
Brian Buchwald, Bomoda's co-founder and a former NBC executive, believes Chinese consumers' spending power often outstrips their confidence, hence the incessant exchange of information on social media.
His view is endorsed by Bain & Company, who say 73 percent of Chinese consumers use the Internet -- including blogs -- to research a luxury product before they buy.
These young shoppers are referred to (unofficially, at least, in the industry) as the "five-pocket spenders."
The phrase reflects the spending power of the single child, which often includes discretionary handouts from four grandparents and two parents -- plus their own earnings.
Young women in the 18-29 year age group represent the world's youngest and fastest growing luxury consumers.
In 2014 they will be the "apple of the eye" for brands selling women's fashion, shoes and accessories to Chinese consumers, with a projected 10 percent growth in this segment, according to Bain.
This is in stark contrast to the 11 percent fall in sales of watches, a result of the Communist Party's crackdown on "gifting luxury."
Growth in luxury sales in China slowed from seven percent in 2012, to just two percent in 2013, but women's clothing is seen a major bright spot in the year ahead.
Which means Western luxury brands will continue to come to terms with the complexity of Chinese social media. Indeed they will vie for those votes, and more significantly, celebrity endorsements.
Celebrities have an influence that dreams are made of.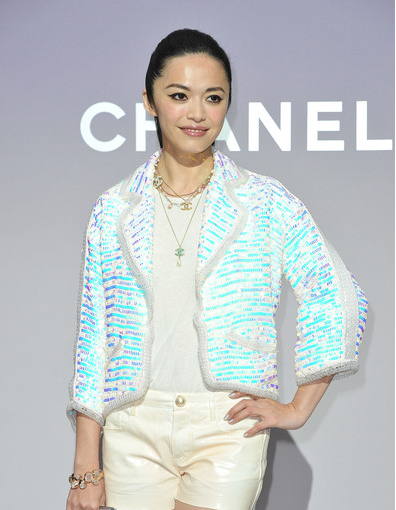 China's award-winning actress, Yao Chen (above), with 58 million followers on Weibo, uses the platform to write about her films or her role as a spokesperson for the UN -- not to endorse products.
But her widely reported appearance at a Chanel ready-to-wear show in Paris, the subject of gossip by her Weibo fans, was a golden moment for a brand that doesn't need too much help.
Chanel was rated China's favorite fashion brand in the 2013 World Luxury Index, which compiles the country's most popular luxury brands list. Louis Vuitton came in at number five, and Christian Dior at number eight.