Recently I was shocked to hear from an old college girlfriend. She wanted to know if it was too soon to take her 8-month-old daughter to Disney.
I know, I'm gonna get myself into trouble with this answer. But a theme park is no place for a kid that can't walk or talk.
So, honestly? Leave her at home.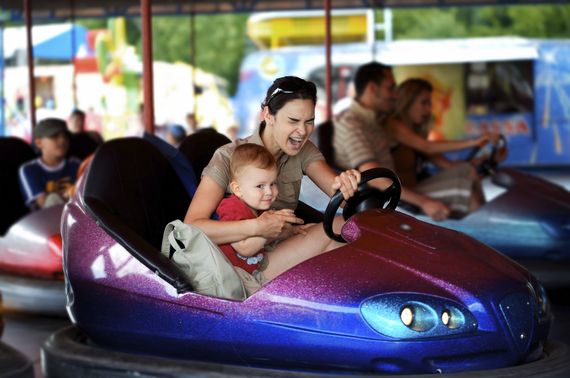 With this mindset, I know I'm in the minority. Because if you've ever been to an Orlando theme park, you've probably seen parents with very young children struggling to balance diaper changing duties with standing in a long line.
But I have a little personal experience in this matter because I live in Orlando.
Each of my kids got their first haircuts at the Harmony Barber Shop on Main street in the Magic Kingdom before they turned two. I even visited the parks during all three pregnancies.
Actually, there isn't a lot of difference between visiting a theme park while you are 6 1/2 months pregnant or traveling with a young baby.
I'll say it again: leave your little girl at home, with grandma.
Can you take an infant to the theme parks? Sure. But why would you want to?
I consulted with a few seasoned fairy godmothers for the answer.
The cost. I know what you're thinking -- children under two are free -- unfortunately there's no discount for the adult that will be left waiting under the hot sun with the baby while the rest of the group gets soaked on Splash Mountain. How about the character experience? Isn't that fun for all ages? Not necessarily. Unfortunately, my son hated loud noises and was terrified of the characters. We only lasted an hour or two at the park. Good thing we had annual passes.
The baggage. Should you be crazy enough to take the baby, you'll have to bring all the stuff you need to keep the baby fed, napped and clean. Yes, they have some of the most amazing baby care centers I've ever experienced at the Disney parks -- my personal favorite is at Epcot -- but you'll still need to drag a packed full stroller which you'll have to abandon at a stroller parking area before getting in line for any rides. I learned right away to carry two bags: one has all your important stuff; the other one you leave with the stroller and has no valuables. Don't forget to slip in a few extra shirts for the adults, too. I'll never forget the time one of my kids threw up all over me minutes after we entered Animal Kingdom.
The timing. Think about it, you already spend at least one third of your day feeding or changing the baby. Infants aren't known for changing their routines to accommodate yours. You know what that means, don't you? Just about every three hours you will have to change, nap and feed the child. If you are ready to get onto your ride and the baby decides it's time to fill his diaper, guess who gets her way?
The stress. Not only does it take a lot of energy out of the little kids to travel and be surrounded by so many new things, but it can zap the adults too. It's difficult when other patrons give you the evil eye during the shows because your child is crying. That's when we stress out and have to figure out the easiest route out of It's Tough To Be A Bug or the Tiki Room. The best way to enjoy the resorts is with a few breaks. If you can, come for an hour or two, go back to the hotel and rest then return later. We once stayed at the Grand Floridian, went to the early park hours took a break at noon and didn't go back until 3:00 p.m. That night we chose to watch the fireworks from the pool.
The memories. I hate to say it but your kids won't remember it anyway. Sure, you'll have pictures to show them, but they won't have corresponding recollections. My first visit to the Magic Kingdom was for my 7th birthday. My parents left my 18-month-old brother home with my aunt so we could have this family adventure. The only thing I really remember is being super-duper scared while we waited in line for Space Mountain with my dad. And sitting between both parents watching the Country Bears Jamboree. And clinging to both of them in the Haunted Mansion. I'm not sure how much is actual memories and how much comes from the videos, but I really enjoyed having that one trip with my parents. And without my baby brother.
So what's the ideal age for a theme park visit with a child? As someone who has lived in Orlando for the last decade, I'd say 7. That's when the kids can ride most of the rides and start begging to go.
[Photo credit: ©Getty Images]