I am not sure if this is something that runs in families or is just a quirky anomaly of my family, but imaginary friends are a thing for us. My sister, Annie, had one for quite some time. Two of my three boys had multiple imaginary friends. So as a group, my family just went with it and welcomed them into the family.
The boys' imaginary friends had normal names, so the realization of their imaginary status took a minute. It started with Jake, the oldest. He had three friends: Jack, John and John. At the ripe old age of 4, I don't think he was aware that Jack was a derivative of John, so how weird is that? Often Jack, John and John would bring a gaggle of their own friends, so I spent a few extra minutes getting in and out of the car while Jake loaded or unloaded the crew leading them all with his hand on their "backs" guiding them along the way. Many a day I had to say, "that's enough, the car won't hold anymore."
The funniest part of this little story is that the next son in line, Luke - two years younger - eventually inherited Jake's imaginary friends. Are mine the only ones who have handed down their imaginary friends? I'd love to know! Luke held on to them for a couple of years, and as he progressed through pre-school, they eventually made a quiet exit from our lives. And while the third son, Joseph, never owned them, he often included them in play with the others.
My sister's story was a different tale. The imaginary status of Annie's childhood friend was telegraphed by her name -- Lisa Merry-Go-Round. Lisa Merry-Go-Round was allowed to do all of the things Annie was not. If our mother ever said, "no," there was a pat response: "Lisa Merry-Go-Round's mother let's her do it!" No one in the family ever let on that we knew Lisa Merry-Go-Round (her full name was always required...no nicknames!) was a figment. Her demise has become a legendary family story...and a testament to the adoption of her existence by us all.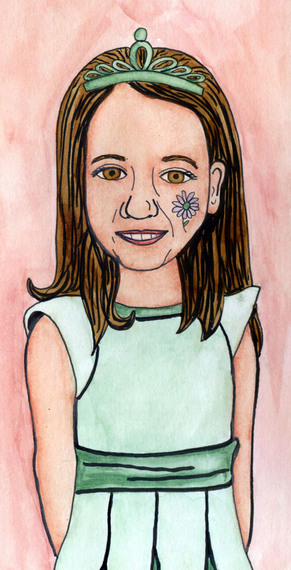 Lisa Merry -Go-Round
One day, Kathryn, older than Annie by two years, became agitated with Annie. In her fury, she opened the front door, kicked Lisa Merry-Go-Round out and slammed the door. That was the last we ever heard from her.
As Annie and I navigated our lives, I grew up to become a writer and she, an illustrator. We always talked about how funny Lisa Merry Go-Round was and how we appreciated that the tradition continued through my kids. We started to notice the ease with which technology made individual imagination less appealing to kids since so much was done for them through video games and movies and TV shows.

It was through these discussions that the seed for the idea of a children's book series was planted. We decided to write a series that would encourage imagination in kids and would use imaginary friends to help resolve problems. As I wrote it out, the main character, Gloria, was told to use her imagination when she was bored. Gloria responded, "Well, how can I use my Magic Nation if I don't even know what that is!" She is precocious....and The Magic Nation Series was born...
We are believers in encouraging imagination in our kids. We love to see them laugh and play with the fruits of their own minds. We would like to hear from children and families who have experienced imaginary friends to learn more about the creative minds of the future.
Do your kids have imaginary friends? Did you have one as a child? We would love to hear from you. Please send a video (a minutes or less) of you or your child telling us all about an imaginary friend to elizabeth@magicnationseries.com. We will add you to our blog and share the beautiful imaginations of children.