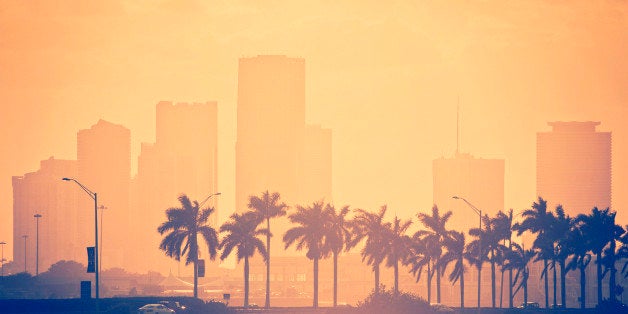 There are some places that immediately feel like home. It's kind of like falling in love; most of the time it happens when you're not looking for it, or when you least expect it. The moment I landed in Miami this past February for a friend's wedding, it was love at first sight. You've got downtown, which is urban, and then across the bridge, you've got Miami Beach. If LA and NYC had a Hispanic baby, it would be Miami. I LOVED IT THERE. I LOVED the Latin-influenced culture, the vibe, the energy, the white and blue buildings erecting into the skyline, the Art Deco hotels, the food, the people -- I mean, I LOVED it. I HAD to go back. And so I did.
For four days my mom and I jam-packed each day in order to gain an authentic overview of the city. We started in downtown, staying at the Intercontinental Hotel, in Bayside, overlooking the water. There's a monorail called the Metromover, which is free, and goes in a circle on two loops around downtown, making this the perfect transportation for a geographically-challenged gal like myself.
I didn't know this about Florida, and perhaps it's common knowledge, but it rains almost every day in the summer for about an hour. And then there's the humidity, which is to be expected, but the sight of the warm, clear turquoise water negates any cross feelings. We take the Metromover, and get off too early, at the Freedom Tower (a beautiful building if you have the chance to walk by it), and in the middle of our walk to PAMM, the Perez Art Museum of Miami, BAM -- downpour! We are soaked. After running a few blocks and squeezing out excess water, we take a tour of the museum. It's really amazing because it's small enough to not feel overwhelmed, and has a lot of new, modern, innovative art, including lots of commissioned instillations, which are my favorite.
Later that night we eat at the hotel at Toro Toro and have a feast of so many dishes I can hardly remember -- my favs were definitely the corn empanadas, grilled octopus, and the ceviche, which had quinoa, tuna, cucumber, and ponzo sauce.
I'm sort of half-working on this trip -- hey there's perks to being an entrepreneur that balance out the stresses, and after some emails, we head down to MySpa on the fifth floor for some much needed pampering. It felt like the masseuse lubed my entire body in oil, and that I was somehow swimming during the massage, which felt odd, but good. He could've done anything, and I would've loved it!
After showering, we cruise on over to Little Havana, a must on my list. Here's the thing about Miami cabs -- out of the 10 companies that own them, only 2 take credit cards! How insane! Who has cash these days?! The unions have thus far blocked Uber from starting there. It feels like everything is about a $10-$15 cab ride no matter where you go.
The area is small, filled with mainly Cuban restaurants, souvenir shops, and of course, Domino Park. On a tip from a local, we pick El Exquisito, owned by a police officer who bought and revived the 40 year old staple about 2 years ago. The Cuban sandwich is incredibly thick -- filled with loads of fresh baked ham. I ate that after the Vaca Frita, pulled fried beef, but before the bunuelos, a deep-fried doughy dessert. There's really something to be said for maxi dresses when gorging.
After debating what to do next, I decide that we should walk the mile to Brickell -- the yuppie "Wall Street of the South", except... we walked the wrong way. Back in a cab we go, weaving through the city covered in constant construction. I guess Brickell may be cool if you lived there, but for me, I was just not into it. Chain restaurants, a palpable attitude; overall, I wasn't that impressed. We DO however go into a very, very cool bar called Blackbird Ordinary that made me reconsider by initial impression. It has a garden patio and small stage, lots of beer, and a chill, relaxing atmosphere filled with locals.
We crash hard, and the next day after walking through Bayside, which is a typical outdoor promenade of sorts, we hop onto the trolley to Wynwood -- the famed graffiti arts area. Miami really does have good public transportation. The streets are pretty dead as it's early on a Saturday morning, but it's still inspiring to see all of the street art and pop into a few galleries that are open. I'm sure when they have the art walk there at night, with live bands, and food trucks, it's definitely an amazing time. I want to go back, and really explore the area.
It's around 1pm on Saturday, and we cross over the bridge, heading into South Beach. We're dropped off at the Lord Balfour, an artsy boutique hotel just south of 5th on Ocean Ave.
I learn real quickly how the streets are divided up as soon as we head north on Ocean Ave and are bombarded with tons and tons of super loud, somewhat obnoxious, incredibly drunk people spilling out of the restaurants. The kind of restaurants that have girls standing next to blown up menus, spewing out nearly every dish they offer in a matter of seconds. Yeah, those kind of places.
But if you head down further, turning off onto Washington or Collins, you'll find calmer restaurants. On Collins, past Lincoln (there's a huge promenade mall there), is where the classic hotels are, such as the Delano (personal fav), SLS, etc.
After a somewhat hectic morning, I take a dip in the ocean, and it's in that moment I have a moment to myself, just me and the water, and feel overwhelmed with gratitude and joy. The best things in life are free, and have already been given to us. It's a good feeling, and the best moment of the trip.
We scramble to get ready for the Miami Culinary Food Tour, which I've been really excited about since planning the trip. Our guide is a jolly fellow, and he gives our group (about 18 people) interesting historical tidbits, pointing out where the chainsaw scene in Scarface was shot (next to Johnny Rockets), and Versace's house. We sample a variety of cuisines, but what was better than the food, was seeing this part of the city on foot for three hours.
I am somewhat embarrassed to admit this because it is so gluttonous, but after the food tour, and after we stopped by my friend Chef Danny's new restaurant 1826 Collins (think upscale Vegas meets bourgeois Hollywood) for a seriously good strawberry cocktail, I see a sign glowing -- Le Sandwicherie. A gal writes on my Instagram that I MUST try this place, and so of course I have to. I order the prosciutto and fresh mozzarella on a French baguette, loaded with fresh veggies, and their signature dressing. It's good. I mean, would I crave it? No, probably not, but it is a darn good sandwich!
After a full night, we sleep in, waking to lots of strong coffee and croissants. We walk an hour to the opposite side of South Beach, passing by complimentary golf carts, but never actually hailing one to get a ride, and end up at the Metropolitan by Como hotel for a leisurely lunch that can only be described as a impeccable. It is the best meal I've had there -- whole fish, squid ink risotto, fresh oysters, sourdough bread, and a gin/absinthe cocktail. Now is a meal I will be craving for a while!
We lay out on their private beach, living the good life, trying to savor each moment, each breath, each bit of breeze that washes over us. I think back to a local who gave me insight into the underbelly of Miami. How it's a city like no other, one filled with so much nepotism, that it's hard to get ahead. That's something I'd like to explore in the future, but for now, I'm happy zoning out, wishing I had another four days, but grateful for the people I got to meet, and the places I got to go.
Related