 The Do Not Disturb tool marks a refreshing admission by a tech company that we actually have a life beyond our gadgets, and for all the good it does them to be wedded to our devices, every now and again we need to trade FaceTime for face-to-face time.
When Do Not Disturb is activated, a user's phone can still receive incoming calls, messages and other notifications, but won't alert her until later, keeping the iPhone's screen dark, its vibrations still and its tones silent.
Is it a gamechanger that will send Apple's stock price soaring past $1,000 a share and leave Google quaking in its boots? Certainly not. Is it something that will make life a little more peaceful, our conversations a little more focused, and our rest a bit more restful? Definitely.
I, for one, hope this will eradicate the annoying habit I have of sneaking a glance at my phone under the dinner table, or spending the final half of a play wondering why my phone keeps vibrating (Text message from a mystery number? Emergency work email? Family crisis?). Hopefully the tool will also help restore the sanctity of sleep and keep me from reaching for the phone, blurry eyed, at all hours of the night.
Apple's senior vice president of iOS Software, Scott Forstall, apparently shares my plight.
If you're a doctor who gets life-or-death calls about medical emergencies or a tech journalist who gets life-or-death calls about Apple rumors, you can rest easy: Do Not Disturb will disturb you if you receive multiple calls in a row from select phone numbers. Users can also specify that certain people are allowed to interrupt them and program Do Not Disturb to turn on and off at scheduled times. Not yet available is the ability to remotely activate Do Not Disturb on other people's iPhones, but I'm keeping my fingers crossed.
Here's a peek at Do Not Disturb, which will be available on iOS 6, via Engadget (Check out more of their WWDC coverage right here):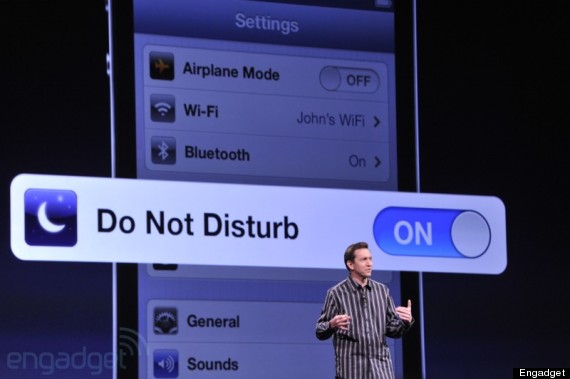 Related
Popular in the Community