Do not follow a trend, be a statement.

Credits: B'Captured Productions
When I was a child, my dreams were nothing if not specific. One such dream was to become a top model. I still remember the moment I shared that dream with my father, and its energy: I was five years old, extremely convinced about it and yet humble. I simply knew that one day it would come true and I did not feel the need to talk about it a second time - nor indeed ever. That was my dream and it was up to me as an adult to make it happen.
Daisaku Ikeda says: "Even if things don't unfold the way you expected, don't be disheartened or give up. One who continues to advance will win in the end." This is the way I decided to live - to keep on advancing, no matter what. A month ago I received a phone call that led me to make one of my wishes come true: to go to New York Fashion Week - as a top model! The most beautiful part is that the inspiration to achieve this dream came by my act of willing to make a wish come true. Attending New York Fashion Week is the stuff of dreams for many people, and I was lucky enough to meet a very special woman who asked me on the Wishwall to be able to go there. That motivated me to seek out ways to bring this about, and it was this quest that ended up in making both her wish and mine come true.
I strongly believe in the power of dreams and in the dreams that are generated when you challenge yourself in giving back. This challenge, this giving back, opens doors to expand your life in so many ways. The designer who asked for me to model for him is a true artist and I could have not asked for better. When I met him I immediately saw his talent and his heart; he was creating a line in loving memory of a special friend who had died from cancer. My "wish come true" lady is a survivor of cancer and we felt how truly powerful this story is, how important fashion can be in uniting passion with dreams and seeing them come true.
I want to thank him and I want you to get to know him better: Odair Pereira.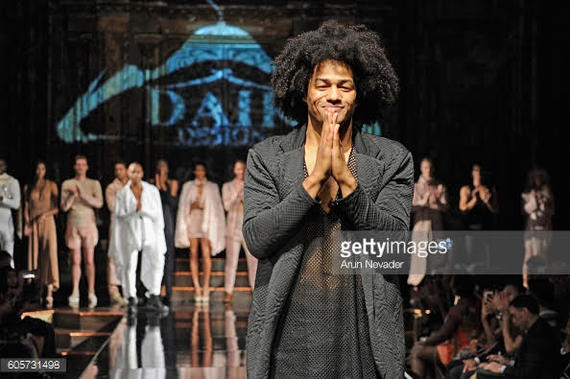 Credits: Arun Nevader Getty Images
When you were a child, did you wish for the career and for the life that you have manifested today?
Yes, when I was a child I dreamed of a career like this! I used to hold my little fashion show in my house for my mother. I would wear one look over another and while posing I would reveal the other look! In class I would also be drawing the same design over and over again in different fabrics and colors.
** Odair won me over forever when he transformed an elegant jumpsuit into a jacket by the simple device of turning it upside down. I can only imagine how many creations he must have shown to his mother, and that persistence definitely created a talent. His brand is called Dair Design and it is all about "daring".
Name a wish that you had for your life or for humanity that finally came true.
A wish I had is to give positive energy to everyone in the work I do. DAIR design stands for believing in yourself and being the best YOU that you can be. I get inspired by amazing personalities and my goal is to translate it to my designs. In the world of DAIR everyone is equal and special in their own special way. The DAIR collection fits it all! I am making a difference and I have heard that I inspire others and that is what I always wanted.
** The determination to win is the best part of winning. This quote by Ikeda inspires me every day. "There is no real victory if you cannot share it, if you cannot motivate others." Being the best YOU that you can be is a choice. Oftentimes it's a struggle, but it's the heart that's the important part, that passion that drives you to make the impossible possible. Fashion, as a form of art, can reveal this inspiration in its creations. When that happens it moves people in making a difference.
If you were granted one wish for humanity or for our planet, what would it be?
If I had one wish for humanity, I would wish for diseases not to exist. So everyone could have more peace in their lives.
**My father is a doctor and I grew up knowing in a very hard way what suffering really is. He taught me that inspiring others is our duty; he was constantly inspired by many people who had every right to be angry or give up because of their disease. Let us remember to celebrate life.
If you could go back in time and ask one question from anyone from history, who would you want to meet and what question would you ask?
I would like to meet Princess Diana and ask her if she was happy, and if the answer was NO, then I would ask her what she could do to change that and advise her to do that immediately!
**This answer leaves me with a bittersweet image. All too often we wait until we become successful, rich and happy, merely waiting for the outcome to show up in our lives, and we spend so much time waiting that we lose contact with what makes us happy right now. Let's try to change as soon as possible what makes us unhappy. Even if we feel like we cannot, it is nonetheless important to think about it and seek out a way. Being happy is a responsibility that we must bear for the sake of humanity. A happy world is a safe world - and there is still so much to do.
Please tell me what influences your unique sense of style?
What influences my sense of style is movement, the way fabrics flow beautifully. Also people's personalities, experiences in life and the mindset not to follow a trend but to be a statement, a message and a look that will inspire others. "DAIR to be different, DAIR to be first and DAIR to be You!"
** "Do not follow a trend but be a statement", is one of the deepest thoughts I ever heard. It seems so simple and yet so challenging, it reminds us how fashion can be the mirror of your soul. Do you have the guts to be you and show it also in the way you dress?
Who is your favorite fashion designer or brand right now and why?
That's a very difficult question because there are a lot of amazing designers. I love the designers who are creating a message not only through the designs, but in their shows and in the music choices. I want to live an experience in every aspect.
**Before the show, Odair seemed to dance between one model and the other, he wanted us to have fun and to feel the power of being our gorgeous self. That feeling of pride is still with me to remind me how proud I should be for every time I stood up for myself when it seemed true only to my eyes. Sometimes it is not up to others to understand us, it is up to us fight to see clearly who we are and what we want and show it to ourselves. At that point others will see us for that unique us.
What is your fashion mantra?
My fashion mantra in life is: BE yourself and take it to the max! And don't be afraid to OWN it in every moment. "DAIR to be different, DAIR to be first and DAIR to be You! DAIR collection fits it all!"
What is your final message for our readers?
My message to all readers is: open your door and walk into the live you want and deserve. To be happy, don't be afraid to have a vision of yourself as number one! And it all starts with not thinking about how other people see or think of you! That simply doesn't matter!
** It is such an honor to show my readers how deep fashion can be, when it serves a message, when it wants to make you look gorgeous, to reflect your inner state. I've dared to be different and to be myself all my life. That has always been the greatest and most invigorating challenge. I couldn't agree more: what others think is nothing more than their idea of you; what counts is how you advance to make your dreams a reality and how you grow from the experience.
Thank you Odair, for sharing this victory with me. A special thanks to Rocco Leo Gaglioti of FNL Network and to Art Hearts Fashion for making all this possible. Looking forward for more to come. And a big shout-out to my husband for his unfailingly supporting me, and to Gaia Ceccaroli for believing in my dreams and for being part of them.
As usual, make your dreams come true.
From Philadephia, Simonetta Lein The Celebrity Wishmaker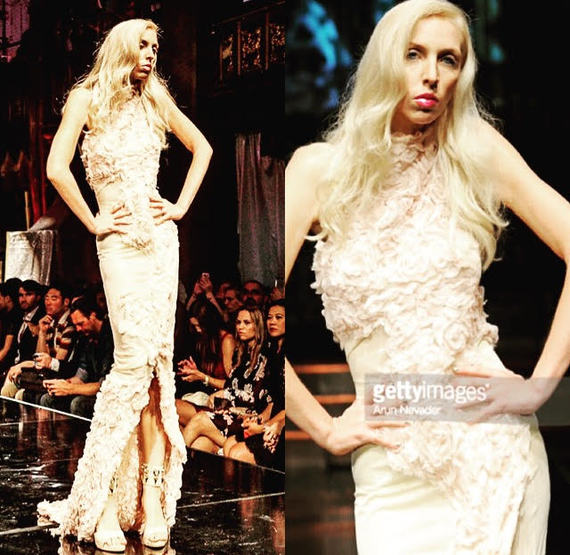 Credits: William Russell-Edu, Collaborator. Byron Purnell for B'Captured Productions, Photographer. Arun Nevader for Getty Images, Photographer. Art Hearts Fashion, FNL Network and NYFW, The Shows.
Calling all HuffPost superfans!
Sign up for membership to become a founding member and help shape HuffPost's next chapter