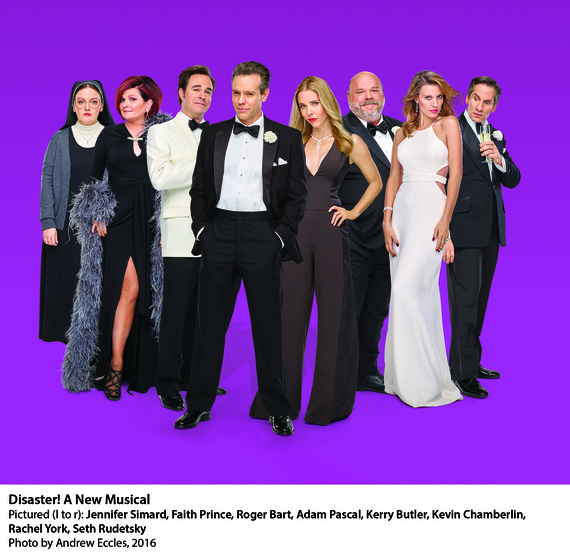 Inspired by 1970's disaster flicks and featuring the popular songs of the era, Disaster! is the best, most enjoyable new musical on Broadway. I interviewed co-writer Jack Plotnick about the evolution of Disaster!
Jack Plotnick: Out of the twisted mind of my best friend and comedy partner, Seth Rudetsky. Around 1993, he had started playing around with an idea for a disaster movie musical that would feature all hit songs form the 70's. He kept putting off writing it, until many years later when he was asked to create a one-night benefit for an organization called "Only Make Believe" (for hospitalized kids). He says he was very inspired by the stories Charles Busch (Die, Mommie, Die!) tells, about how he tended to write his plays very quickly, with a fast approaching deadline, and he would write them for his friends to be in. So, the benefit was coming up in just over a month, and Seth happened to be coming out to the West Coast for a visit. He was telling me about his ideas, and the fact that he was having trouble getting it done, and I asked him how much he had written so far and he said "...none". I would have spit out my retainer if I still wore one, so I opened my laptop and just started typing out the first scene as he had described it. And just that act of finally putting words on a page really started the ball rolling in a big way. He went home, but we continued writing it together furiously, sending scenes back and forth via email and brainstorming on the phone, until the night of the show. It went so well that we continued rewriting it, and self-produced short runs of it in the city. Rob Ahrens, the producer of the Broadway show Xanadu, came to see it Off-Broadway, believed in it, and the rest is history.

WH: What have been the favorite parts with audiences?
JP: Oh my goodness, there are so many! A lot of the fun of the show comes from discovering each song as it comes up. We are not the first jukebox musical, by a long shot, but I think we may be the first to integrate our songs in quite the way we do, where every word of the song furthers the plot, and usually in very surprisingly comedic ways. So, it's really fun to watch the audience try to figure out what song is coming up next. And when the intro music starts there's this wonderful wave of chuckling, then laughter, as recognition sets in.
Our set designer, Tobin Ost, is so brilliant. He came up with bunches of fun bits and clever visual jokes with the set, and it's neat watching the audience discover them. One in particular happens when an earthquake tremor shakes a large sign for a restaurant that's on the boat. It shakes some letters off...and I love listening to the audience "get it", and then elbow their friends till everyone is laughing.
Many in our cast are sorta Broadway royalty: Adam Pascal, Faith Prince, Roger Bart, Kevin Chamberlin, Kerry Butler, Rachel York- and it's such a blast to see them having fun and bringing all the depth of their talent to our show.  I especially have to mention that Faith Prince leads the cast in a balls-to-the-wall tap dance number in Act 2, all while suffering from hysterical symptoms of her weird malady, and the ending never fails to illicit screams of delight from the audiences.  We always wanted the show to be hilarious, but also have a lot of heart, and all of our performers have breathed such life into their characters. So, just enjoying watching the cast work their magic each night is such fun!
WH: How did you assemble such spectacular cast?  Were any of the parts written with particular actors in mind?
JP: They're just all friends of Seth's. He even offered the part to Adam Pascal via a text message!...and Adam wrote right back with "Sure".
So, the neat thing about this show is that it really is just a bunch of friends getting together and having a great time every night.  It's like a party onstage!
Jennifer Simard, who is getting raves for her performance as "Sister Mary" is actually someone who we used to perform with in our comedy show 20 years ago! And Roger Bart went to college with Kevin Chamberlin and have been best of friends since; they share a dressing room! So there's such a lovely energy of camaraderie back stage.
And the neat thing is that many of them have told us that this has been the most lovely theater experience they've had. It's such actor-friendly show to perform in because it's an ensemble piece,so each character has delicious stuff to do, and long journey to go on, and an interesting growth by the end. 
I really believe that everyone should have a part in the creative process, so we were always laughing and coming up with new bits; some that made it into the show, and some that were just terrible...and we would laugh even harder!

WH: How do you like working in New York as opposed to LA?
JP: I started my career in NYC doing musical theater, so it's been such an incredible gift to return there and be surrounded by so many performers that I have looked up to and enjoyed over the years.  I remember almost sixteen years ago standing in the back of the Nederlander Theater and watching Adam Pascal as "Roger" in Rent. And I was sobbing so hard at a song he was singing, and just hugging this pole for support.  And after our show opened, I stood by that very same pole and watched Adam perform in MY show, and it was just the most incredible feeling.
It's very interesting how similar and yet different the process is to direct a Broadway show versus a feature film. But one of the most important things I've learned is to create an atmosphere wherein talented people can just do what they do so well. From our actors and choreographer to all our designers, I was fortunate enough to be surrounded by the cream of the crop, so it's all people working at the top of their game to create this evening of silliness and mayhem.
WH: Congratulations on all the rave reviews, including the Critics' Pick from The New York Times. Did you envision Disaster! ending up on Broadway from the start or were you surprised by the show's success?
JP: From the very start, when Seth shared the idea of putting a disaster movie onstage (where everything that could go wrong does, and all set to 70's pop, disco and classic rock) I knew we had something very special.  Writing the show was a blast (no one makes me laugh harder then Seth) and we really made sure to create a show that followed the rules of classic musical theater, concerning character arc and growth. Based on that, I did feel that it would probably fare well with audiences. As far as whether it belonged on Broadway, I thought the idea was "big" enough" - the life and death struggle...combined with the flair and spectacle of a casino/discotheque in the 70's...mixed with earthquakes, tidal waves and all other grandiose disasters - I mean, how could all that not fill a Broadway stage? And yet, the entire experience has a surreal, "pinch me I must be dreaming" effect. It feels unreal: that Seth and I could still just be doing what we love (creating art and making people laugh) but somehow we're doing it now at The Nederlander with the New York Times stamp of approval, and not in the basement of a comedy club! It really has been a dream come true!
WH: I'm such a fan of Space Station 76 - your feature film directorial debut! Is there any plans to make Disaster! into a film?
JP: Thank you! I am still glowing from that experience; it was satisfying beyond measure.  I'm still obsessed with the 70's, everything about it, especially the music and design. We would love to have Disaster! be made into a movie! Those sets and effects would be such a blast. To see "Tony", the unscrupulous casino-owner, be actually attacked by real looking sharks while singing a pop song- would be so so freaking funny! 
I remember the magic of movies to me as a kid in the 70's.  We had the photonovel of Grease at my house (anybody remember photonovels?!) and I would look at it over and over. That would be so cool...I would love to see the photonovel for Disaster!
REAL LIFE. REAL NEWS. REAL VOICES.
Help us tell more of the stories that matter from voices that too often remain unheard.