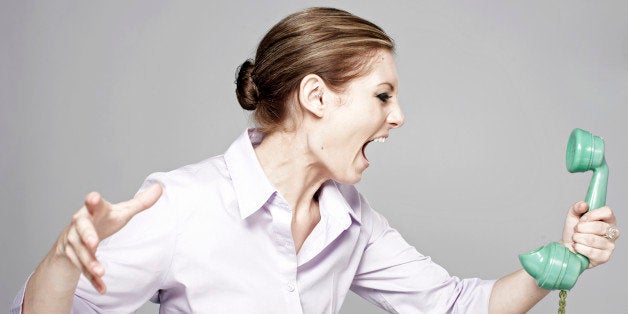 We've all been there -- on the receiving end of that annoying dinner time telemarketing call for a new home security system or from Rachel, a personable robot voice from cardholder services, who is very persistent about calling your phone at all hours of the day. These calls are a nuisance -- and they are particularly frustrating if your numbers are part of the more than 217 million registered on the National Do Not Call list.
At the Federal Trade Commission we know that consumers on the Do Not Call Registry continue to receive illegal and unwanted telemarketing calls, and that robocalls in particular are a growing problem. Robocalls are calls that play a recorded message when you pick them up. Even though the FTC has taken law enforcement action against more than 600 companies and individuals that were allegedly responsible for placing billions of unwanted telemarketing calls, the Commission receives close to 150,000 complaints a month about robocalls alone.
One reason that robocalls continue to proliferate (even though most robocalls have been illegal since 2009, including to numbers that are not on the Do Not Call Registry) is that technological advancements have made it easy for marketers to make massive numbers of calls cheaply, often from overseas, while keeping their identities hidden.
Law enforcement alone cannot put a stop to robocalls. We also need to go toe to toe on the technological front to develop powerful solutions to the problem. So the FTC has run a series of competitions over the last three years to reward those that invent new tools to help law enforcement detect and respond to robocalls and to help consumers block them. These competitions -- and the innovations that have resulted from them -- are possible because of the America COMPETES Reauthorization Act of 2010, which grants all federal agencies the authority to hold competitions to solve tough problems.
Last year, the FTC followed up with a three-phase contest at DEF CON 22, seeking open source solutions to create a next-generation honeypot, or an electronic information system that can help law enforcers and others attract and identify the entities making illegal robocalls.
Now we have two new contests to continue the fight against robocalls. First, we are announcing Robocalls: Humanity Strikes Back, a contest offering a total of $50,000 in prizes for competitors who can build a solution to help consumers identify unwanted robocalls on landlines and mobile phones, and then forward those calls to a honeypot. There will be a qualifying phase of this contest that begins today through June 15, 2015, and a final phase that will conclude at DEF CON 23 in Las Vegas on August 9, 2015.
In addition, we are announcing a new analytic contest called DetectaRobo, which will take place during the National Day of Civic Hacking on June 6-7, 2015. Participants will be given data from an existing honeypot and must develop an algorithm that identifies which calls are likely robocalls. The National Day of Civic Hacking is an annual global effort to unite citizens who are interested in collaborating with their government to develop technological means to address social and civic problems.
Shutting down robocallers requires a multi-pronged approach. The FTC has been fighting the robocall scourge on many fronts -- including law enforcement, policy and education -- and now with the additional tool of the America COMPETES authority to promote creation of innovative technological tools, we hopefully are moving one step closer to winning the fight.
Calling all HuffPost superfans!
Sign up for membership to become a founding member and help shape HuffPost's next chapter