If you follow the news then you already know that Fiji was hit hard by one of the strongest cyclones to hit the southern hemisphere in a very long time. Parts of Fiji were hit so hard that roads were washed away, the most robust buildings torn to pieces by strong winds and many people left homeless. The death toll is rising as relief workers make their way to hard-to-reach villages. Yesterday 21 were confirmed dead.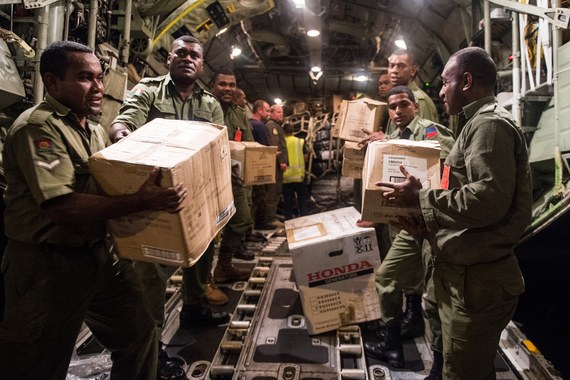 The death toll is rising as we speak.The Fijian Military and Government have already kick started recovery efforts as New Zealand and Australia forces send in forces to deliver supplies and assist in recovery. Assistance from Fijians all over the world have already started to arrive in Fiji as friends and families reach out to help in any way they can.
After surviving three cyclones including a Category 4 and lived through a tsunami on an island, I have a pretty good idea of what islanders need after their houses were ripped from above their heads, children from their arms, all belongings from around them and their livelihoods destroyed. TC Winston was a Category 5, far more severe than any I have experienced, and one that needs a lot more effort to recover from. But assistance although welcome, sometimes can add to the problem, so here's what you should not do and what you should certainly not do to help.
Do not send clothes When you just survived a cyclone and you have no house and safe drinking water, or a proper toilet to do your business in, clothing items are the very least of your worries, because these are usually the first items to arrive in great great numbers before you even secure your next meal. In the aftermath of the tsunami that happened in Samoa in 2009, I was volunteering at the Red Cross and we opened up one container and found half of it was filled with bikinis and other swim wear, of course the irony was not lost on us, but we could not distribute the items as it's rude for us to give bikinis to those who needed clean water. So, instead of that, donate items that one would need in order to survive, such as non-perishable food items, water storage devices, shelter kits, hygiene kits and water purification tablets. Also remember those who survived include women, children, people with disabilities and those with special needs, think of what they might need on a daily basis. If you want things to be sent or to be received and delivered, try UNICEF Pacific and the Western Charity Alliance, a Fiji charity already working on the ground.
Be careful of the food you send In my experience when disasters happens,perishable items sent by beloved relatives and friends overseas have problems because sometimes they are expired, or sometimes you send food that a Pacific islander would much rather die than consuming, such as say lentil soup, beans or things equally foreign to our palate. Instead of that, why don't you donate to the national efforts to feed those who survived. Here are the details for the Prime Ministers Relief Fund, they were the first respondents and have the man power to take your assistance out to the people who need it most. If you would like to give a direct donation or assistance, there are many on the ground doing their bit, so try the group #helpsupport&pray4fiji.
Buy from local stores Instead of buying food and sending it, why don't you go online and buy from Fiji stores and send it to a Fiji charity? This method means that you are not only investing in the local economy you are also ensuring that the food delivered is not expired and it can get to those affected much much faster. A good start would be MH Online and mail it to Suva Red Cross Society .
Donate to Rotary, Red Cross and ADRA If you really want to just send off some money, then send it to Rotary, Red Cross and ADRA. These three organizations are some of the first respondents and have already mobilized a lot of support and relief items to the affected areas. Why Rotary? Because the Rotary Shelterbox is the best thing you can give a family who just lost everything. Why Red Cross? They have already sent relief items and your donation will help them send more, and they will also assist greatly in the health and recovery efforts. Why ADRA? This organization was responsible for rebuilding homes in Samoa affected by our last cyclone, their operations in Fiji are equally effective.
Send a tool or build a house When the international assistance stops and the international media turns their focus away from Fiji in a few weeks, there will still be thousands and thousands of people who still need homes. You can help by assisting in the rebuilding of these communities by seeking the best way to help them either through Habitat for Humanity, sending them tools to assist in the rebuilding or flying to Fiji to help them rebuild their lives.
Follow the efforts Failing all the choices above, follow the recovery efforts on social media so you can asssist as needed. It makes a tremendous difference. As I write this, the New Zealand Air Force air dropped a radio box and supplies to a village who lost all contact for four days until today. These efforts and those of families who hired airplanes and chartered boats to get to villages who were cut off from the rest of Fiji all do help, and helping them in some way will assist those who suffered greatly.