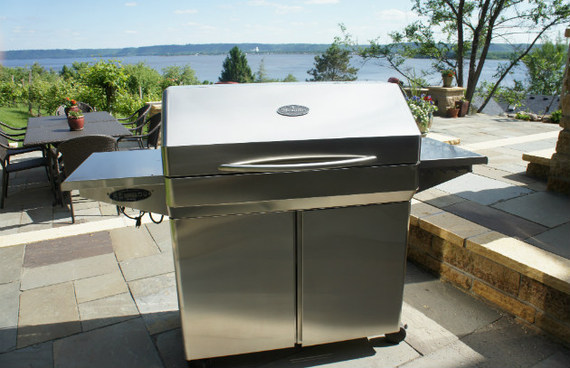 "It's easy--maybe a little too easy," I told a crowd of Barbecue University students gathered around the first wood pellet grill many had seen, five years ago.
Smoking and barbecuing are supposed to be hard work. If not chopping wood, then at least breathing in charcoal dust and smoke and laboring to maintain a steady temperature during a barbecue session that could last the better part of a day. Or night. Certainly no self-respecting pit master would subscribe to a "set it and forget it" philosophy. Pellet grills are a fad, I thought to myself, that will flame out fast.
But today, the Hearth, Patio, and Barbecue Association (HPBA) reports that wood pellet grills are one of the hottest trends in the industry, offering consumers the primal flavor of wood smoke coupled with the turn-of-a-knob convenience of gas. Roughly 300,000 units were sold last year--less than 2 percent of total grill sales--but the popularity of pellet grills is surging.
It looks like I'm forced to eat crow--which, who knows, might even come out palatable if smoke-roasted on a pellet grill.
What are pellet grills? Picture a classic offset barrel smoker with a side-mounted hopper replacing the firebox. Or what looks like a stainless steel supergrill with the hopper in the back.
You fuel it with cylindrical food-grade wood pellets--each about an inch long and 1/4-inch wide--composed of compressed hardwood sawdust. The sawdust is subjected to high pressure and heat, which activates lignin--a natural glue in wood. With the exception of vegetable oils to aid the extrusion process or carry flavor, the pellets contain no additives. They burn cleanly, leaving remarkably little ash.
Pellet grills run on standard household electrical current. When you plug the grill in and turn on the digital controller, a rotating augur delivers pellets from the hopper to a cylindrical fire pot housing an igniter rod. The rod glows red hot for several minutes, igniting the pellets. Heat and smoke from the combusting pellets are diffused by a continuously-running blower fan as well as metal plates under the grill grate. One model, the upscale Memphis Wood Fire Grill, lets you both smoke and direct grill over a wood pellet fire.
As recently as 2008, only two companies manufactured pellet grills (Traeger and its rival, MAK, also based in Oregon). But the expiration of Traeger's original patents opened the floodgates to competitors. Today, pellet grills have entered the mainstream: more than 20 brands of pellet grills are available in North America. Even competition barbecuers have started to embrace this revolutionary smoker and are winning, causing some old school pit masters to complain. Why? Because in their words, smoking on a pellet grill is "too darn easy." (Sound familiar?)
The bottom line? We now have several pellet grills at Barbecue University and some students love them. Of course, there are still a lot of purists (or masochists) out there who insist on burning charcoal or wood.
SIGN UP for Steven Raichlen's UP IN SMOKE newsletter to learn more about barbecue!
Steven Raichlen is the author of the Barbecue! Bible cookbook series and the host of Primal Grill on PBS. His web site is BarbecueBible.com.