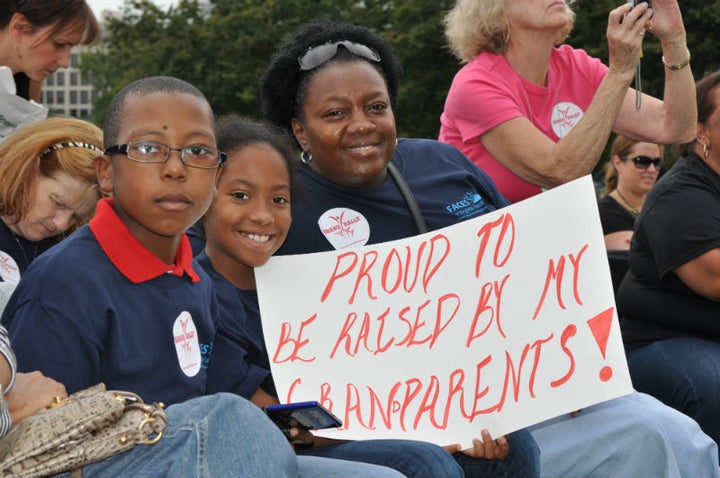 "For my 50th birthday, I got a two year old."
Grandparents and other relatives are finding their lives turned upside down and their dreams put away in a closet. It can come through a knock on the door in the middle of the night, a phone call at work or a weekend babysitting arrangement that turns into weeks, then months and then forever.
More than a third of all children who were removed from their homes because of parental alcohol and drug use were placed with relatives.
The Child Welfare System is relying on relatives in unprecedented numbers. The number of children in foster care in the care of relatives has gone up from 24% in 2008 to 29% in 2014.
Yet for every child in foster care with a relative, 20 are being raised in grandfamilies outside the foster care system with little assistance or access to supports.
While the many reasons the families are created are almost always sad and often tragic, the results benefit children, communities and our country.
Kids fare better in the care of relatives when their parents can't raise them.
How? Let's take a look through the eyes of a few "grand successes."
They are more likely to give children long-term roots. "My grandmother...knew who she was. And with the love she and my grandfather extended to me, she passed on that confidence." Jamie Foxx
They keep brothers and sisters together. "Suddenly my grandparents had complete responsibility of for four kids. The expenses were incredible. I think of my grandparents as saints... (they) provided stability and structure accompanied by a positive place to grow." JJ Hitch
They keep children connected to their cultural roots. "If not for being raised by my grandparents, I would not have a cultural identity. My passion was going to drum circles and listening to old people talk and perform ceremonies. That helped me develop a real sense of pride and belonging." Ray Krise, Skokomish spiritual leader
They make sacrifices for the children. "(my grandmother) She's the one who put off buying a new car or a new dress for herself so that I could have a better life. She poured everything she had into me." President Barack Obama
Children in grandfamilies thrive and they are grateful. "My grandparents were my heroes for what they did for me." Senator Tammy Baldwin (WI)
Grandfamilies serve communities and our country. They keep children out of foster care and save taxpayers more than 4 billion dollars a year.
They deserve our respect and support.
On Wednesday, May 10th hundreds of grandparents, relatives and advocates will join together at the 5th GrandRally on Capitol Hill in Washington, D.C. to raise their voices and together build a community of hope.
Nationally syndicated columnist Michelle Singletary, another grand success, is the emcee, a tribute to Big Mama the grandmother who raised her and her brothers and sisters.
Can't make it to DC? Don't let that keep you from showing your support for grandfamilies. Join the virtual GrandRally.
Call your members of Congress and tell them to support policies that help grandfamilies.
As one 14 year old said when asked about how tough it must be to not have her mom around, "It's not as hard as you'd think it may be because I have my grandma."
Grandparents and other relatives step up for kids every day. Let's step up for them on May 10th.
Related
Popular in the Community