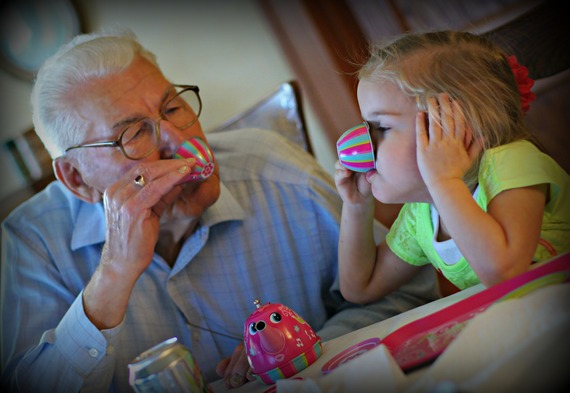 "Nobody can do for little children what grandparents do. Grandparents sort of sprinkle stardust over the lives of little children." Alex Haley
Summer is over. It's back to school now. For some grandparents that means an end to a summer of sprinkling stardust on their grandchildren. For others, the stardust sprinkling continues.
Why? Because many of today's 70 million grandparents are intricately involved in the lives of their grandchildren.
One in ten grandparents provides regular care for at least one grandchild and 32 percent are providing care five or more times a week. The majority, 58 percent, say they do so because they enjoy it.
Grandparents also help financially. This may mean helping with basic needs like school expenses or clothes or it can be bankrolling a fantastic multigenerational vacation.
Whether assisting with care, finances or fun -- grandparents, grand-aunts and uncles and grandfriends are stepping up to make sure the children in their lives succeed.
It's a labor of love, so it's no wonder Grandparents Day falls on the first Sunday after Labor Day each year.

Sometimes it's the grandparents who make sure children get to school on time. They attend parent-teacher conferences and school events. They tutor in reading and other homework assignments.
They sprinkle their grandchildren's lives with the promise of where a quality education can lead.
They are grand voices. And they are creating new pathways for grandparents and older adults to advocate for the next generation.
One motivated grandfather said "I want our children to have an equal opportunity to succeed in life and have access to a high quality education. Partners in Education helps me be a part of the process to make that happen."
He is a part of Parents in Education (PIE), a grandparent and parent engagement project currently in the testing phase in inner city Baltimore. Home of the first Grandfamilies Parent Teacher Student Association, the city is fertile ground for growing family involvement plans that engage all generations of a family in a child's educational success.
It makes sense. Grandparents can be fierce guardians of their grandchildren.
As Marian Wright Edelman said "I love my grandchildren. They have radicalized me all over again."
So how can you do something grand not just for Grandparents Day but everyday?
If you're not familiar with your grandchild's educational plan, engage. Find out how you can support his or her learning.
Is there a Parent Teacher Student Association that could be strengthened by expanding and adding grandparents and grandfriends? If so, join -- if not, suggest one be developed.
If you are looking for other ideas, check out www.grandparentsday.org.
Use Grandparents Day to recommit to doing something grand for another generation not just on one day, but every day.
If you have the sprinkles, they will have the sparkle.
REAL LIFE. REAL NEWS. REAL VOICES.
Help us tell more of the stories that matter from voices that too often remain unheard.