What happens when women aren't able to talk about sex openly?
"I created 'Subjectified because I was curious about people's sex lives," Tapper Goldman told the Huffington Post in an email. "Not just the mechanics of who does what, but what motivates people and how they manage the complexities of sexuality in a world that makes those choices very complicated. Once I started the project, it became immediately clear that many people, particularly women, don't have the opportunity to speak safely and openly about sex."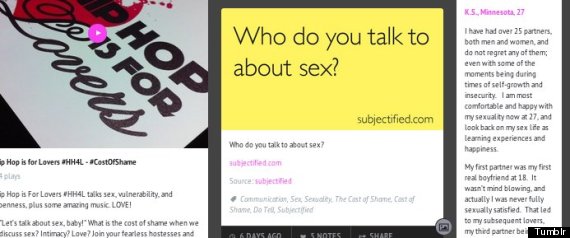 After "Subjectified" came out in January 2012, Tapper Goldman says there was an "overwhelming response" from viewers who wanted to tell their own stories. "For me, the priority was always finding ways to humanize these stories -– to stop having it be about gossip or judgment or whats 'wrong,'" she told Newsweek. "I wanted to give another outlet for people to continue the conversation."
That's what inspired her to start Do Tell, a storytelling project that will run until the end of November. Do Tell is a place for women to share stories about their sexual experiences, or respond to questions like "who do you talk to about sex?" and "how have your feelings about your body impacted your sex life?"
The blog has received submissions from women of varying ages and from all over the world, from a 42-year-old sexual assault survivor in Chicago to a 20-year old in Pennsylvania who thought that there was something "seriously wrong" with her when she started having erotic dreams.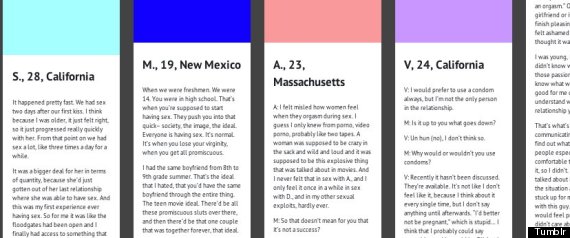 "Do Tell is making space for conversations that couldn't otherwise exist," Tapper Goldman told the Huffington Post. "I'm already seeing that with the submissions that capture people's painful experiences as well as their pleasure and joy."
Though Tapper Goldman's work focuses mostly on women, she says men are responding positively to the material. "Men have particularly appreciated having the topic broached," she told Salon. "Many desperately want information about their partners' experiences — what gives them pleasure or what emotional setbacks they are dealing with — but these men can't seem to get answers from the women they're sleeping with." Knowing what kinds of questions to ask, and having an idea of what issues their female partners may be facing, gives them somewhere to start.
"My real goal for the project is to show people that the cost of shame impacts our lives in serious ways," Tapper Goldman told the Huffington Post. "And that we can push back against this destructive force just by being more open and honest about the role that sexuality plays in our lives."
What does the #CostOfShame mean to you? Tweet @HuffPostWomen or comment below.

Calling all HuffPost superfans!
Sign up for membership to become a founding member and help shape HuffPost's next chapter
BEFORE YOU GO
PHOTO GALLERY
Surviving In Numbers: Stories Of Sexual Assault Survivors