After spending months or even years working around the clock your product or service is ready to hit the market. Regardless of what your startup aims to provide or solve, one thing is consistent -- you need press, and lots of it.
Every single startup is going to have the same initial marketing plan on their whiteboard, including social media outreach and promotion, paid search marketing, SEO, and basic public relations. So, how can you stand out rather than just go through the motions? You need to get creative and get media outlets to talk about your startup.
There are plenty of great PR agencies but if your budget doesn't allow you to hire professional help at the beginning use this simple 5-step approach to drum up some awesome (and free) press for your startup and stand out from the other startups that are using the same cookie cutter PR approach.
1. Identify Your Media Targets
It is important that you compose a list of writers and journalists that will have a genuine interest in your startup. Simply identifying and pitching anyone with a pulse is wasting your time. Think quality over quantity. So, for this example let's pretend your startup is introducing a brand new wearable technology to the market.
Typing in "wearable tech" into Google News will display the latest news published related to wearable technology. This is a great way to identify media contacts that are likely to be interested in what you are offering as it is related to their area of expertise.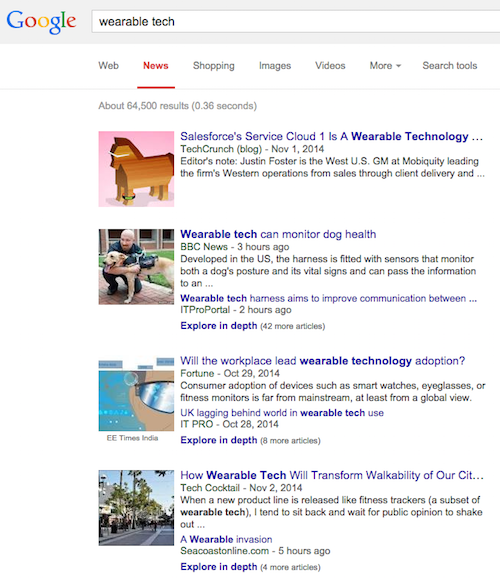 2. Make Your Introduction
Media contacts get buried with emails containing pitches and copy/paste spam that PR firms send to any email address they can track down. Don't use this approach. Instead, focus on making a connection first. Reach out and mention the story of theirs that you just read and mention that you have something that they might be interested in -- and then ask if they would mind if you send them some information.
Ending your email with a question is a great way to get a reply. The key here is to be genuine. If you truly liked their story let them know.
"Hey Bill, your latest story on wearable technology was excellent. We actually just came to market with a new wearable technology that I would love to tell you about. Would you mind if I send you a paragraph about what it does?"
Keep it short and sweet and mention anything that you feel will help make the connection between what they are interested in and what your startup offers. Your goal here is to get a reply that says, "Sure, send me some information!"
3. Smart Unique Pitch
Understand that journalists and media contacts are being pitched around the clock. They have heard it all, so you need to approach them with something unique. A pitch that is overly promotional about your company or the product or service you provide isn't going to stand out among the other two-dozen pitches in their inbox.
Are there any unique or different stories related to the founders of your company? Did you have a successful crowd funding campaign prior to launching? Did your team sleep on the floor of a studio apartment for 6 months and eat peanut butter and jelly sandwiches to get by? A non-traditional pitch will result in a much better outcome.
4. Offer Exclusivity to Major Media Outlets
An exclusive story is very appealing to media outlets. If you have a unique pitch offer it on an exclusive basis. This is a great way to secure press from major outlets. Would you rather press on one major media site like Tech Crunch or press on a few smaller sites with a very small readership? Don't think that offering an exclusive story will hold you back -- just target the best media outlets when using this approach.
5. Make Your Personality Shine
When a PR firm reaches out on your behalf it is not very personal -- it is business as usual, and while that is fine in some situations, when you are just launching you need to let your personality shine. You are essentially selling yourself to the media in addition to your startup.
An email outreach that comes from a startup founder will typically grab the attention of a journalist more than a request from a PR firm. You should invest some time developing relationships instead of just passing that onto someone else. These initial relationships can open more media doors in the future and they can lead to long-term press opportunities.
A win/win situation occurs when you provide a media outlet with something unique to write about that will interest their audience and your startup receives exposure. Use the tips above and you will be able to attract some great press for your new venture.
Would you like free online marketing tips sent to your email every week? Make sure you sign up for the Market Domination Media newsletter. Instantly download your free copy of "The Complete A-Z Online Marketing Strategy Guide" by visiting here and you will also automatically receive free online marketing tips in your inbox each week.
REAL LIFE. REAL NEWS. REAL VOICES.
Help us tell more of the stories that matter from voices that too often remain unheard.