When I mentioned to a group of people, that I like a particular San Francisco neighborhood, the flowing conversation quickly reached an awkward pause. "Mara, you write about fashion, how can you like a neighborhood where women are clones in Lululemon yoga pants?" said one woman, with a slight lisp from her newly pierced lower lip. I don't know, call me "uncool," but after seeing a man publicly masturbate and then get solicited by a group of men in a "hipper" and "edgier" area, I appreciate this somewhat bland, but clean neighborhood.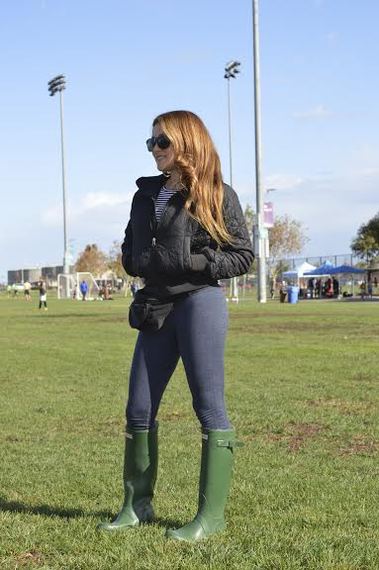 Of course yoga pants have steadily made their way out of the studio and onto the streets. With Lululemon creating yoga pants that recreate the perfect booty, why wouldn't women want to wear flattering spandex as pants? And it's not just in San Francisco. From the the most sophisticated Upper East Siders in Manhattan to the Los Angeles suburbs, women are well aware they landed on a booty gold mine with pants that give them legitimate curves. How can you blame them?
But like all great things, something has to give -- and in the case of yoga pants, it's the risk of revealing the personal shape of one's vagina. Lately I've been obsessed with the internet chatter and judgement over women wearing yoga pants as "pants" and the rise in labia plastic surgery that has sprung up at the same time. I spend most mornings in downward dog at a local yoga studio, which has aided in my research about leggings and labia (thank you to all the women who have the courage to practice at the front of the class.)
Since women's clothing choices -- and their bodies -- do not go unnoticed, it's no surprise that what we wear has become national news. This time it's all about whether our legging are appropriate; and whether we should police the labias that said leggings cling to and outline.
Fox News recently had a panel of men discuss and assess whether leggings are appropriate outside of the gym. Three women in leggings paraded on set, and the panelists decided whether or not their attire was acceptable. The panelists suggested longer shirts to cover any private part sightings or a long jacket to wear when entering public domain.
With the popularity of leggings outside of the gym, women are doing everything, even surgery to avoid possible camel toe sightings. According to the American Society for Aesthetic Surgery (ASAPS,) labiaplasty procedures have increased by 44 percent in 2014 alone. Michael Edwards, MD, President-Elect of the American Society for Aesthetic Plastic Surgery was quoted on Surgery.org as saying,
More women are pursuing these procedures as a means to achieve a standard of beauty they deem appropriate for themselves, however I believe more women are also pursuing procedures like labiaplasty to correct labia-related issues that are interfering with their ability to perform sexually, to perform daily tasks such as exercise, or are merely causing discomfort.
These findings are cause for some serious vaginal neurosis. With all this pressure to hide any vagina sightings, it's no wonder, we as women are worrying about our labium being too oversized to be seen in public (even when covered by protective spandex).
After viewing the Fox News segment, I decided to take a good hard look at my vagina; I really had no choice in the matter. My regular waxer mistakingly removed all my hair, because I distracted her with my incessant verbiage to mask my pain. The timing couldn't be more perfect. My inner Larry David neurotically wondered whether my labia are too big. (I also wondered: Is labia plural or is it counted as one body part?)
And apparently, I am not alone in over analyzing my vagina, after my Brazilian waxing "accident." Christine Hamori, MD, an ASAPS member with a practice focused on labiaplasty and other body contouring procedures discusses possible reasons for the sudden increase in labia reductions on Surgery.org:
The reality is that women have been grooming themselves differently for about the past ten years, with many eliminating pubic hair altogether, and consequently, they are noticing what things look like in that region as a result. Many of my patients want to achieve a clean, smooth look as they would with their face and underarms.
With all this research, I asked myself some poignant questions:
Are my labia good enough to be seen in spandex? Why are fuller labia considered out of fashion? Don't women inject lips with fillers to achieve a sexy pout, similar to Angelina Jolie? So wouldn't that trickle down to our vaginas? After all, big lips are considered sexy and youthful, wouldn't a fuller labia also be an attractive feature? Now, I'm concerned that my labia aren't "good enough" for leggings.
How does one assess her labia anyway? I wondered if I should call the panelists from the Fox News segment? They seemed pretty knowledgable about what works for women. After inappropriately attempting to FaceTime my gynecologist (What? She lives in Miami!) I realized I was left with no choice.
I had to make an emergency appointment with a plastic surgeon, as I still couldn't quite confirm if my labia were "good enough" for leggings. For all I knew, I could unknowingly be the person with oversized labia walking around in skin-tight leggings.
As I wait for my appointment to get my vagina professionally assessed by a plastic surgeon, I wonder if maybe I've gone a little overboard with my obsession over this female body part -- a body part, I never thought much about; now I'm wondering if it needs to be on a low-carb diet. So who can help determine the perfect-looking vagina?
The answer is suddenly clear, Lenny Kravitz. In all seriousness, we as women have so much pressure. When we watch a news segment, where men are making judgements about what we should and should not wear, it would make anyone question themselves. The judgement seems to never end.
But the research is conclusive, only I can decide, and I have. My vagina is damn perfect, even in skin tight leggings (I also figured out that "labium" is plural for labia).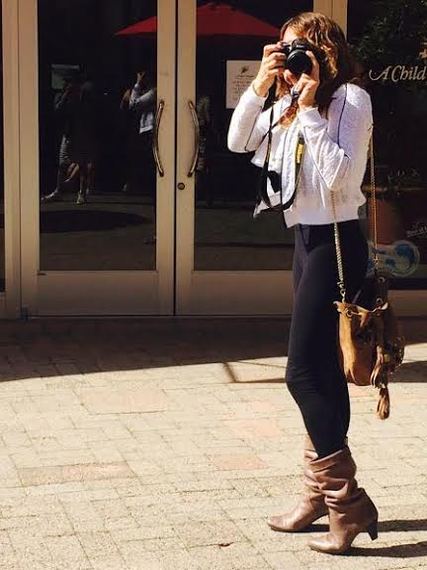 Popular in the Community