Mississippi Governor, Phil Bryant, has signed into law an extreme anti-gay bill that strikes at the very heart of the LGBT community. It truly is heartbreaking that the state of Mississippi can now discriminate legally against all LGBT and their families, denying them of their civil rights and dignity.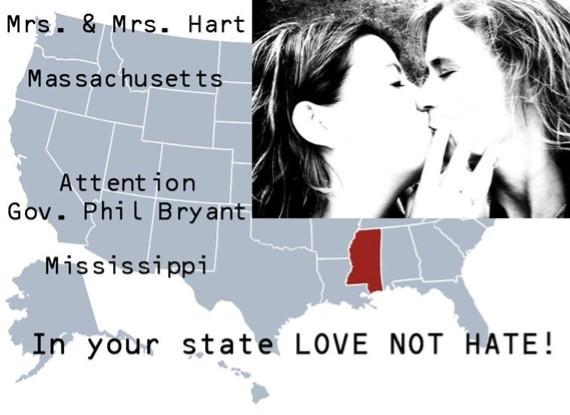 My wife, Laurie Hart, and I literally feel bereaved by this most recent attack. It hits at the core of all we have been fighting for over the past ten years and takes us backwards by decades.
As a bi-national married lesbian couple, I am British and Laurie is American, our lives were turned upside down by the federal government, when I was endlessly questioned about my reason for wanting to be in America, almost every time I entered the country. We knew we had to make a difference and fight for our civil rights or face enforced separation. Using the power of social media, we went to work laying bare our story, we faced so many uphill battles but we never gave up.
During our years of advocating we have had some incredible people voice support for us personally, sending us messages and sharing our story. One of our allies was the wonderful late Anna "Patty Duke" she shared our story, talked to us and voiced her support, uplifted us during difficult times and kept us pushing forwards; we are so saddened by her loss and will miss her dearly. Other allies have included Sharon Stone, Martina Navratilova, Melissa Gilbert, Andi MacDowell and New York Congressman Jerry Nadler, all of whom have been outspoken about their support of us and the LGBT community.
When nationwide marriage equality was passed into law last June, we were ecstatic, but one thing we knew was that although by law same sex marriages were legally recognized, that didn't mean they were accepted. Our passion to keep up the momentum for LGBT acceptance has never waned and neither has our love for each other; if anything it has just grown stronger. Because our story hit a personal note with so many, we decided to make a short film, as a statement piece, to help promote love and acceptance. We were lucky enough to get an incredible team of filmmakers, headed up by Cate Carson, who also felt passionate about the project. Our goal is to promote a powerful message of LGBT allies coming together to bring about change and as we see these terrible religious freedom bills being passed we need to get our message out there, NOW!
Laurie and I had a choice; we could either concentrate on our own lives or we could continue to keep advocating and despite hitting financially hard times we made the choice to keep advocating for us and others. Really it wasn't a choice; we want to live in a country that we feel happy and safe in, one where we don't have to worry if someone will discriminate against us, or our family, because of whom we love. But here we have another state allowing prejudice to prevail and constantly politicians are in full force battle mode against same sex marriage.
We sit here in the huge juxtaposition of same sex marriage being legal across the U.S.A. but at the same time state by state anti-gay bills are being passed and civil rights are being revoked. We can't sit back and wait for more states to join Georgia, North Carolina and Mississippi please help us to halt this hatred and tell our story before it's too late and the clock has been turned back too far!
We need your help and we need it now, if anyone would like to be a part of our story and fight for LGBT acceptance, businesses, celebrities and allies stand up with us so our voices are heard.
REAL LIFE. REAL NEWS. REAL VOICES.
Help us tell more of the stories that matter from voices that too often remain unheard.