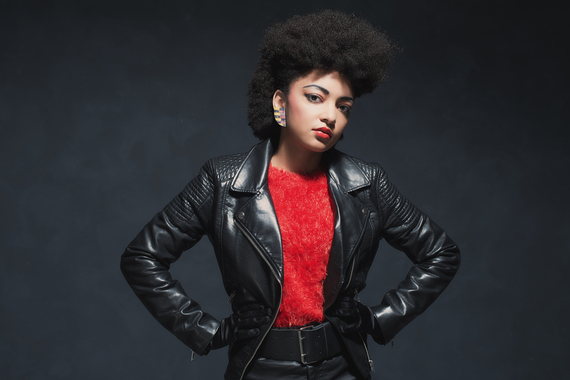 Alton Sterling. Philando Castile. Five Dallas police officers. Alva Braziel. All killed within 4 days. I drenched myself in tears. Prayed for peace. Engaged in heartfelt discussions with family and friends. And shared my frustrations on social media.
You see, I was so consumed by the pain of these horrific events that I was paralyzed from working on my business for a few days. And I never even imagined other entrepreneurs could live in the United States and carry on with their normal, everyday activities without any knowledge of these tragedies. That is, until an email from a white woman who is a well-known online sales consultant landed in my inbox on Friday, July 8 and it lead with the subject line: "Black Lives Matter??"
Here's an excerpt of what she wrote:
I heard mention of the Jesse Williams, BET speech and "Black Lives Matter" but had no clue what it was about. I didn't desire to pull myself away from chasing my dream to learn more about it.

My belief was that we fueled hate by giving it a voice and segregating this issue into only a black one. I believed one of the best ways to end racism was to stop talking about it.

I mean, of course, black lives matter ... all lives matter.

Do we really need to call attention to the fact that "Black" lives matter?

Ninety minutes ago [on Friday, July 8], I was reading the news and was horrified to learn about all that is going on in the country I love so dearly. I was saddened to learn of the hate going on in Dallas where snipers are killing police officers, and law enforcement is killing citizens.

I'm embarrassed that I've been lost in my world and was unaware of the shootings in Minnesota or Louisiana until I learned of the above standoff.
Upon further reading, the well-known sales consultant reflected on stories she'd heard from her "dear friend Curtis" ...
A dear friend, Curtis, once shared with me stories of growing up in downtown Chicago and the racism he saw and experienced as a black human being. I was dumbfounded.

This past year, as I watched Straight Outta Compton, what Curtis described to me, came to life on the screen as I looked at the scene where white law enforcement officers mistreat Dre, Ice Cube, and NWA simply because they can. Even still tonight, as I'm writing this I want to know the numbers, the real data behind this nasty thing called racism.
She ended the email with this:
Black Lives Matter? You're absolutely freaking right they do.
While I appreciate her acknowledging "this nasty thing called racism," I can't help but question the authenticity of her email. Here's a statistic she failed to highlight:
According to killedbypolice.net, 610 Black women, men and children have died at the hands of police officers since January 2016. Alva Braziel of Texas was the latest victim.
However, her email started with her belief that the "best way to end racism was to stop talking about it" even though her "dear friend Curtis" had shared his own horror stories with her before she arrived at that conclusion. So my question to her is this:
How can we stop talking about it? You see, I am a Black woman, mother of a beautiful Black son, married to an amazing Black man. And because of that, I can't hang my skin up in the closet (nor do I want to) and move on hustling in my business with my head down, nose to the grindstone like racism does not exist.
You see, I AM MY BUSINESS and with that comes an obligation to not only deliver my products and services, but to also be authentic and compassionate about social issues. So because I never want to criticize without delivering positive feedback ...
I wish her email would have acknowledged the pain and inspired me to push past it.
I wish it would have motivated me to stand strong and seek out ways to use my gifts and talents to empower those who feel powerless.
I wish it would have talked about how she's using her own platform to change the world.
The business lesson is this: As entrepreneurs, we can't go all head down, nose to the grindstone if it means we ignore the world around us. We serve people. And when people hurt, we have an obligation to use our platforms to acknowledge the pain and DO SOMETHING.
Herein lies the reason for writing this article. I'm here to call on entrepreneurs of all races to educate themselves about racism and other social issues and use their platforms and genius to bring about change. We all have a voice and we must use it wisely.
1. Grow your platform so people will listen when you speak.
2. Grow your business so you have the money to pour into causes and movements that support your local communities.
3. Build a profitable business so you can create a legacy that fuels wealth and empowerment for generations to come.
Lastly, and for the love of all things Holy, please don't hustle so hard that you're clueless about what's going on in the world. Your clients, prospects and followers all need you to step up and step out to do your part to change the world. Don't just show up to SELL, show up to SERVE.
***
Apryl Beverly, The Million-Dollar Word Stylist, is an award-winning copywriter who slings million-dollar, smack-the-buy-button sentences for solo entrepreneurs, small business owners, CEOs and marketing executives of big profitable brands.
Known for her educated, "tell-it-like-it-is" writing voice, Apryl has broken just about every grammar rule she ever learned and survived the wrath of her English teachers.
She is hosting a FREE F.A.S.T. Money Challenge to give startups and online entrepreneurs the inside scoop on how to get their first (or next 100) leads so they can grow their businesses, expand their platforms and use their voices to change the world. Go here if you're up for the challenge.
Calling all HuffPost superfans!
Sign up for membership to become a founding member and help shape HuffPost's next chapter