I grew up in the West where traveling long distances on highways seems to be a part of life. It is not unusual for westerners to travel an hour to go to a doctor or stock up on groceries. Long, open and empty stretches of highway are a part of our psyche and they define how we see our surrounding environment. I love the open road despite the high carbon footprint that our long distance, western lifestyle inevitably creates.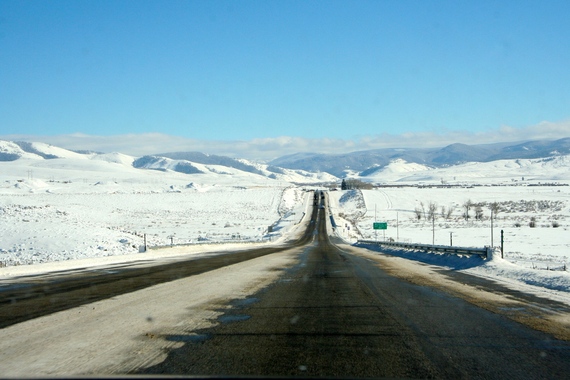 Perhaps that is why I appreciate that, for the most part, those highways are free of billboards and advertisements. Fifty years ago the Highway Beautification Act of 1965 was signed by President Lyndon B. Johnson. The act was intended to protect natural and scenic beauty along federal-aid highways by, among other things, controlling billboards in rural, scenic and agricultural areas. That same year Secretary of the Interior Steward Udall extended the act's benefits to all public lands administered by the Bureau of Land Management--over 250 million acres of western scenery.
President Johnson spoke eloquently about the environment at the bill's signing ceremony and you would hardly think he was talking about highway billboard restrictions when he said, "There is a part of America which was here long before we arrived, and will be here, if we preserve it, long after we depart: the forests and the flowers, the open prairies and the slope of the hills, the tall mountains, the granite, the limestone, the caliche, the unmarked trails, the winding little streams--well, this is the America that no amount of science or skill can ever recreate or actually ever duplicate."
While many of us like to brag about our weekend hiking or skiing exploits, driving along highways and roads is one way that many Americans experience our public lands. Driving for pleasure was identified by 48 percent of the American population as one of their primary outdoor recreational activities in a national survey on recreation and the environment. Most people simply take it for granted that these lands are not plastered with advertising signs and billboards.

LBJ showed he understood this connection between highways, travel and experiencing the natural beauty of our country when he said, "Our conservation must be not just the classic conservation of protection and development, but a creative conservation of restoration and innovation. Its concern is not with nature alone, but with the total relation between man and the world around him. Its object is not just man's welfare, but the dignity of man's spirit."
Much credit is due to first lady Ladybird Johnson as the driving force behind the Highway Beautification Act. Mrs. Johnson later said "Conservation and the environment were something that was at the time deep in the hearts of everyone, and it started in response to the 1965 White House Conference on Natural Beauty." The idea of a White House conference on natural beauty seems quaint now when we have a fuller understanding of the complexity of environmental problems, but the notion that beauty can be found driving down a highway has resonated with Americans for 50 years.
I recently took a road trip from Denver to the Monument Valley Navajo Tribal Park. Driving through Glenwood Canyon one the most beautifully engineered sections of raised highway in the country, out along the isolated highway that follows Comb Ridge, and past the red rock formations of Arches National Park, I felt profound appreciation for those who saw beauty all around them and worked to protect if for future generations.
The next time you take a road trip, remember to thank those who thought creatively about conservation and the connection between people and nature.
Related
Popular in the Community