One of the seven life keys from my eBook "Do What You Love" is Service. It is described as follows. "The myth of capitalism is that the person with the most toys wins. Yet when we focus on the richest people who truly have it all, the only thing left once they've climbed to the mountain top is to help others up the mountain, too. To be of service."
The Dali Lama is quoted as saying, "The happiest person is he who brings the most happiness to others." It's human nature to want something more: a better job, a career, a family, and more money. But just like the new Christmas toy whose luster soon fades after a short time, one of the ways to find true lasting happiness is to be of service to others. It's something in human makeup that brings a deeper, more lasting fulfillment than what's in it for me?
Being of service means more than just writing a check. Assets are multidimensional. For some it's money, for others it's ideas, time, volunteer work, social currency or simply being there for a friend. The ways to be of service are varied, and we can each do something great or small each day to make a difference.
Here is a personal example how it happened in my own life through the power of intention. Intention can be thought of as a message in a bottle, a signal that is broadcast out into time and space. In my case it returned long after I had forgotten about it, and better than I could have ever possibly imagined.
In 1985 whilst living in London I turned on the television to witness the biggest music stars of the day arriving at Abbey Road studios just a few miles from where I was living. It was to record "Do They Know It's Christmas," the UK charity version of Live Aid which led to "We Are The World." Sitting alone in my tiny one room flat I witnessed Bono, Sting, Bono, George Michael, Paul Weller, Simon Le Bon, Boy George step in front of the microphone. Like Cinderella I felt so close yet a million miles away from the ball. It wasn't the party or the attention that I craved, it was something deeper. My soul longed to reach a point in life where I too could use doing what I love which is music, to make a difference in the lives of others.
Fast forward to 2014. The famed DJ David Guetta and his business partner Caroline Prothero wanted to do something philanthropic which was different than the usual all star project. They teamed up with Unicef around the peace anthem "IMAGINE," and created an app that anyone could download. It enabled ordinary people around the world to sing and upload their own video. The result is that people in 140 countries have participated in a vast library of videos listed by continent. It also includes a select handful of marquee names like Katy Perry, Shakira, Guetta, Adam Lambert, along with John & Yoko from the original video.
In the fall of 2015 I met film director Michael Jurkovac who told me about the project which was already years in the making. I was granted the privilege of being allowed to participate by producing a version of my friend and co-writing partner Al Jardine, a co-founding member of The Beach Boys. We went into Shelter Island Sound studios in New York to record Al's lead vocal. It was haunting to pull up John Lennon's piano part all by itself. I heard things on his original tracks I had never focused on before. We recorded Al's vocals on Oct. 8th, 2015. That night Mr. Jardine was kind enough to give a salon style talk at Pond5, a video and creative media technology company that film makers, music makers, special effects creative folks use as a marketplace to share their work. Since I have been a participant in the Burningman festival since 2001, I have the mindset to engage people not as spectators, but active participants. At the end of the event I invited the entire audience up onstage to sing IMAGINE with us, and Pond5 captured the moment on film.
The following day, Oct 9th 2015 would have been John Lennon's 75th birthday. We took several film makers from the prior evening C. Ryan McVinney, Robert Pascale, James Wright along with Relix Magazine's Brian Stollery and Mike Greenhaus and went to Central Park's IMAGINE plaque. I had no idea that even at that early hour many hundreds of people would be gathered, so you couldn't even see the IMAGINE plaque. Gathering all the muster and bluster I could, I cut through the crowd to the center and shouted for everyone to listen up. I explained that with Yoko's blessing, we were about to pay tribute to John by joining together and singing IMAGINE. I explained that it was for Unicef and they were invited to all be participants in this amazing moment. I introduced Al and the crowd was delightfully blown away. Howie Edelson, a radio DJ superstar and rock music journalist whom I met through Al was the person who came up with the idea of going to Central Park to sing IMAGINE and I was surprised no-one had done it with the UN being based in New York City.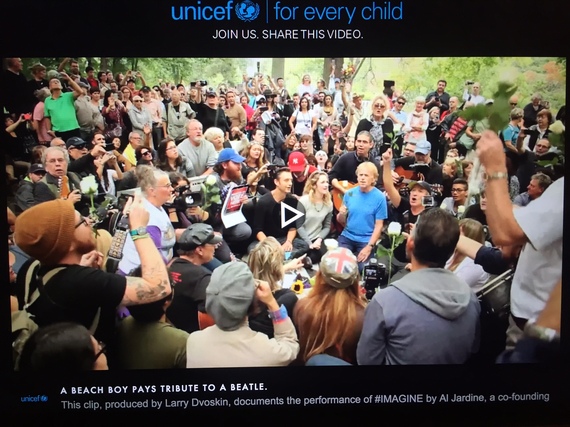 I was a HUGE Beatles fan growing up. I can play almost every song they ever recorded. When asked whom my influences are as a songwriter, I always say John Lennon. The fact that he used his personal journey in life as the bases for revealing himself through his music, as well as the currency of his enormous fame to spread the message of peace & love continues to inspire me daily.
It was only after the event was over that I made the connection to all those years ago in my head. The message in a bottle intention I had to be of service, contribute to making a difference in the lives of others went out into time and space. It circled the globe year after year and manifest in events great and small in my life. As if by some miracle it landed in my hands that day Oct 9th. Does it get any better than bringing a Beach Boy to pay tribute to a Beatle, on an amazing song to benefit children? I don't think so.
We filmed the song being led by Al, his lovely wife Mary Ann, and myself. As we were getting up to leave, several of the guitar bearing buskers who were in the park leading the crowd in Beatles songs before we had arrived started playing Beach Boys songs; "409," "God Only Knows," and of course- "Help me Rhonda." Al grabbed a guitar and suddenly we were part of an impromptu Beach Boys unplugged set. It felt like a musical explosion of sheer joy.
SERVICE. Being willing to lend a hand. It doesn't have to reach the stratospheric heights of this story, it could be as easy as being a friend to someone who needs a shoulder to lean on, or a ride to a service station after a flat tire, or a couch for the night, or a few bucks till pay day. The consciousness of being of service has for me led to extraordinary feelings of fulfillment.
If it can happen to me, it can happen to you. Do What You Love- Service.
DO WHAT YOU LOVE- Songwriting
IMAGINE- A Beach Boy pays Tribute to A Beatle
Calling all HuffPost superfans!
Sign up for membership to become a founding member and help shape HuffPost's next chapter