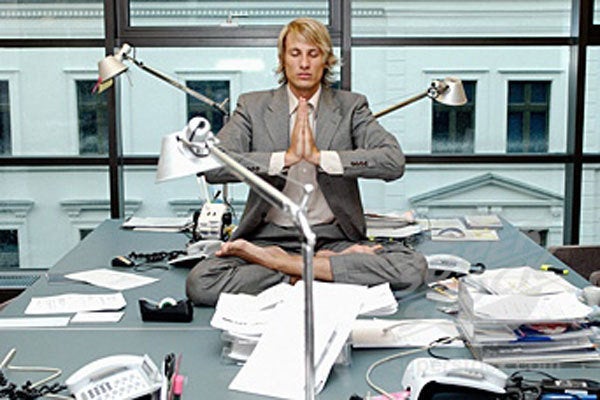 Among all the nuggets of wisdom I have garnered on the mat over the years, I have yet to hear a yoga teacher advise me to go deep within and seek new and innovative ways to make money. Nor has a guru ever, to my knowledge, doled out spiritual guidance hand-in-hand with stock market quotes and investment portfolio reviews. So what does yoga - the ancient Indian practice of achieving physical and spiritual well-being through movement and meditation - have to do with business? For some people, a whole lot.
A photo essay in the June 2007 issue of Vanity Fair glamorized the pioneers and promoters of yoga in a stylized spread worthy of the poshest celebrities and millionaires who have graced the pages of that magazine. In the intro, the author noted that yoga is fast becoming a "multi-billion-dollar industry," and the photos celebrated that industry's success stories. Even those you might think of as real yogis (as opposed to trendy yogis, like Madonna), such as B.K.S. Iyengar - an 89-year-old Indian man who developed his own approach to yoga which is now practiced worldwide - have made good on the financial potential of yoga, writing reams of best-selling books, opening yoga schools and studios, and traveling all over the world to lead workshops and give lectures. In other words, no matter how enlightened you are, it's hard to deny that yoga is a business. (In fact, the more enlightened you are, the better, because you can charge more for those workshops and lectures!)
A number of wise celebrities and retailers have caught on to the trend and started selling up-market products geared towards the yoga set. Supermodel Christy Turlington is a long-time yogi who now channels her love for the practice into a successful line of "yoga-inspired activewear" called Nuala, which she produces in conjunction with Puma. Lululemon, a Canadian company also devoted to "yoga-inspired athletic apparel," is a favorite of fit celebrities everywhere, and was recently reported by Women's Wear Daily as having a surge in second-quarter profits, with sales up 117.6 percent. It seems that, in spite of the current retail recession plaguing brands everywhere, Lululemon continues to be inspired by yoga, and consumers continue to be inspired to buy Lululemon's clothes. The clothes - we can only hope - in turn inspire the consumers to do yoga. It's a kind of yogic circle of inspiration, but with money - not prana (or energy) - the driving force behind it.
Perhaps it's because yoga has so much profit potential that a surprising number of moguls and high rollers have been lured to its halls. More than just a financial wellspring for the business savvy, it is also a retreat from the high-pressure spheres in which they operate. William H. Gross, the Chief Investment Officer of Pimco, is one of the richest and most successful investment bankers in the world. What's his secret? In an interview in 2006, Gross said, "the most important part of my day isn't on the trading floor" but rather in the health club where he does yoga and works out for an hour-and-a-half every day. Sighting what many yoga teachers will affirm - that doing headstands makes blood flow to your brain - Gross claims that some of his best financial ideas have actually come to him while practicing this inversion. (Is this what yoga teachers mean when they talk about the "benefits" of headstand?) Gross says that his employees know not to disturb him during yoga because "there's an understanding here that that's my haven."
Donna Karan, a fashion industry icon, is another for whom yoga and meditation provides a sacred sanctuary. For Karan, her business as a fashion designer and her explorations into inner self are part of one contiguous creative process. In a New York Magazine interview in 2004, Karan said about her approach to fashion: "All I want to show is that we are one. We are all one. I'm a traveler. I'm an explorer. I live nowhere. I live on my mat." (That would be her yoga mat, which she has been on regularly since she first discovered the practice at the age of 18.) Her home in Manhattan contains a private yoga studio with views of Central Park, and she counts among her close friends yoga celebrity Rodney Yee, with whom she has been known to travel on yoga vacations to exotic locales.
Yoga's sister practice, meditation, has provided a similar refuge for the very rich and very busy. Last week, the New York Times reported that Edwin Catmull, the head of Pixar Animation Studios and Walt Disney Animation Studios, just returned from a meditation retreat at a center for Buddhist meditation and yoga in the mountains of northern Colorado. In the article, Catmull suggests that the greatest challenge of meditation is training his mind to focus without all the demands of his high-stakes job working upon it. He says, "When things are intense... I have no trouble focusing. But when they're not intense, my brain starts popping off in all sorts of places." That's okay, Ed... don't judge yourself... just watch your thoughts float by like clouds against the blue sky of your mind...
Speaking of Pixar bigwigs, Steve Jobs, CEO of Apple and king of the Macintosh empire, has been a seeker in the yogi tradition for years. He has studied Eastern philosophy and meditation extensively and even made a spiritual pilgrimage to India back in 1974. (Supposedly he came back with his head shaved and wearing traditional robes.)
There are also a number of luminaries of media and politics who have been rumored to be yoga devotees. In the media set is news anchor Katie Couric, who recently stopped by the HuffPost Oasis at the Democratic National Convention and showed off her pike headstand to a room full of awed onlookers. And if you run in political circles, you might run right into Senator Harry Reid of Nevada relieving politics-induced tensions by doing his daily exercise routine, which includes walking, push-ups, and - you guessed it - yoga. So it's official: yoga is not just for hippies anymore.
Perhaps you're a yoga purist and you feel disheartened to learn that some yogis are straying so far from the principles that a yogic life is rooted in: humility, service, selflessness. Since when is it selfless to make millions of dollars on the stock market? Or humble to build a private yoga studio in your own multi-million-dollar home? Who are you serving by charging $50 for a tank top? But don't get too down. What all this really says is that yoga is a powerful practice and that it is able to touch all kinds of lives. In particular, its many positive effects - including reduction of stress and increased focus and energy - are natural draws for those who are under a lot of pressure at work. And, lastly, isn't there a glimmer of hope in the idea that yogic principles might infuse the lives of people in positions of power, and that the trickle-down effect would be that the world might actually become a kinder, gentler place? Now with that in mind, let's all inhale deeply together and say OM.