Her tweet immediately got my attention: "Photo courtesy of my work husband."

Work husband? I tweeted back, "I want one! You don't have to go home and make dinner for them!"

Rachel Belle is the funniest person I know. She was my radio producer for a year at KFBK in Sacramento, Calif., and kept me laughing every day. Now this single gal is at KIRO radio in Seattle working on The Ron & Don Show and has found her work husband in her happily married co-worker and co-host Ron Upshaw.

Her relationship with her work hubby began when they were on business together in Japan and had to stay in the same room but in separate beds. Nothing happened. But she said he sealed the deal in another way when he brought her coffee and bagels in the morning.

"A work husband is someone of the opposite gender who you work with," she explained. "My work husband is kind of like my touchstone and is the person I'm closest with at work I end up asking advice from personally."

In our down economy where we are all stretched to the limit doing two or three jobs, we all need someone who can help us out, cover our back and give us support to keep us going at the workplace. Maybe even bring us coffee or lunch when we're slammed.

The concept of a work husband/wife/spouse is not new. An OfficeMax survey released in February found 50 percent of those polled said they have a "significant other" at work. But the approach to a "work spouse" is new. Talking to the experts and just everyday people, a work spouse may actually be good for you -- if you're careful.

Joey Garcia is a relationship expert in Sacramento, Calif., who thinks the idea of a work spouse is sweet and needed in these times.

"To call someone a work husband or work wife is just a way of saying this person is really important to me and I trust them," said Garcia.

I've had several male friends who were co-workers. When I was covering crime and courts in Los Angeles, I had lunch every day with my newspaper competitor, Jeff. I was married. He was engaged. We competed on stories but were best of friends. There was even a weekend in Carmel covering a judges' conference when we unwound in the hot tub together. Yes, as friends.

In the 21st century, our opposite sex workplace pal plays a crucial role, suggests Garcia. We spend so much time at work we see our co-workers more than our spouses, children, other family members or friends during the week.

"A work husband/work wife is someone who has the same kind of passion or passionate concerns for my career," she said. "They're going to help me in my career and selflessly offer me the naked truth about my behavior at work; about strategies, about my capability on a project."

But Sacramento marriage and family counselor Tim Dakin is very wary of the concept.

"I think the whole work/spouse thing is a very dangerous blurring of boundaries and creates a lot of relationship rule confusion," Dakin said.

"Co-workers may think they're in the clear because they haven't crossed the line physically. (But) They develop an emotional bond with this person," he said. "They may trust their spouse to be physically faithful. But they don't realize what it will become if you develop an emotional bond with this person."

Agreed in part. I've had two friends whose husbands got very attached to the female co-worker he was working with on a project. When it ended, both of these husbands were depressed, missing that bond with the female co-worker. One even bought his female colleague an expensive gift his wife wasn't very happy about.

Rachel's work husband, Ron, said his wife loves Rachel. They text each other and have dinner together. Ron said with Rachel they have an actual friendship that is above and beyond the work relationship.

"If there was the same situation and there's any sort of physical attraction or sexual tension there then I think that would be bad and have the potential to blow up on you," he said.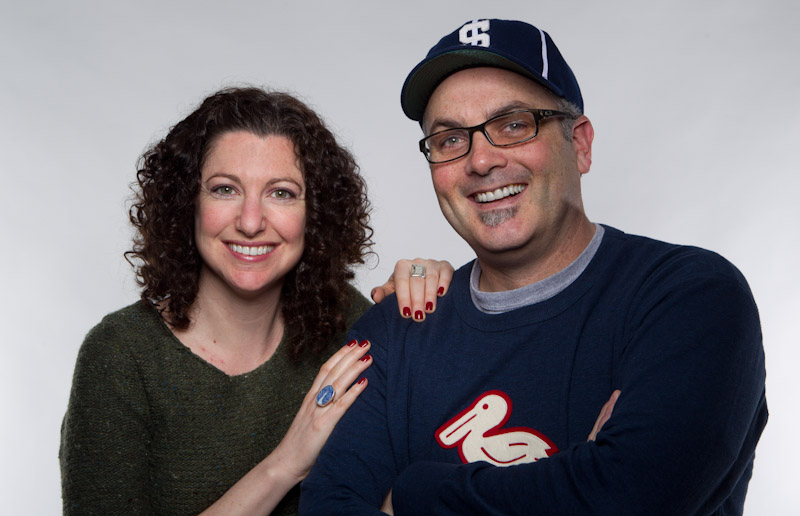 (Photo of Ron Upshaw and Rachel Belle by Chris Pendl.)

Family counselor Dakin still thinks these type of relationships are "super dangerous." He said marriage is tough enough without having an outside friend of the opposite sex.

"When you go to work, your work partner/spouse only sees you at your best. They see you with your best clothes on. You're presenting the best part of who you are," Dakin said. "At home, people accept you despite the stubble, messy hair and bad breath."

But in our increased time and workload at the office, don't we all need someone to vent to?

"These relationships are about intimacy -- but not what you think," relationship expert Garcia admits. "Intimacy is the people that we let so close to us that they see the reality of who we are. They see our shortcomings, our frailties, areas of growth that are necessary. They also see our beauty inside and out; our talents and gifts. They love us as we are. But they always tell us the truth."

Yes, truth and trust. I have a male work friend who is the only one I trust to edit my blogs. Everyone else just tells me they're good. I trust this guy to tell me exactly where the faults are -- in my blog or in me.

"It's good to have somebody to ask questions to about my personal life because they're not in your real life," Rachel explained. "Your friends have all these opinions and know everything and judge you."

"He's like the family member. If he bugs me, I'll just tell him to shut up."

That's the good thing about a work spouse. Not sure that would fly with your real life spouse.
Popular in the Community