You don't need to go anywhere to have destination addiction. It isn't a physical place but a state of mind. It's a term used to describe the belief that success and happiness is the destination: "Everything will be better once we're in our new house," "I'll be successful when I can buy myself a new car," "I'll be happy when I can fit into a smaller pair of jeans." Sound familiar?
It's easily done and pretty common to be looking ahead and thinking life will be better in the future when X has changed or happened.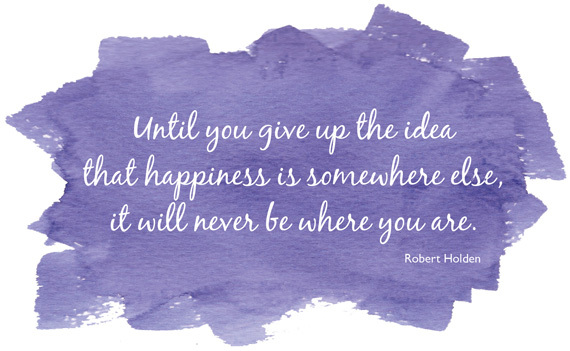 But what does that mean for you right now? It means there's a feeling of dissatisfaction, unhappiness even, with your life as it is currently. You don't enjoy living in your current home, which you quite possibly loved when you first moved in. Now you only see faults instead of remembering the fun memories you've made there. You forget that until recently your home has been a place to share with family and friends, and a space to retreat to for comfort and rest.
Moving home is a regular part of life but pinning all your hopes for happiness on your future home, and forgetting there's still joy to be found while you're in your current home, only gives you feelings of restlessness and discontent.
With destination addiction you feel life is to make do with. Days need to pass quickly so you can hurry up and get to the good bit. And when you get to that "good bit," is life then perfect and you live in blissful contentedness? No, you get used to your new circumstances, they become the norm and you're back to looking ahead to how life will be better in the future. Your new home is great but there's decorating to do, furniture to buy -- before you know it you're thinking how great life will be when you've put in the new kitchen or painted the bathroom.
And so it continues! Even people who win millions on the lottery don't live a blissed out existence forever more. Research by Brickman, Coats and Janoff-Bulman found that while lottery winners felt an initial burst of euphoric joy, a year later their happiness levels returned to where they were before their big win.
So, how about we break this destination addiction? You should absolutely plan and look forward to moving house, save for a new car or get fit and eat healthily, but take time to enjoy your life as it is right now too.
Look around you, what's good in your life at this moment in time? What makes you smile, what evokes happy memories? Your current car might be a bit old and tired now but it's got you from A to B and perhaps C and D too. Your jeans might be a size bigger than you like but with a favourite top and shoes your reflection looks pretty good in the mirror. You're ready to be in a bigger house or in a different location but you can remember picking out paint colors and celebrating birthdays round the kitchen table.
Looking forward to new experiences or events is a source of happiness in itself, but don't sacrifice your current happiness for future dreams. You may have heard it said many times that life is about the journey not the destination and that's a pretty good way to think.
Don't get so caught up in the pursuit of happiness that you forget to feel happy on the way there.
HuffPost's GPS for the Soul app is based on two truths about human beings. First: We all have a centered place of wisdom, harmony and balance within us. Second: We're all going to veer away from that place, again and again and again. What we need is a great course-correcting mechanism -- a GPS for the Soul -- to help us find our way back to that centered place, from which everything is possible.
Because no one knows better than you what helps you de-stress and tap into that place of peace inside yourself, it's important for you to create your very own GPS guide -- a personalized collection of whatever helps you course-correct. Email us at GPS@huffingtonpost.com and we'll set you up with your very own HuffPost blogger account to share your guide on the site. If you're already a blogger, we encourage you to upload your personal guide today. We can't wait to see what you have to share.
Related