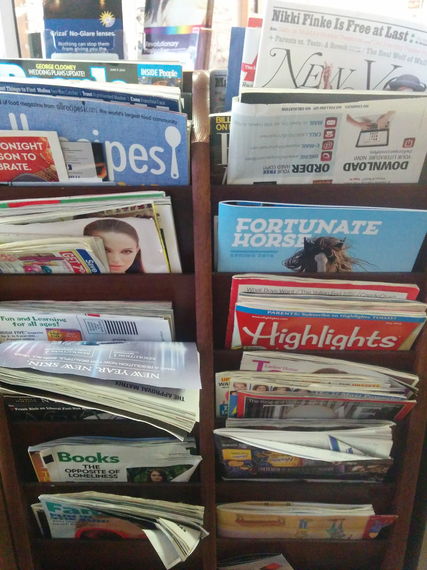 We all know one. Perhaps he's a lawyer -- tall with a grizzly voice and the arrogance of a kid who's never fallen off his bike before. Or a Wall Street personality, less blunt but just as obnoxious in his superficiality. Or an artist, the worst specimen of all; he sits at a café feeling tortured as he sips on his cold-brew mocha-chai, half-caf.
Yes, I'm talking about Manhattan's most repulsive man: Mister Cigarette. As though it weren't enough for him to lurk in the shadows, he's now been given his own publication.
Professional funnyman Taylor Moore began his collection of fake magazines last year, when he and his friends from the comedy world devoted a day to creating a glossy about horses for the ultimate equestrian lover. This February, the so-called Fortunate Horse collective decided to continue their enterprise by designing a faux men's magazine with the help of additional volunteers from prestigious news and entertainment outlets like The New Yorker and Saturday Night Live. Now, their babies are hot off the press and sure to please.
In the style of Cigar Aficionado (yes, we live in a universe where that publication does indeed exist), Mister Cigarette is carefully devised content for "lowlife bros who love cigarettes," as Moore described. The demographic is "from 18 to 80, but probably not much further, statistically speaking," and it's exclusively for those of the male persuasion. Features include how to bum a smoke given the situation, and jazzier positions for holding your cigarette.
"A lot of people think the only way to smoke a cigarette is between your index and middle finger," Moore explained. "Well false. That's just not accurate. There's a bevy of new ways to hold and to smoke cigarettes with your hands, and we'll tell you how."
While some stories concentrate on the use of cigarettes themselves, others appeal more generally to the cigarette-minded man. For example, what's Donnie Wahlberg been up to lately, and how have the Red Hot Chili Peppers kept it fresh for so long? Mister Cigarette uncovers answers to the questions that keep its readers up at night.
"We do dedicate editorial resources to the world of jet-ski trailers, and which ones are hot, and which ones are not," Moore said reassuringly.
Of course, the interviews, advertisements, and blurbs have all been fabricated. Funded by a Kickstarter campaign, the Fortunate Horse project is an attempt to bring a little whimsy to a community that takes itself too seriously. Fundraising proved extremely successful, and Moore has shipped copies to backers in Indonesia, Germany, Japan, the Netherlands, Latvia, Central America, Canada, and Singapore, to name a few exotic locales. The objective? Leave a magazine in a public place, and let the insanity unfold.
"We want the world to be more fake and more fun. More absurd," Moore said. "If someone thinks this is real, and is confused and bewildered by it, that is an enormous success. Big time."
He and his team chose a men's magazine as their second topic because they wanted to investigate how journalism portrays masculinity. Esquire, GQ, and Maxim were particularly noteworthy influences.
"You pick up a men's magazine, and it's these beautiful, class-obsessed, superficial, apersonality goofballs that you would never want to get stuck talking to for long enough to know them," he chuckled. "The emperor has no clothes. It's classic."
Mister Cigarette takes those concepts of machismo and egotism and bumps them to the next level, mocking the ridiculousness of an image-centric culture. While it's not anti-smoker (many of its writers enjoy a cigarette every once in a while), Moore claimed that if any young hot shot read a few pages, he might just put away his Camels for a while.
"It is a disgusting and off-putting magazine," he said. "Would I put it in a student building? Yeah, yeah I would. If I was the dean of a school, I would see it as my ethical responsibility to pledge at least $10,000 to the project and put those copies directly in the dorm rooms (and off-campus housing as well) -- by force, if necessary."
While men's magazines are often steeped in misogynistic jargon that builds the monsters I meet everyday as I walk around my city, it's important to note that their mission isn't all bad. Two of my favorite journalists are Tom Junod and Michael Paterniti; their reportage defies any gendered expectations to truly analyze a prominent issue in the news. However, that's not the body of work that Mister Cigarette criticizes. Moore is playing with the idea of a man crafted by a society that celebrates the Mr. Grey type -- think of a "what's hot" listacle instead of a reported piece on abortion.
"You want a hot political take?" Moore asked. "Hey, go to Huff Po."
REAL LIFE. REAL NEWS. REAL VOICES.
Help us tell more of the stories that matter from voices that too often remain unheard.