Let the generations know that women in uniform also guaranteed their freedom. That our resolve was just as great as the brave men who stood among us... That the tears fell just as hard for those we left behind us. -- Women In Military Service for America Memorial, Washington, D.C.
In honor of Veteran's Day, thank you to all the veterans and active-duty women, men and their families who proudly serve and protect our great nation!
I recently met Melissa Washington, U.S. Navy veteran, Marine Corps wife, founder of Women Veterans Alliance and the creator of the Sacramento, CA-based campaign "What Does a Woman Veteran Look Like."
It was interesting to learn that the civilian population commonly thinks of a veteran as being a man who served in one of the wars like Vietnam, Korea, or the Gulf. When most people hear the word "veteran," a woman never seems to come to mind.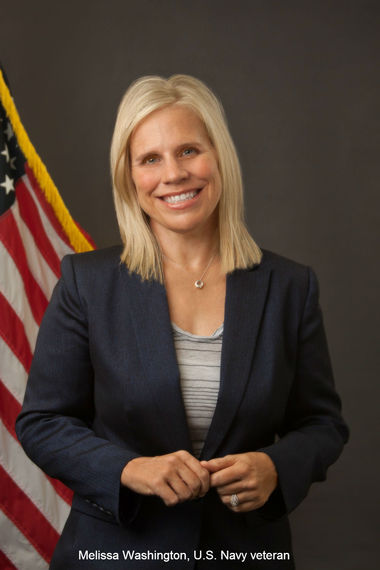 A recent report put out by the Department of Veterans Affairs reported as of September 30, 2015, the population of women veterans numbered 2,035,213, with California showing the second-highest population, behind that of Texas.
Washington created the "What Does a Woman Veteran Look Like" campaign because women are veterans too. Washington stated,
We have proudly served since the Revolutionary War and are continuing to break barriers. I get questions [like] 'What does a woman veteran look like?' Or, 'You are a woman veteran; I would have never guessed.' I feel that people think we all are supposed to look like Demi Moore in GI Jane.
As part of the campaign, Washington partnered with James R. Morrison Photography to capture images of the women veterans to help bring to light the fact that women veterans look like you and me.
But what was astounding to learn is that a lot of women veterans also do not identify themselves as veterans. Washington sees this quite often with the veterans she works with... herself included. Washington said, "When I first got out of the military I did not consider myself a veteran. My dad was a veteran as he fought in Vietnam."
U.S. Navy and Naval Reserve veteran Suzi Vinci says,
"I identify as a veteran, but the rest of the population does not identify me as a veteran upon first sight. The uniforms hanging in my closet and my DD214 are my validation of being a veteran." Mainstream society is getting better at recognizing female veterans and not being caught off-guard when a woman expresses that she is a veteran. Vinci says, "I still experience when in public, my husband is asked if he is the veteran; it is just assumed that the man would be and not the woman."
Women serving in the military continue to bust through barriers that once held them back simply because of their gender. During her time of service, Sevrine Banks, U.S. Army veteran, had the honor of leading a group of 64 women into Southern Afghanistan as the Female Engagement Team and First Sergeant, the only one in the U.S. Army.
Banks was selected by the Senior Enlisted Advisor to serve in the position. The Female Engagement Team company was created to enable female soldiers to engage with the women and children of Afghanistan. Some of the missions Banks went on were the most humbling experiences of her life. She recalls sitting down and eating with people who didn't have that much to begin with and teaching soccer to kids while trying to keep a scarf wrapped around her head out of respect to the Afghan culture, quite a feat.
"It was a great honor to have done something that wasn't done before. These women overcame a lot that I don't think others thought they would," says Banks.
They learned Pashto in 12 weeks, trained in Infantry tactics, conducted extreme physical training and were placed in scenarios prior to the deployment to prepare them for anything they may encounter.
For others, like Vinci, serving in the military allowed her the great fortune of being a part of some incredible units that afforded her opportunities to see places in the world she many have otherwise never gotten to see. During her career as a Navy yeoman and recruiter, she was placed in positions working with some amazing people where she learned so much. "I must say that serving with the SBT 22 Unit was the most rewarding of my Navy time. I did very much feel part of the team. I was the only female in a unit of about 35 men, and I never felt more respected and more protected in my life," says Vinci.
For those serving in the military who are mothers, the phrase "it takes a village" gains a whole new meaning. The need for a trustworthy, loving network of friends or family that can step in while you're deployed or off training is imperative. Being away from her children was extremely tough for Banks. Her daughter, who is now almost 17, became responsible at an early age. When Banks left for Iraq, her son was 13 months old. He didn't recognize her when she returned. "It was very painful when he screamed every time I reached for him. I had to prepare mentally prior to leaving and remember that this was my job, my career, how I provided for my family and that God would protect me," says Banks.
She had to prepare her kids -- mostly her daughter; her son didn't really understand -- that she was going to help find the bad guys and protect their freedom and not to worry. There were a lot of nights Banks cried because she missed her children, but she also knew she had a mission to fulfill. Technology really helped her, and she appreciated being able to call and Facetime with her family.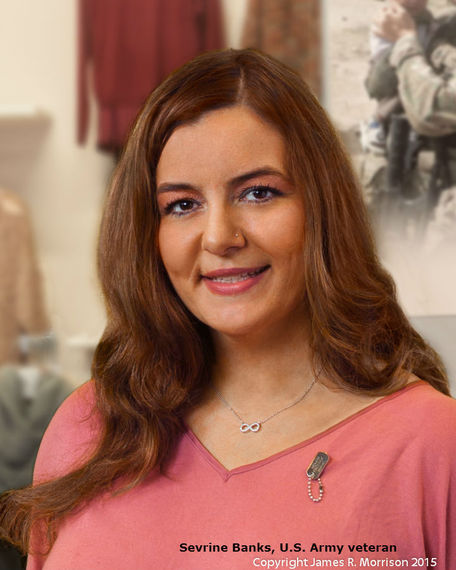 Banks was fortunate enough to have a family who never thought twice about providing that layer of support she needed when she couldn't take care of her children. The friends she made in the military also stepped in when it was temporary. "I had a fabulous daycare provider that took my son in at seven weeks and treated him like her own son. Seven years later we still have an amazing relationship with Elizabeth and her family," says Banks.
For Vinci, it was very difficult to leave her children. She had to sign over a durable power of attorney to her parents so they could care for her kids in her absence. Because her children were so small when she joined the Navy, they didn't know anything different. It was their normal. She would phone home to talk to them and always made sure she brought them back something special.
It's huge to have a trustworthy, loving network of family to step in when you are called to duty; the last thing a parent wants to worry about while serving their country is if their children are OK. I never had to worry. My parents and siblings stepped up to the plate and cared for my children during my duty away from home. That in turn allowed me the peace of mind to service my country without that worry.
For many veterans, transitioning back to civilian life continues to be an obstacle with both a veteran jobseeker and the employer who is not understanding of how military experience translates to jobs in the civilian world. It's an obstacle Washington continues to see with the members of the Women Veterans Alliance, an organization she founded after seeing a need to bring women veterans together to help empower each other through networking, career and professional development, and mentorship.
Banks found it extremely hard to re-enter civilian life. All she knew for 20 years was the Army way of life. She turned 19 years old in basic training.
The Army has a great program called ACAP which prepares veterans to re-enter civilian life by teaching them how to interview, dress appropriately, and write your resume. However, no one can prepare you for how civilian employees act in comparison to soldiers. The military teaches service first, then self. I found that in the civilian world, it is OK to put self first; I am not sure I will ever be able to do that. The obstacle that came up for me was translating my skills into civilian language.
Vinci learned that for a veteran or military member, the civilian sector has a very different mentality. "In the military mindset, we are a team and everyone pulls together to get the mission done so we can all enjoy some liberty, but in the civilian sector it is every person for themselves. There is no nurturing or care and feeding for fellow workmates," she explains.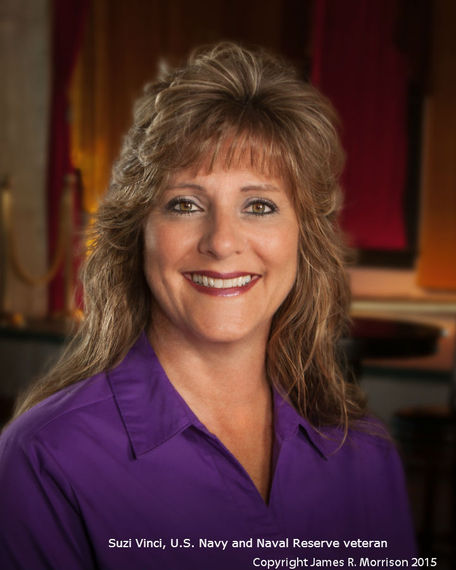 Transitioning really has not been that traumatic for Vinci. She is fortunate that she works in a civilian job that connects her with military and veterans who all have the same mindset, and for that she is thankful. "It is still hard, and I don't think veterans ever really completely transition to 'civilian life.' Our military life is part of who we are, and we take those core values with us into the civilian sector."
One noticeable theme with the veterans I interviewed was the need to continue being of service. Vinci now serves as the assistant veteran service officer for Placer County California's Veterans Services Office. Vinci stated
I am fortunate enough to be in a position where I make permanent positive impacts on our veterans and their families' lives. Though it may only be the veteran that is awarded with a service connection, the benefits trickle down into the family. I make it a point to treat every veteran I come in contact with as if they were of my DNA; we are family, and I treat them as such.
She knows that by assisting veterans in obtaining their benefits, it keeps some of them off the streets. Their children now have the opportunity for a higher education without the financial burden on the family, and the family members have peace in knowing their family member is taken care of, that there are resources and people to turn to in times of need.
For Washington, creating a sisterhood for women veterans to network and continue the camaraderie was an important piece of launching the Women Veterans Alliance, along with providing a community catalyst to honor the courage and sacrifice that women veterans have made for our great nation.
When I asked the women, If you had to do over again, would you serve in the military? All three women said a resounding YES!
On Veteran's Day, take a minute to honor the veterans in your life and your community.
Julie Barnes is an award-winning entrepreneur, an international bestselling author, advocate for change, certified coach and the founder of Your Story Gold.
Calling all HuffPost superfans!
Sign up for membership to become a founding member and help shape HuffPost's next chapter