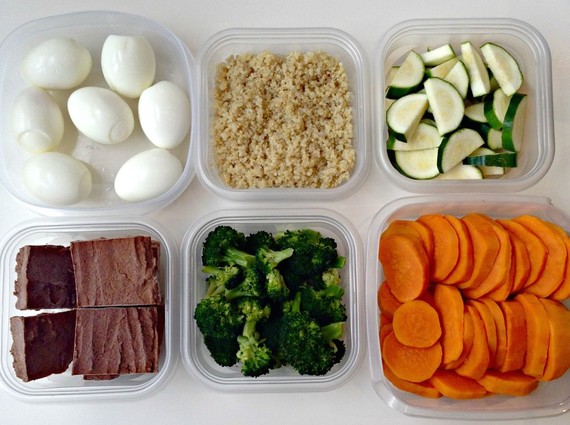 Behind Little Global Chefs, we are two moms who have survived the tears over uneaten vegetables, the shoved plates back in our faces, and the undignified pleading to eat beans or fish. We have survived, conquered and have lived to let you in on our tips and recipes. But we know that sometimes it's nice to hear from an expert, a PRO. Someone who went to school to basically whip kids' palates into ship shape.
We heard you loud and clear and we are here to deliver! You guys LOVED our articles from our resident Pediatric Nutritionist. So this week, we invite Nicole Silber back to guest post on our column. She's a registered dietitian and board certified specialist in pediatric nutrition (read: EXPERT) here to help us put our well-intended words into action.
Meal Planning. We all say we're going to do it to eat healthier, save time and money! But who has time to save time and money? Sounds ridiculous, right? But really, most of us don't do it, though we know we should. We come home after a long day and the kids are about to have a Grade A conniption fit. Must. Get. Food. On. The Table. Quick! Check the fridge! There's nada but half a sad tomato. So we open the freezer and then BAM! There are those "trusty-but-junk-filled-but-my-kid-will-eat-them" nuggets. It's easy. We know it, we know it well. But nuggets are not the answer!
Here, Nicole shares with us that a little planning makes a world of difference. We know you might not have the time, so she's actually done the planning FOR us this week, complete with a shopping list to convert us all into meal planners! So no more excuses. Your future of meal planning starts today!
Working with so many families, I can say that most parents have the best intentions when it comes to providing their family with nutritious choices and meals. I preach the values of varied, balanced dinners that include lean protein with lots of colorful veggies, and a moderate serving of a complex carbohydrate, ie whole grains, starchy vegetables and legumes. What I find is that most moms and dads want to follow these guidelines; they walk out of my office feeling motivated to accomplish this ambitious task.
What ends up happening is that life gets in the way.
In reality, schedules are tight, work is exhausting, the house is a mess. There isn't a minute of clear headspace to spare to figure out how to get that nutritious meal on the table. That's when delivery or microwavable dinners come in.
Meal planning works. It takes just a few minutes on the weekend, but it ends up guaranteeing more nutritious meals while saving time and money by re-using ingredients to create entirely new meals throughout the week.
Here is an example of how you can organize and re-use a few simple ingredients to plan a week's worth of varied, balanced meals that your little sous chefs can help prepare and the whole family can enjoy. Each meal takes 30 minutes or less to prepare.
Shopping List (Quantities estimated for family of four)
Lean Proteins
• Whole rotisserie chicken, 2
• Salmon filets, ~2-2.5 lbs
• Ground turkey~2-2.5 lbs
• Eggs, 1 dozen
Complex Carbohydrates
• Black beans, 1 lb dried or 2 16-oz cans
• Brown rice, 1 lb bag
• Whole-wheat tortillas, 1 package
• Sweet potatoes ~8 medium
Assorted Non-Starchy Veggies: green beans, carrots, mushrooms, tomatoes, avocado, broccoli, onions
Assorted Flavorings: fresh lemons, jalapeno pepper, fresh ginger root, fresh garlic cloves, sour cream, soy sauce, olive oil, marinara sauce, honey, cumin, salt, black pepper
Meals
- Sunday: Rotisserie chicken served over brown rice and roasted carrots
- Monday: Chicken chili made with shredded leftover rotisserie chicken, black beans, tomatoes, onions, garlic and cumin. Add jalapenos peppers for a kick!
- Tuesday: Baked salmon with lemon honey glaze served with oven roasted broccoli and baked sweet potato fries
- Wednesday: Brown rice and veggie stir-fry made with broccoli, onions, carrots, red bell pepper, mushrooms sautéed in a soy sauce and ginger topped with fried or scrambled eggs
- Thursday: Salmon tacos made with leftover baked salmon and topped with guacamole, chopped tomato salad and sour cream
- Friday: Grilled bun-less turkey burgers served with a southwestern bean salad prepared with leftover beans, onions, red peppers and avocado
- Saturday: Baked turkey meatballs prepared with marinara sauce and served with mashed sweet potato and sautéed green beans
-----
Nicole Silber, RD, CSP, CLC is a registered dietitian, board certified specialist in pediatric nutrition and a certified lactation counselor. Nicole has worked with hundreds of children and families with chronic medical conditions, food allergies, picky eating, oral-motor and processing disorders, infant nutrition, breastfeeding, gastrointestinal conditions, prematurity, underweight and obesity. Currently she works in private practice in New York City and also serves as Pediatric Nutrition Expert for Beech-Nut baby foods. Prior to her current roles she was a clinical nutritionist at the Morgan Stanley Children's Hospital at NewYork-Presbyterian/Columbia.
Photo Credit: thelittlehoneybee.com