Many years ago I went on a date with a guy who told me the memory he most cherished of his late mother was falling asleep to the sound of her laughter. I couldn't stop thinking about that. I didn't know if I was going to be a mom, but I knew what kind of mom I wanted to be.
Which might explain why, early last summer on a random morning as I fluffed the pillows on my daughter's bed, I laid all of her stuffed animals on their backs. When it was time to tuck her in I explained: "They're dead."
She giggled. Oh, she giggled. And something went off inside. Every night for the rest of the summer there was a different scene to greet her. Like Elsa getting a massage...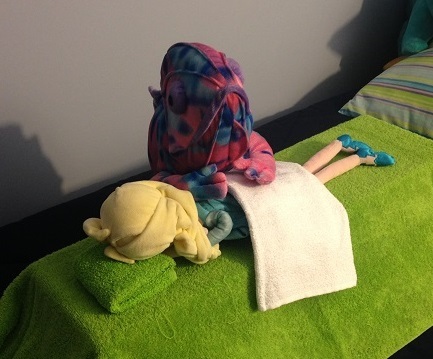 When Elsa and her friends were recovering from getting their wisdom teeth out, the only thing they had for dinner was applesauce and vanilla pudding...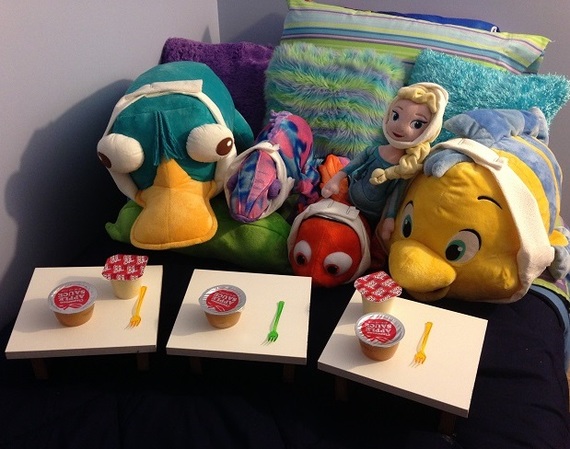 They recovered just fine, and soon they were playing poker...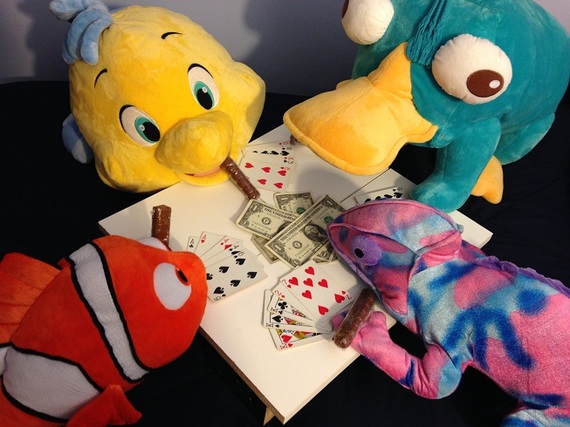 Are you getting the idea? Every night it was something different. My husband wanted in on the act early on. Soon he was designing puppet shows, playground adventures -- even a zipline, believe it or not, which made Katie collapse in so many giggles they still echo through the house seventeen months later.
"This is such an interesting challenge for us!" Darrell and I decided as we schemed about what was going to unfold on Katie's bed the next night, and the night after that. We spend most of our days in front of screens. It was such a delight to dabble in mischief, to indulge that part of our brains.
The inspiration often came from what we'd done that day. Like watch Somewhere in Time. Don't you love the canoe scene from that movie?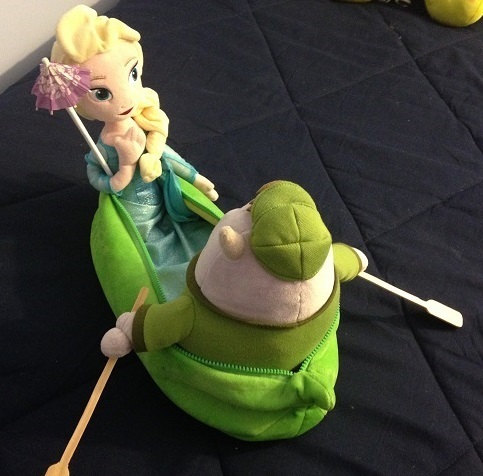 I'd always wondered why Darrell found it difficult to throw away what I consider, well, trash. But it came in so handy! A little bit of extra rope? Let's have a swim meet!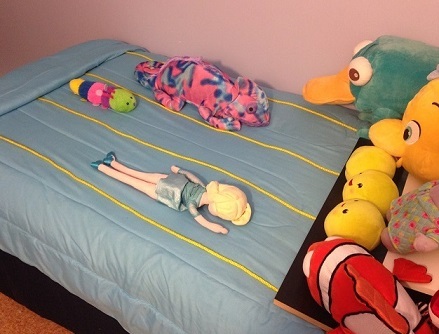 Katie joins us whenever she can when we head to the recording studio. I was particularly proud of the way we commemorated the outstanding job she did as guest host on my radio talk show...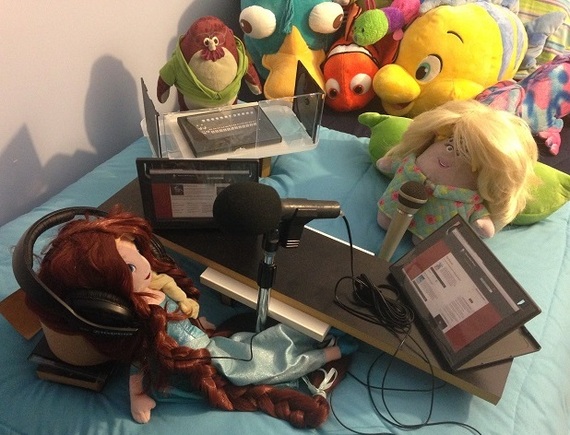 My favorite scene was the last one of the summer, to memorialize her high school graduation party the year before...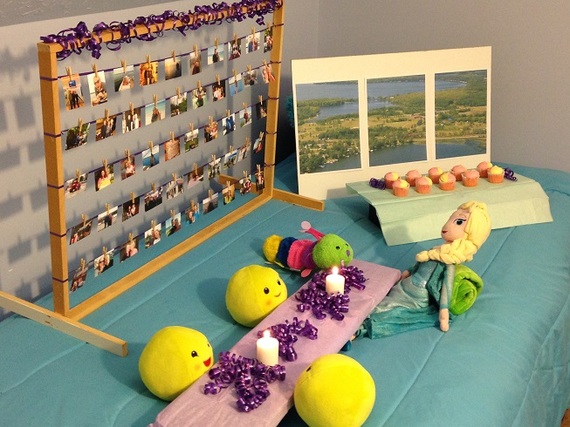 If there's anything more dazzling than that photo display, after all, it was a miniature of it -- which included (you guessed it) a photo of the original. "So meta," Katie pointed out.
By now you've probably guessed Katie isn't a little kid anymore. She's twenty. She spent the summer between her freshman and sophomore years in college with us in the home she'd grown up in. Darned if I was going to make it just any summer. It had to be memorable. It had to be silly.
That's because we measure the success of a day by how many times we crack each other up. Katie's the master. She started teasing us in a Russian accent at bedtime when she was still in high school, and it never gets old. She falls asleep to the sound of my laughter, knowing she's one-hundred percent responsible.
Is that why, when her friends wonder if they'll survive being with their parents for a three-day visit, she's wondering how to let us go after a week or two?