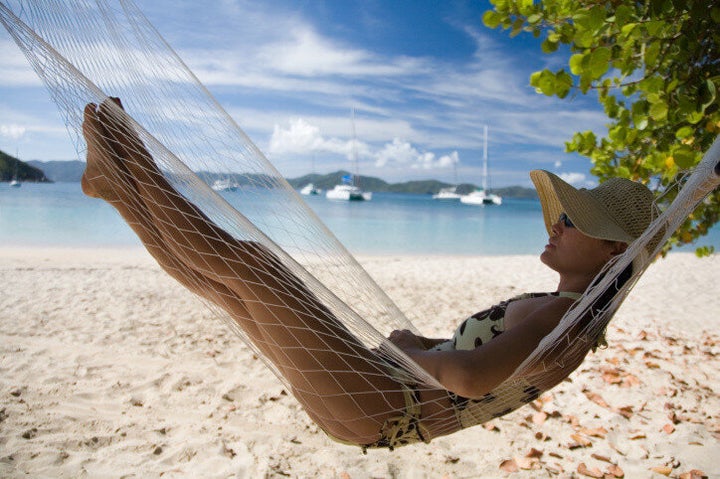 As the clocks turn back and the weather turns chilly, many of us start dreaming about sneaking off to somewhere warm for that proverbial R&R. No matter your job, a relaxing vacation is something to look forward to, something to keep you motivated, something that rejuvenates you when you return.
You might think entrepreneurs, as their own bosses, would be free to come and go as they please. Quite the contrary. When your name is on the sign, it can be almost impossible to get away. Like it or not, being an entrepreneur is a 24-7 lifestyle, especially during the early stages, and the thought of heading down to the tropics sans BlackBerry can be almost more stressful than the job itself. American workers already take far fewer vacation days than their counterparts in Europe, where a month or more is common, and despite being more stressed this year -- in large part because of the recession -- nearly two-thirds canceled vacations.
But everyone needs to recharge the batteries at some point, right? We asked the busiest entrepreneurs we know -- our own Board of Directors -- how important vacations really are. As it turns out, taking a little time off can actually make you more productive.




Clint Greenleaf


Founder And CEO, Greenleaf Book Group


"Vacations are critical to success as an entrepreneur. I try to get away several times a year -- a few times with our whole family, a few with my wife, and one or two personal retreats where I try to unplug and get focused. I used to not go, or feel really guilty when I did, but I learned that not doing it was dangerous to me, the business and especially my family. Balance has been a great thing for me, and vacations have been a huge help."




Rob Dyrdek


President, Dyrdek Enterprises


"To me, in theory, it seems like it would be such a good idea. But I've never done it. I feel like little micro vacations -- life vacations, just not doing anything on a Saturday and doing a little bit of day drinking and eating wings -- that may as well be a week in Hawaii for me."
Jennifer Hill

Startup Advisory And Venture Lawyer, Gunderson Dettmer LLP


"Vacations are extremely important! Switching off, enjoying a unique experience or location and having a different kind of fun recharges the batteries. Letting go for a little while builds perspective. That said, I'm not the best vacation planner. I tend to add a couple of days to business trips if it's somewhere fun or when I can visit friends or family. (In fact, I'm writing this from Munich, where I am post-business trip.) Ideally, I plan one adventurous vacation per year and stick to it! I always return re-charged and ready for the next challenge."




Tom Szaky


Founder, TerraCycle


"It is a 24/7 job -- but, with that said, if you are planning to have that type of lifestyle for life, you need to balance. Since I spend most of my time in various countries, visiting our local teams, I tend to tack on a weekend here or there to relax in a cool spot. For example, I was recently in Brazil and spent the weekend on a fantastic beach outside Rio. The following weekend, I started with a relaxing and 'inspiring' weekend in Amsterdam, then off to London and Paris for work. It's hard to take a week or two off at a time. This trick gets me through without feeling burnt out."




Warren Brown


Founder, CakeLove and Love Cafe


"Time off is essential to regain perspective on what matters for the business and for your personal health and sanity. Life's too short and it's just too difficult to stay wired to work all of the time. I make it a practice to detach not just when I get away, but also at night or on weekends, or just for a day off. Finding the right time to get away gets tough, especially on short notice. I look a few months out, ink off the dates of interest and plan the rest of my work calendar around it."




Phil Town


Investor And Author Of Rule #1 And Payback Time


"You better love what you do more than hanging out at the beach because entrepreneur is French for 'you will work all the time.' If you are looking for vacations, move to Europe and get a job with the government. What you should be looking for as an entrepreneur is a life you LOVE. In capitals. A life you create from the bottom up. A life you can look back on with pride. And a life you may never retire from. Look at Richard Branson. He's got more money than anyone I know and he's still at it everyday. Once bitten by this entrepreneurial bug, you just start to live it and breathe it."




Lexy Funk


Co-Founder And CEO, Brooklyn Industries


"Lately, I have been trying to trick my brain into thinking that a weekend constitutes a vacation, that two days should suffice to erase the memory bank of entrepreneurial angst. Needless to say, it doesn't work. For myself, the optimal vacation is a life-jarring kind where you put yourself under physical or mental duress -- but not of the business sort. This helps to counter the stress of entrepreneurship and equalize the onslaught. But right now, all of this is theoretical, as the business and the economy have taken over and I cancelled my last vacation. Thus, the latching onto the weekend as vacation concept. We shall see."




Ken Yancey


CEO, SCORE


"I think the recharging that occurs during time away is very valuable, although two weeks is a bit much. It is also a great opportunity for an uninterrupted focus on my family. I take time at Thanksgiving, spring break and in the summer."
Gary Whitehill

Founder, The Relentless Foundation And New York Entrepreneur Week


"From a macro perspective, a sufficient work/life balance is one of the most impactful actions an entrepreneur can take when seeking continuous improvement and growth in their career. Although not impossible, working 20/7/365 (especially for an extended amount of time) will bury you mentally, physically and emotionally. It's imperative that you understand your own personal relaxation pattern – i.e. how long before you get burnt out – because no two entrepreneurs are the same.

"In regard to my vacation schedule, I take at least a week's vacation every three months. I do this frequently because I am a hypocrite -- one of those folks who can speak to the above words of advice because I am the typical workaholic."




Danielle And Jodie Snyder


Co-Founders, DANNIJO


"When we first launched DANNIJO, we didn't take vacations. We were so focused on getting the company off the ground that we sacrificed taking time off. In hindsight, we were probably too hard on ourselves and would have benefited from taking the time to re-energize. In our second year of running the company, we began taking small vacations, especially after stressful periods in the year. As an entrepreneur, you live and breathe your business. It's easy to burnout if you don't take care of yourself. You need time away from your work to recharge your batteries.

"Ultimately, taking time off may benefit your business in unexpected ways. Travel is one of the most important sources of inspiration for our ever-evolving designs. We often draw inspiration from the vacations that we take, many of which have heavily influenced our jewelry collections. For this reason, not only do we travel for work (trade shows, fashion weeks), but we've made a conscious effort to travel for pleasure and inspiration.

"Our travels to Barcelona helped develop the collection we designed exclusively for W hotels which were supposed to be inspired by the architecture of the W Hotel in Barcelona. Danielle's trip to Kenya was a huge influence on many of our signature boho/ethnic statement bibs. Visiting museums and flea markets in Paris and Florence had a huge impact on not only our creativity, but also our drive to be better and invent newness."




Tate Chalk


Founder And CEO, Nfinity


"Having a break in the work is very important. No one can maintain the intensity 24/7/365. It's just too much. But I believe the key to vacations is allowing yourself a break without taking away from your business. What I have found to be the most effective way to get away is to take a couple long weekend breaks rather than a whole week at any one time. You can get the break you need and still not lose any momentum by being gone an entire week."
The original version of this article appeared on AOL Small Business on 11/16/10.
Calling all HuffPost superfans!
Sign up for membership to become a founding member and help shape HuffPost's next chapter