If you, like many of us, have been overwhelmed by the refugee crisis in Europe, wanting to help but not knowing how, a group of well-known friends has just made it easy to do so.
Five of my favorite humanitarians--all brilliant authors and, more importantly, kick-ass Love Warriors--Glennon Doyle Melton, Elizabeth Gilbert, Cheryl Strayed, Brené Brown and Rob Bell teamed up to form The Compassion Collective, with a single mission in heart: to raise one million dollars within 48 hours to support the most critical needs of thousands of refugees in Europe. Thanks to their passion and leadership, and the dedication and generosity of their social media communities, they met their goal yesterday in 31 hours. Who knows how much higher that million dollar figure will climb?
I spent a good chunk of those 31 hours absorbed in their mission, spreading the word and following closely as the new totals were announced. I'd like to pretend it was from a completely selfless place, but the truth is it felt great to be a part of it, to be connected to so many people around the world doing what they could to make something important happen, in real time. Turns out compassionate action is a great kind of addictive. The desire to raise the funds so quickly (a Love Flash Mob, as Ms. Doyle Melton calls it) only added to the excitement, and somehow the dark reality of the refugees, along with the countless dark realities on our planet, seemed just a little bit brighter. The energy of people in service to those in need shined some light on our world. Indeed, we brought the light.
The Compassion Collective set up the fundraiser with a maximum donation amount of $25, making the mission accessible for all, and necessary for tens of thousands of us to step up in order to meet the goal. More than 40,000 individuals had contributed by the end of those first 31 hours. 40,000 souls coming together for our refugee brothers and sisters, for our refugee children. Truly, there are no limits to the power of people united by love.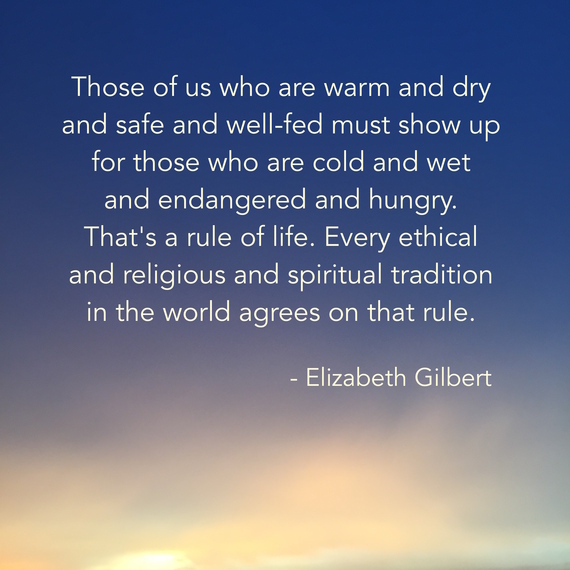 Elizabeth Gilbert, in explaining why she decided to devote her energies to the refugee crisis, wrote the following:
"I'm doing it because of this quote, which came to my attention through an organization called HELP REFUGEES, whom we are partnering with, and who are working on the ground in Greece, right at the heart of this crisis. This quote came from a volunteer doctor they are working with, who ended a recent phone call from the island of Lesvos with this desperate plea: 'There are thousands of children here and their feet are literally rotting, they can't keep dry, they have high fevers and they're standing in the pouring rain for days on end. You have one month, guys, and then all these people will be dead.'"
Ms. Gilbert went on to write: "Those of us who are warm and dry and safe and well-fed must show up for those who are cold and wet and endangered and hungry. That's a rule of life. Every ethical and religious and spiritual tradition in the world agrees on that rule."
I agree with that rule, too, though I've spent more time ignoring the hardships of others than doing much to help alleviate them. I'm incredibly grateful to The Compassion Collective for inviting me, and all of us, to help. I not only support what they're doing, but also how they're doing it--as a community, as a family. They are rallying their social media followers to face our scary world, to look at the brutal realities for what they are, and to choose compassion over fear in addressing them. The invitation on their website says it all:
Join us in a circle of humanity standing shoulder to shoulder, together saying: In a fearful world, I stand with love.
Let's all stand with love, over and over again. Let's allow our fear to be there in any way it needs to be, and still choose to be courageous and loving, despite our fear. Let's never stop making noise for kindness and compassion, and never stop serving those who are most in need. So many of us are searching for ourselves, and I've no doubt we'll find our most beautiful reflection in our service to others. The act of giving serves all.
Though the one million dollar goal has been met, the need for more support is still critical, and the website is still accepting donations. Like everything that's been contributed so far, 100% of all new donations will go directly to the needs of the refugees--to food, shelter, clothing and hygiene products. We have it within our power to insure that no more children's feet are left rotting. Let's see how far we can take this fundraiser. Let's continue to show the world how much power and love lives within a compassionate collective. Let's brighten our planet, one light at a time.
If you have yet to donate (up to $25) or want to again, please go here and make your difference. YOU make a difference. WE all do.
We are a great big human family, and in love, we are one.
Calling all HuffPost superfans!
Sign up for membership to become a founding member and help shape HuffPost's next chapter