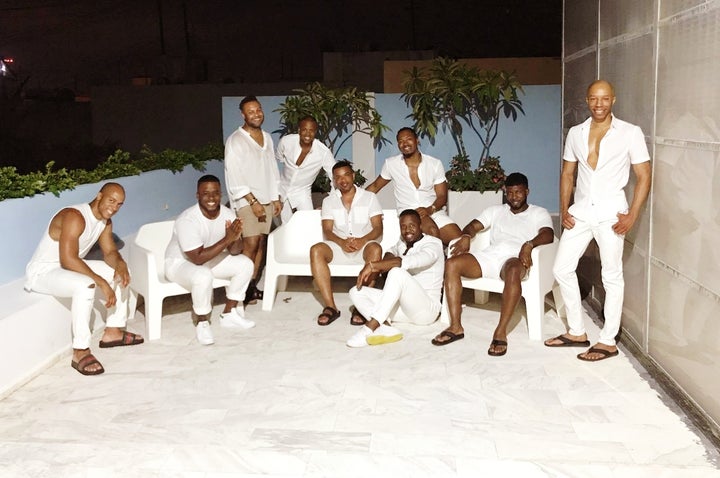 Recently, I traveled to Puerto Rico with a group of eight gay and bisexual men. Some of them I knew well, the others I had either just met or knew in passing. The trip was a celebration for a friend turning 35; and let's just say the week-long vacation was epic. For the most part, we all got along and enjoyed getting to know one another on a deeper level. But through conversation, the trip brought to the surface elements of Black gay life and culture that mainstream media seem to either overexpose or deemphasize. And that is where the problem lies: fighting for the visibility of all Black gay men.
Too often this group is portrayed in the media as ultra-effeminate queens who like to throw lots of shade. Consider Rupaul, the Emmy-winning host of "Rupaul's Drag Race," who also just recently received seven Emmy nominations for the hit show. But more times than not, Black gay men appear in reality shows as simply the accessory to the main characters—rarely are they portrayed as dimensional human-beings with a layered storyline. Some familiar faces who have been relegated to the sidelines include: Miss J. Alexander from America's Next Top Model, and Ray Ford from "Don't Trust the B in Apartment 23," which only lasted two seasons.
First, there is nothing wrong with these men or these images, because I do enjoy watching some of the shows that cast these sassy characters (Real Housewives of Atlanta). But this imagery of the gay man represents only part of the community, which ultimately misleads and provides a false, damaging perception to the general public of what it means to be Black and LGBT. Just like being Black is not monolithic, neither is being a Black gay man.
"The imagery of the gay man represents only part of the community which provides adamaging perception of what it means to be Black and LGBT."
The men on my recent trip represent so many layers of Black gay life. They are mid-level professionals, dealing with family issues or supporting their families. Some are still dealing with their sexuality and the consequences that come with being out or closeted. And then there were some who had been victims of sexual abuse, broken relationships, or experiencing for the first time a deep love with a partner. This description alone could provide more opportunities for mainstream outlets to display and explore the complexities of being Black and gay in a different way than what we as society are used to seeing.
Do you remember the 15th season of MTV's "The Real World"? Back then, Karamo Brown became the first openly-gay black man on the show. He continues to redefine what it means to be a Black man in the LGBT community. I was a few years younger than Brown when he made his 2004 debut on the Philadelphia-based reality show. His character gave voice to a different side of the community and shattered masculine stereotypes. We saw a young man who was vulnerable, strong, attractive, and actively dating. This was an image I needed to see as I struggled with my own sexuality and ideals on masculinity. Brown's groundbreaking role was more than 10 years ago. And since then, personas like Brown's on television are few and far between.
During the trip, when my friends and I discussed the need for a variety of mainstream representations of Black gay men, one argument was that these images would not sell. People would not watch. Advertisers want the Black queen, not the Black gay stud, nor any other variation of being Black and gay that falls between the two. But I beg to differ.
"This is an open call to TV and film creators to offer the culture more than a stunt queen with a sharp tongue and outfit to match."
In my opinion, the series "Empire" is such a success thanks in part to Jamal Lyon, played by Jussie Smollett, whose storyline centers around some of the shows social issues. Throughout the seasons, we see a young man pursue his music career, just as he fights for acceptance from his homophobic father and the music industry. We see his strength, vulnerability and sexuality play out in each episode. This year, Forbes hailed "Empire" as the most valuable show in television. The first two seasons of the show ranked number one among 18 to 49-year-olds, which is a highly coveted advertising demographic.
And even though the show, "Doubt" starring Laverne Cox was cancelled after two low-rated episodes, Cox still made an incredible stride as the first Transgender person of color to have a starring TV role. This just furthers the idea that there is always opportunity to elevate this sub-group. One failed or successful show should not be the deciding factor on whether to create more opportunities for gay people of color or not. The desire to do so should be a given as society moves closer and closer to embracing our LGBT brothers and sisters.
This is an open call to TV and film executives, writers and creators to offer the culture more than a stunt queen with a sharp tongue and outfit to match. Instead of sticking with the same old recipe try something different. Take a good look at the community, and perhaps you'll see the community's tastes are changing and deserves more than what you are serving.