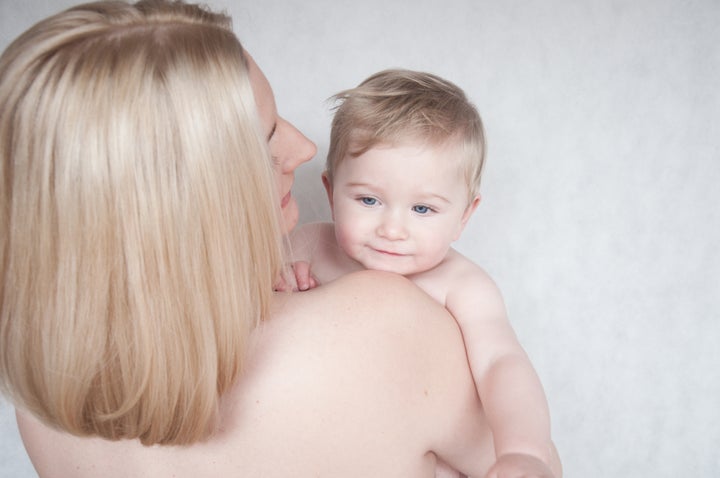 When should you stop walking around naked in front of your kids? When should your kids stop walking around naked in front of you?
Devon Corneal touches on the first of these questions in an essay here on HuffPost Parents today, talking about the loss of what she calls "decorum" during pregnancy and childbirth, making BD (before delivery) rules seem kind of, ummm, quaint. "There's something so visceral about giving birth," she writes, "so completely humbling, that I couldn't hold on to my old hang-ups." To her own surprise she stopped worrying whether her now 4-year-old son saw her without clothes. She'll put them back on for good around him someday, she writes, but she isn't sure exactly when.
Aviva Rubin raised the opposite of this question a few months ago in an essay for Motherlode in the New York Times. Yes, she and her partner regularly walk around the house naked, she wrote, and so do her sons who are 8 and 12. She said she was fine with this and figured that her boys would give her "some sign" when it was time for them all to stop.
But they haven't, at least not consistently. Of her older son, she writes: "One day, hearing something on the television while he was waiting for the bath, he walked in, hands covering his parts like a fig leaf, unconcerned. Other days it's, 'Mom, do you mind? Give me some privacy!' while he's changing his shirt."
Which leads to a third question: should adults should wait until their children take the lead on how old is too old for what Rubin calls the "Garden of Eden approach"?
If your child is expressing embarrassment, is that the moment for everyone to cover up? Or is that just a little too late?
(And speaking of bodies after babies, there's this...)