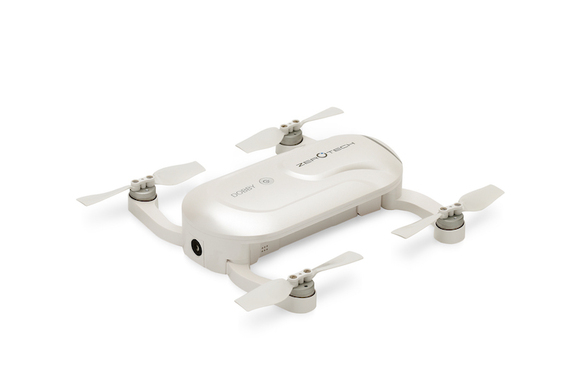 We have reviewed drones that are small and portable. We have reviewed drones that are easy to fly. Of course, we have reviewed plenty of drones that have impressive cameras and take amazing photos and videos.
What we have not reviewed, but always wanted, is a drone that combines all of the above. A portable, easy to fly drone which can take HD video and snap beautiful photos. The Dobby Pocket Drone from ZeroTech promises to be the drone we have been waiting for.
Does the Dobby Selfie Pocket Drone live up to the hype? Please watch our full hands on video review of the Dobby Drone -
Yes, The Selfie Drone Is Now a Real Thing
Okay, let's get the semantics out of the way. If you are not holding a camera when you take a picture of yourself, it's technically not a selfie. Still, the Dobby is so easy to fly, it feels like an extension of your arm - so, sure photos taken with with the Dobby are selfies.
In our testing, the Dobby really does live up to the hype of a pocket sized, HD selfie drone. Pull the Dobby out of your bag. Launch it from your hand. Take a photo or video. Land the Dobby on your palm. Fold the arms up and throw it back in your bag. It all feels pretty magical.
Here are the key specs on the Dobby Pocket Drone:


Easily pilot the drone and snap photos and video clips using the Do.Fun app on your phone


Camera offers facial recognition, target tracking and 10-second auto-follow short video shooting


Synchronize photos to your phone with one click


Voice enabled control


Palm take-off and landing


Target Tracking


Face Recognition


Weighs only 7 ounces (no FAA registration needed)


13 Megapixel Photo / 1080p FHD Video / 75°lens


GPS/GLONASS Dual-Mode Satellite Tracking Outdoors


Optical Flow and Ultrasonic Wave Tracking Indoors


16G onboard Storage


Head over to ZeroTech to read the full tech specs and feature list.
If Only Battery Life Was Better...
At a price of $349, we were very impressed with everything ZeroTech packed into such a tiny drone. The only major negative we had with the Dobby is the battery life. In our testing, we were getting about 6 minutes of fly time before we needed to recharge. We were testing in very cold temperatures, so that might have shaved a few minutes off the battery life. Still, even ZeroTech only puts battery life at 9 minutes.
Of course, when you make a drone that is under 7 ounces and is loaded with technology like dual GPS tracking, facial tracking, live streaming, optical and ultrasonic wave tracking...the laws of physics will catch up with you. If they wanted to provide more battery life, they would need to make a larger battery, which would increase the size and weight of the drone.
The easy solution we recommend - buy an extra battery, especially if you are traveling and want to make sure you have the power to catch that perfect selfie!
Overall, the Dobby Pocket Drone is easy to fly, takes great videos and photos and is so portable, you will actually take it with you on your journeys. ZeroTech has proved the old adage true, great things do come in small packages.
Calling all HuffPost superfans!
Sign up for membership to become a founding member and help shape HuffPost's next chapter