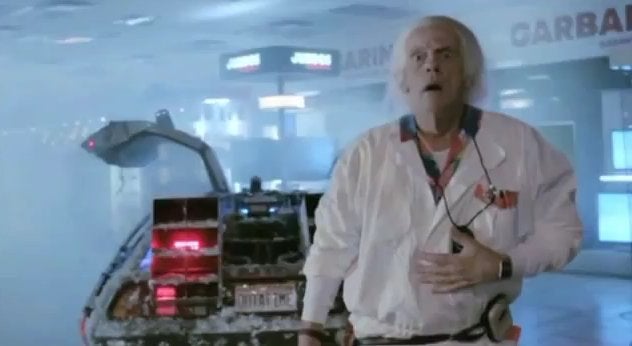 Even in the wake of a revolution, the Libyans appear to still be angry with Doc Brown for stealing their plutonium. So of course, he fled to Argentina.
In this new clip, Emmett "Doc" Brown of "Back to the Future," once again played by Christopher Lloyd, somehow escaped Hill Valley and crashed into a Garbarino, an Argentinian electronics retailer, in 2011. The whole thing is "captured" on phone camera by a nearby couple.
While it remains unclear why this video was produced, most have speculated that it will serve as part of a larger viral campaign. As of this video, though, it's unclear what the campaign would be for -- the YouTube page, all in Spanish, only describes the video. That said, we would love to see Doc experience the 21st century as it really came to be, sans hoverboards, self-tying shoelaces or getting fired by Flea via fax.
Already, this is better than Lloyd reprising the role of Doc to shill for DirecTV, and a welcome return. The video's YouTube page also speculates that this could hint at a "Back to the Future 4." While that seems like a complete impossibility, considering Michael J. Fox's health and director Robert Zemeckis' obsession with motion capture technology, do you think there's any way the franchise could ever be brought back?
Calling all HuffPost superfans!
Sign up for membership to become a founding member and help shape HuffPost's next chapter