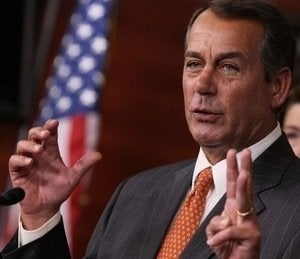 Democrats are charging that the GOP made up a fake messaging memo that purports to be from Democrats as a way to undermine the party's message at the last minute. The memo was circulated to reporters -- including this one -- by a spokesman to House Minority Leader John Boehner. Politico reported on the memo and posted a story which the Drudge Report featured prominently.
"The memo is a fake," said Kristie Greco, a spokesperson for Majority Whip James Clyburn (D-S.C.). "It's an under-handed and unethical attempt to distract from the health care debate. If opponents of health insurance reform had a credible policy alternative they wouldn't have to resort to nefarious games."
"We have checked with every Democratic office, no one has ever seen it. It did not come out of a Democratic office," the aide said, adding that media outlets printing the memo have not checked with leadership offices if the memo is authentic. A second Democratic leadership aide confirmed the memo was not sent by the Democrats. A third Democratic aide also said the memo is fake, citing the "draft" stamp and saying no one uses such things.

"If this were a Democratic communications person who wrote this, they should be fired, because this looks like Republican talking points," the third Democratic aide told TPMDC.
Politico has since pulled the memo, leaving Drudge to link instead to a page that reads "UPDATE: Democrats challenge authenticity of 'doc fix' memo."
The right-wing blog Big Government, however, still has it up as evidence that Democrats intend to mislead the American people about the cost of the bill.
"The facts remain the same. If Democratic leadership is going to do the doc fix bill, then they're low-balling the cost of the bill by $330 billion. If they're not, why is the AMA endorsing it?" said Boehner's spokesman Michael Steel.
UPDATE 3/19 5:20pm: Rep. Scott Garrett (R-N.J.) just read from the memo on the House floor. And Rep. Anthony Weiner (D-N.Y.) responded by ripping him and demanding his source.
"What they're doing is producing fake memos," he said.
"That memo that he read from has no source. He will not return to the microphone to tell us what it was because he took something that was created by the opponents of health care -- and there are a whole lot of them, mostly paid for by the health insurance industry -- and came to the rostrum with a fake document," said Weiner.
Rep. Virginia Foxx (R-N.C.) interrupted. "Parliamentary inquiry," she yelled.
"I don't yield for that," said Weiner, continuing. "There is no reluctance to talk about the real CBO score: $1.2 trillion in savings for the American people. That's the fact. That's nothing we're hiding from."
"Will the gentleman yield?"
"I will yield only if the person will tell us the source of the document."
A chaotic back-and-forth broke out until Weiner regained the floor.
"Ladies and gentlemen, what you saw just now is a microcosm for this debate: A real piece of legislation that for a year we've been working on and a fake document that they won't even give a source for," he said.

-- Do not allow yourself (or your boss) to get into a discussion of the details of CBO scores and textual narrative....

-- anti-reform extremists are making a last-ditch effort to derail reform. Do not give them ground by debating details... Again, instead focus only on the deficit reduction and number of Americans covered. In the critical remaining hours of the debate we must drive the narrative of "health reform is deficit reduction." ...

-- most health staff are already aware that our legislation does not contain a "doc fix"... The inclusion of a full SGR repeal [doc fix] would undermine reform's budget neutrality. So, again, do not allow yourself (or your boss) to get into a discussion of the details of CBO scores and textual narrative. Instead, focus only n the deficit reduction and number of Americans covered."
Calling all HuffPost superfans!
Sign up for membership to become a founding member and help shape HuffPost's next chapter