One newborn baby will have an incredible story to tell when she gets older.
A doctor dressed like The Joker delivered the baby girl at a Tennessee hospital last week after the mom unexpectedly went into labor on Halloween.
"It was pretty neat," Brittany Selph, 32, told HuffPost on Monday of having the Batman villain perform her baby's delivery.
"By that point in the game, as any woman will tell you when they're in labor, they don't care who's down there, but I remember thinking ... it kind of relieved some of the stress that I had on me," she said.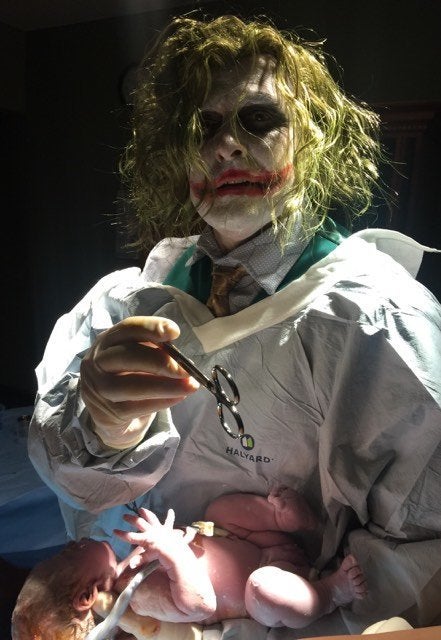 The now-mother of three said she still had five days before her baby's due date when she felt her water leaking Tuesday morning, catching both her and her obstetrician, Dr. Paul Locus, by surprise.
"My actual due date was not until November 5 so on Halloween, on that Tuesday, he probably had no intentions of delivering a baby that day," she said.
Selph said she and her husband, Justin, 33, sent their two children, ages 10 and 4, to school. They then headed to Henry County Medical Center in Paris, Tenn.
That's where they met up with Dr. Locus, who came in dressed like The Joker who was famously played by the late actor Heath Ledger, complete with greasy green hair and a painted red mouth.
For the family, his costume couldn't have been cooler.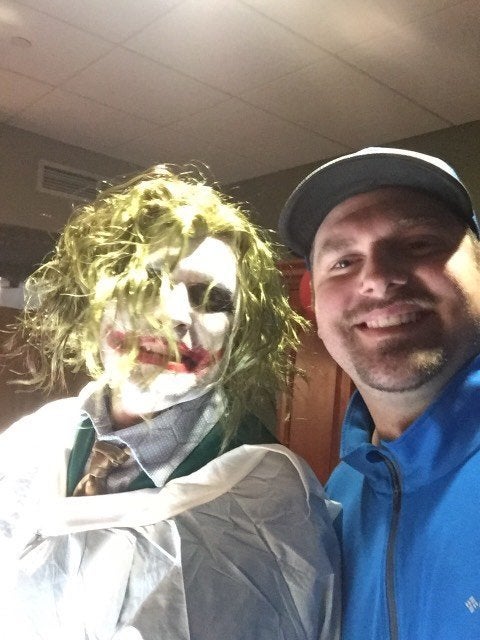 "We couldn't help but laugh when he walked in the room!" Justin Selph told HuffPost in an email. "My wife, being [an] open-minded woman, with a sense of humor, thought it would be hilarious to have such a unique delivery."
Dr. Locus stayed at the hospital to help throughout the afternoon but when it was determined that she was still several hours away from giving birth, he excused himself to go home to pass out Halloween candy and to change his clothes.
"My wife said, 'Aww, we had hoped that you wouldn't change,'" Justin Selph recalled. "But we never expected him to stay in character all day and into the night."
To their delight, when Dr. Locus returned to deliver their baby named Oaklyn around 8 p.m., he remained disguised as The Joker and performed the delivery in costume.
Though Brittany Selph said some people have criticized the doctor's costume saying "that's just not cool," she said it made the delivery easier for her.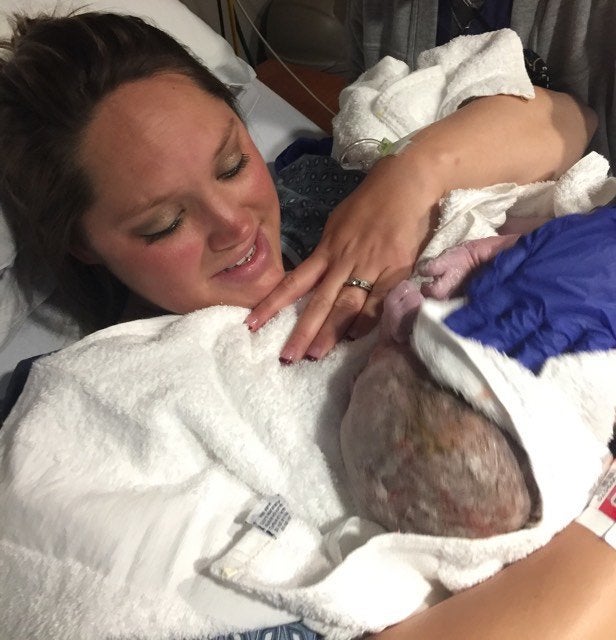 "Of course there's pain but to talk to him and see him down there, it kind of did take my mind off of what was going on it and gave me a little bit of a giggle there to release some stress," she said.
Her 4-year-old daughter's experience was a tad different, however.
"Mckinley, she was a little terrified, a little scared. She's not into masks and different looking faces and stuff," Brittany Selph said of their now-middle child. "But of course our 10-year-old son, he ate it up, he loved it all."
As for the proud pop, who snapped photos of the delivery and posted a live video to Facebook, the doctor's costume added another layer of excitement to the whole experience.
"There my wife is, staring the Joker straight in the eyes while delivering our baby, what a sight!" he recalled. "Dr. Locus was a great sport about the whole situation, and took photos with our family."
The day after the delivery, Dr. Locus checked in on the couple and continued to play along with the Halloween gag, telling them, "'Sorry I couldn't make it in last night, glad to see the delivery went well!'" Justin Selph recalled. "He also gave her a card of congratulations, and he signed it, 'Dr. Joker.'"
According to the hospital, it was in true character for Dr. Locus to go above and beyond for his patients.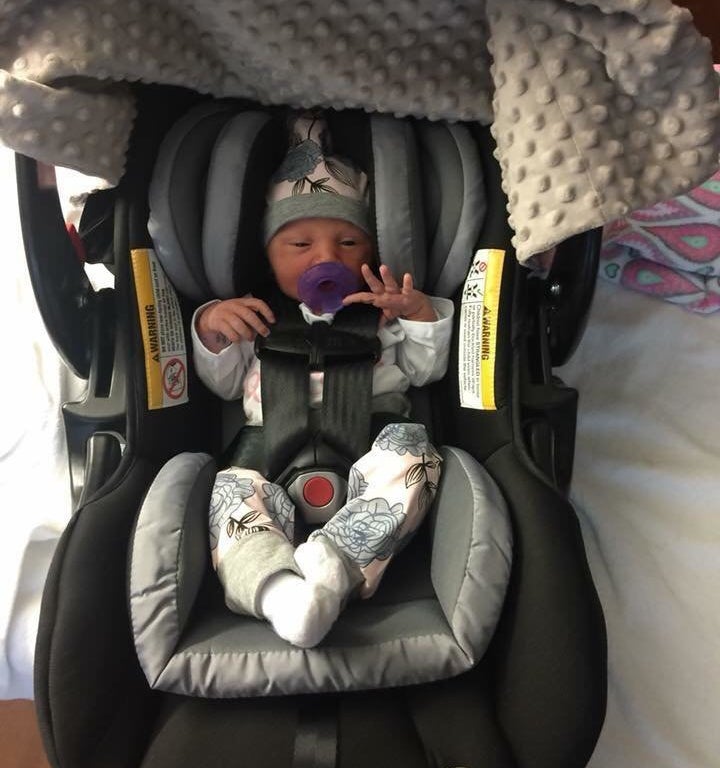 "Dr. Locus has mentioned he has been dressing up for his patients for as many years as he has been practicing," Rhonda Crossett, director of HCMC's Women's Center, said in a statement emailed to HuffPost on Monday. "He loves going the extra mile to give them a unique and enjoyable delivery experience."
HCMC CEO Lisa Casteel also echoed praises of their star obstetrician.
"It is amazing and wonderful when we celebrate in healthcare. Dr. Locus has reminded us of human kindness, a personal touch, and an exciting experience as a baby is born," she said in a statement sent to HuffPost. "Our culture at Henry County Medical Center is one of 'We Believe' and we truly believe in serving our patients."
This story has been updated with comments from the parents and the hospital.