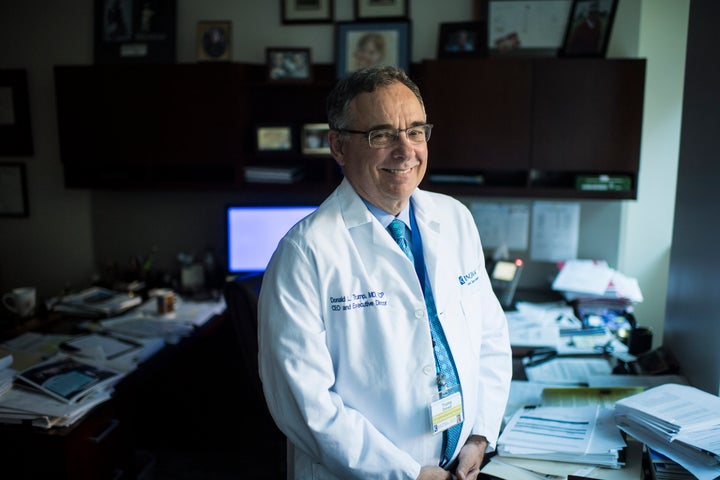 Dr. Trump, who's crossed paths with the business mogul over the years due to their shared name and some resulting mixups, revealed in an interview with CNN's KFile on Monday that he won't be casting a vote for his name twin. 
"[I] like the empathy, the inclusiveness, and the progressive policies that they espouse," Dr. Trump said.
He's been very turned off by the Republican nominee's antics.
"I have found [Trump's] theatrical persona and lack of content to his positions distasteful and particularly some of the rabble-rousing rhetoric and hostile rhetoric I think is distinctly out of place in public discourse," the oncologist continued. 
The two have had a distant but friendly relationship over the years. In a moment of self-effacement in 2010 that seems lightyears away from the Trump we've seen on the campaign trail, the nominee praised the doctor for his work at the Roswell Park Cancer Institute in Buffalo, New York, which he was running at the time. 
"[The institute] is really lucky to have the other Donald Trump, but the other Donald Trump is me because you're the famous one," the nominee said in the video.
"Believe it or not what you do in life is more important than what I do in life," he continued. "So I'd say Donald L. Trump, which is you, is probably more important than Donald J. Trump, which is me."
REAL LIFE. REAL NEWS. REAL VOICES.
Help us tell more of the stories that matter from voices that too often remain unheard.
BEFORE YOU GO
PHOTO GALLERY
Donald Trump Is Name-Caller In Chief