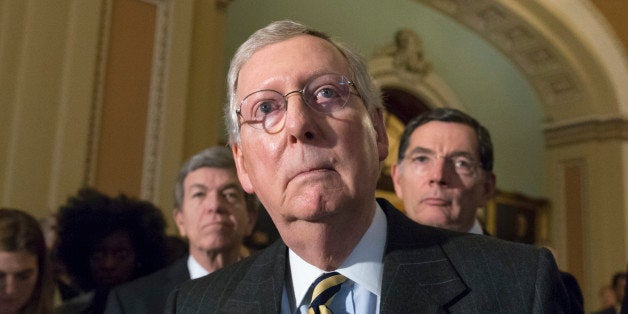 Senate Majority Leader Mitch McConnell (R-KY) says the American people must be heard and therefore the next Supreme Court Justice should be considered by the Senate only after the people have chosen the next president in November.
This is McConnell's "justification" for leading the Senate Republicans in opposing any hearing, Judiciary Committee vote or Senate vote on any Supreme Court nomination submitted by President Obama.
Let's leave aside for the moment the fact that the American people have already "been heard" -- twice -- in electing President Obama. The implication of McConnell's statements is that he would support an up-or-down vote next year on a Supreme Court nominee, even if the new president is a Democrat.
McConnell's governing philosophy of obstructionism tells us otherwise. There is very little reason to believe that McConnell is interested in the American people "being heard," unless they happen to agree with his views.
McConnell is the "Doctor No" of American politics. And he has a thirty-year Senate track record of obstructionism to prove it.
This could not have been made clearer then when McConnell said, following the 2010 federal elections, "The single most important thing we want to achieve is for President Obama to be a one-term president." In other words, McConnell's governing approach was to block everything he could that President Obama wanted to accomplish.
During the period from 2009 through 2014, the first six years of the Obama presidency -- and while McConnell was Senate minority leader -- there were an historic 382 cloture votes held in the Senate, according to Senate data. Cloture votes generally are held to end filibusters and allow matters to proceed in the Senate.
This included a record 218 cloture votes held in 2013 and 2014, almost double the number of cloture votes held in any two-year session during the previous 90 years. The second highest total was 112 cloture votes in 2007 and 2008, when McConnell was also Senate minority leader.
Perhaps the best example of McConnell's long term approach to Senate obstructionism can be seen in his obsessive opposition to all campaign finance measures throughout his career. In the 1980s and 1990s, McConnell led numerous filibusters that killed campaign finance reform bills.
McConnell finally failed to block a major reform bill in 2002, when in the face of soft money scandals, Congress passed the Bipartisan Campaign Reform Act (BCRA) to ban soft money. In rare cases like this one where McConnell did not have the votes (twenty Republican Senators supported BCRA), McConnell simply did not pursue a filibuster.
McConnell has gone to great lengths to block even the simplest campaign finance measure. He has used obstructionist tactics for more than a decade to block a measure requiring Senate candidates to file FEC disclosure reports electronically -- despite the fact that this electronic filing requirement exists for House candidates, presidential candidates and every type of political committee that files federal disclosure reports.

For the past six years, McConnell has rounded up all of his Republican colleagues to successfully filibuster legislation to close the gaping disclosure loopholes for outside spending groups that occurred in the aftermath of Citizens United.
National polling shows that McConnell is completely at odds on this issue with members of his own party. According to a June 2, 2015 New York Times/CBS News poll, "Three-quarters of self-identified Republicans support requiring more disclosure by outside spending organizations."
As majority leader, McConnell is no longer able to filibuster bills since he is responsible for scheduling bills for floor action, so he now obstructs Senate action by using his power to not schedule votes, such as by refusing to schedule a vote this year on a Supreme Court nominee.
McConnell's commitment to the American people "being heard" on the Supreme Court nominee is likely to quickly disappear if the American people elect a Democratic president in November. In that event, and if the vacancy has not been filled, McConnell can be expected to drag out the new president's Supreme Court nomination for as long as he can get away with it.
According to a recent article in Talking Points Memo, Senator Lindsay Graham (R-SC) said that "he would vote to confirm the nominee offered by the next president if that president was a Democrat, as long as nominee was qualified -- and even if the nominee was a liberal judge."
Thus, an all-out battle to confirm a Supreme Court nominee this year should be accompanied by a second all-out effort. Senate Republicans should be pinned down to make the same kind of commitment Graham has made to confirm a nominee next year, if a vacancy still exists and a Democratic president has been elected.
"Doctor No" McConnell must not be permitted to indefinitely block the Supreme Court vacancy from being filled.
Calling all HuffPost superfans!
Sign up for membership to become a founding member and help shape HuffPost's next chapter