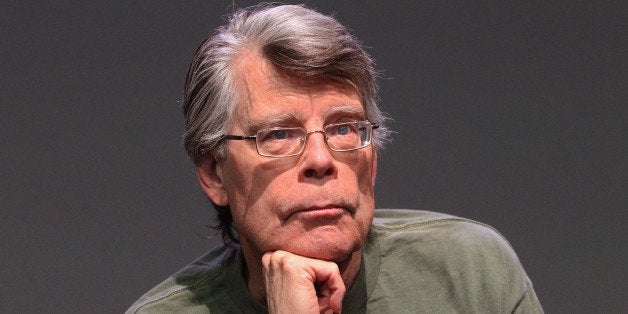 The following is an excerpt from Stephen King's new book, "Doctor Sleep." This book is the sequel to King's 1977 horror masterpiece, "The Shining." "Doctor Sleep" follows Dan Torrance as an adult who has to save a 12-year-old girl from a group of threatening paranormals. This is an excerpt of "Prefatory Matters" and "Chapter One:"
On the second day of December in a year when a Georgia peanut farmer was doing business in the White House, one of Colorado's great resort hotels burned to the ground. The Overlook was declared a total loss. After an investigation, the fire marshal of Jicarilla County ruled the cause had been a defective boiler. The hotel was closed for the winter when the accident occurred, and only four people were present. Three survived. The hotel's off-season caretaker, John Torrance, was killed during an unsuccessful (and heroic) effort to dump the boiler's steam pressure, which had mounted to disastrously high levels due to an inoperative relief valve.
Two of the survivors were the caretaker's wife and young son. The third was the Overlook's chef, Richard Hallorann, who had left his seasonal job in Florida and come to check on the Torrances because of what he called "a powerful hunch" that the family was in trouble. Both surviving adults were quite badly injured in the explosion. Only the child was unhurt.
Wendy Torrance and her son received a settlement from the corporation that owned the Overlook. It wasn't huge, but enough to get them by for the three years she was unable to work because of back injuries. A lawyer she consulted told her that if she were willing to hold out and play tough, she might get a great deal more, because the corporation was anxious to avoid a court case. But she, like the corporation, wanted only to put that disastrous winter in Colorado behind her. She would convalesce, she said, and she did, although back injuries plagued her until the end of her life. Shattered vertebrae and broken ribs heal, but they never cease crying out.
Winifred and Daniel Torrance lived in the mid-South for awhile, then drifted down to Tampa. Sometimes Dick Hallorann (he of the powerful hunches) came up from Key West to visit with them. To visit with young Danny especially. They shared a bond.
One early morning in March of 1981, Wendy called Dick and asked if he could come. Danny, she said, had awakened her in the night and told her not to go in the bathroom.
After that, he refused to talk at all.
He woke up needing to pee. Outside, a strong wind was blowing. It was warm—in Florida it almost always was—but he did not like that sound, and supposed he never would. It reminded him of the Overlook, where the defective boiler had been the very least of the dangers.
He and his mother lived in a cramped second-floor tenement apartment. Danny left the little room next to his mother's and crossed the hall. The wind gusted and a dying palm tree beside the building clattered its leaves. The sound was skeletal. They always left the bathroom door open when no one was using the shower or the toilet, because the lock was broken. Tonight the door was closed. Not because his mother was in there, however. Thanks to facial injuries she'd suffered at the Overlook, she now snored—a soft queep-queep sound—and he could hear it coming from her bedroom.
Well, she closed it by accident, that's all.
He knew better, even then (he was possessed of powerful hunches and intuitions himself), but sometimes you had to know. Sometimes you had to see. This was something he had found out at the Overlook, in a room on the second floor.
Reaching with an arm that seemed too long, too stretchy, too boneless, he turned the knob and opened the door.
The woman from Room 217 was there, as he had known she would be. She was sitting naked on the toilet with her legs spread and her pallid thighs bulging. Her greenish breasts hung down like deflated balloons. The patch of hair below her stomach was gray. Her eyes were also gray, like steel mirrors. She saw him, and her lips stretched back in a grin.
Close your eyes, Dick Hallorann had told him once upon a time. If you see something bad, close your eyes and tell yourself it's not there and when you open them again, it will be gone.
But it hadn't worked in Room 217 when he was five, and it wouldn't work now. He knew it. He could smell her. She was decaying.
The woman—he knew her name, it was Mrs. Massey—lumbered to her purple feet, holding out her hands to him. The flesh on her arms hung down, almost dripping. She was smiling the way you do when you see an old friend. Or, perhaps, something good to eat.
With an expression that could have been mistaken for calmness, Danny closed the door softly and stepped back. He watched as the knob turned right . . . left . . . right again . . . then stilled.
He was eight now, and capable of at least some rational thought even in his horror. Partly because, in a deep part of his mind, he had been expecting this. Although he had always thought it would be Horace Derwent who would eventually show up. Or perhaps the bartender, the one his father had called Lloyd. He supposed he should have known it would be Mrs. Massey, though, even before it finally happened. Because of all the undead things in the Overlook, she had been the worst.
The rational part of his mind told him she was just a fragment of unremembered bad dream that had followed him out of sleep and across the hall to the bathroom. That part insisted that if he opened the door again, there would be nothing there. Surely there wouldn't be, now that he was awake. But another part of him, a part that shone, knew better. The Overlook wasn't done with him, even yet. At least one of its vengeful spirits had followed him all the way to Florida. Once he had come upon that woman sprawled in a bathtub. She had gotten out and tried to choke him with her fishy (but terribly strong) fingers. If he opened the bathroom door now, she would finish the job.
He compromised by putting his ear against the door. At first there was nothing. Then he heard a faint sound.
Dead fingernails scratching on wood.
Danny walked into the kitchen on not-there legs, stood on a chair, and peed into the sink. Then he woke his mother and told her not to go into the bathroom because there was a bad thing there. Once that was done, he went back to bed and sank deep beneath the covers. He wanted to stay there forever, only getting up to pee in the sink. Now that he had warned his mother, he had no interest in talking to her.
His mother knew about the no-talking thing. It had happened after Danny had ventured into Room 217 at the Overlook.
Lying in his bed, looking up at her, he nodded. His mother called, even though it was four in the morning.
Late the next day, Dick came. He brought something with him. A present.
After Wendy called Dick—she made sure Danny heard her doing it—Danny went back to sleep. Although he was now eight and in the third grade, he was sucking his thumb. It hurt her to see him do that. She went to the bathroom door and stood looking at it. She was afraid—Danny had made her afraid—but she had to go, and she had no intention of using the sink as he had. The image of how she would look, teetering on the edge of the counter with her butt hanging over the porcelain (even if there was no one there to see) made her wrinkle her nose.
In one hand she had the hammer from her little box of widow's tools. As she turned the knob and pushed the bathroom door open, she raised it. The bathroom was empty, of course, but the ring of the toilet seat was down. She never left it that way before going to bed, because she knew if Danny wandered in, only ten percent awake, he was apt to forget to put it up and piss all over it. Also, there was a smell. A bad one. As if a rat had died in the walls.
She took a step in, then two. She saw movement and whirled, hammer upraised, to hit whoever
(whatever)
was hiding behind the door. But it was only her shadow. Scared of her own shadow, people sometimes sneered, but who had a better right than Wendy Torrance? After the things she had seen and been through, she knew that shadows could be dangerous. They could have teeth.
No one was in the bathroom, but there was a discolored smear on the toilet seat and another on the shower curtain. Excrement was her first thought, but shit wasn't yellowish-purple. She looked more closely and saw bits of flesh and decayed skin. There was more on the bathmat, in the shape of footprints. She thought them too small—too dainty—to be a man's.
She ended up using the sink after all.

CHAPTER ONE: WELCOME TO TEENYTOWN
After Wilmington, the daily drinking stopped.
He'd go a week, sometimes two, without anything stronger than diet soda. He'd wake up without a hangover, which was good. He'd wake up thirsty and miserable—wanting—which wasn't. Then there would come a night. Or a weekend. Sometimes it was a Budweiser ad on TV that set him off—fresh-faced young people with nary a beergut among them, having cold ones after a vigorous volleyball game. Sometimes it was seeing a couple of nice-looking women having after-work drinks outside some pleasant little café, the kind of place with a French name and lots of hanging plants. The drinks were almost always the kind that came with little umbrellas. Sometimes it was a song on the radio. Once it was Styx, singing "Mr. Roboto." When he was dry, he was completely dry. When he drank, he got drunk. If he woke up next to a woman, he thought of Deenie and the kid in the Braves t-shirt. He thought of the seventy dollars. He even thought of the stolen blanket, which he had left in the stormdrain. Maybe it was still there. If so, it would be moldy now.
Sometimes he got drunk and missed work. They'd keep him on for awhile—he was good at what he did—but then would come a day. When it did, he would say thank you very much and board a bus. Wilmington became Albany and Albany became Utica. Utica became New Paltz. New Paltz gave way to Sturbridge, where he got drunk at an outdoor folk concert and woke up the next day in jail with a broken wrist. Next up was Weston, after that came a nursing home on Martha's Vineyard, and boy, that gig didn't last long. On his third day the head nurse smelled booze on his breath and it was seeya, wouldn't want to beya. Once he crossed the path of the True Knot without realizing it. Not in the top part of his mind, anyway, although lower down—in the part that shone—there was something. A smell, fading and unpleasant, like the smell of burned rubber on a stretch of turnpike where there has been a bad accident not long before.
From Martha's Vineyard he took MassLines to Newburyport. There he found work in a don't-give-much-of-a-shit veterans' home, the kind of place where old soldiers were sometimes left in wheelchairs outside empty consulting rooms until their peebags overflowed onto the floor. A lousy place for patients, a better one for frequent fuckups like himself, although Dan and a few others did as well by the old soldiers as they could. He even helped a couple get over when their time came. That job lasted awhile, long enough for the Saxophone President to turn the White House keys over to the Cowboy President.
Dan had a few wet nights in Newburyport, but always with the next day off, so it was okay. After one of these mini-sprees, he woke up thinking at least I left the food stamps. That brought on the old psychotic gameshow duo.
Sorry, Deenie, you lose, but nobody leaves empty-handed. What have we got for her, Johnny?
Well, Bob, Deenie didn't win any money, but she's leaving with our new home game, several grams of cocaine, and a great big wad of FOOD STAMPS!
What Dan got was a whole month without booze. He did it, he guessed, as a weird kind of penance. It occurred to him more than once that if he'd had Deenie's address, he would have sent her that crappy seventy bucks long ago. He would have sent her twice that much if it could have ended the memories of the kid in the Braves t-shirt and the reaching starfish hand. But he didn't have the address, so he stayed sober instead. Scourging himself with whips. Dry ones.
Then one night he passed a drinking establishment called the Fisherman's Rest and through the window spied a good-looking blonde sitting alone at the bar. She was wearing a tartan skirt that ended at mid-thigh and she looked lonely and he went in and it turned out she was newly divorced and wow, that was a shame, maybe she'd like some company, and three days later he woke up with that same old black hole in his memory. He went to the veterans' center where he had been mopping floors and changing lightbulbs, hoping for a break, but no dice. Don't-give-much-ofa- shit wasn't quite the same as don't-give-any-shit; close but no cigar. Leaving with the few items that had been in his locker, he recalled an old Bobcat Goldthwait line: "My job was still there, but somebody else was doing it." So he boarded another bus, this one headed for New Hampshire, and before he got on, he bought a glass container of intoxicating liquid.
He sat all the way in back in the Drunk Seat, the one by the toilet. Experience had taught him that if you intended to spend a bus trip getting smashed, that was the seat to take. He reached into the brown paper sack, loosened the cap on the glass container of intoxicating liquid, and smelled the brown smell. That smell could talk, although it only had one thing to say: Hello, old friend.
He thought of Tommy going to school by now. Always assuming good old Uncle Randy hadn't killed him.
He thought, The only one who can put on the brakes is you.
This thought had come to him many times before, but now it was followed by a new one. You don't have to live this way if you don't want to. You can, of course . . . but you don't have to.
That voice was so strange, so unlike any of his usual mental dialogues, that he thought at first he must be picking it up from someone else—he could do that, but he rarely got uninvited transmissions anymore. He had learned to shut them off. Nevertheless he looked up the aisle, almost positive he would see someone looking back at him. No one was. Everyone was sleeping, talking with their seatmates, or staring out at the gray New England day.
You don't have to live this way if you don't want to.
If only that were true. Nevertheless, he tightened the cap on the bottle and put it on the seat beside him. Twice he picked it up. The first time he put it down. The second time he reached into the bag and unscrewed the cap again, but as he did, the bus pulled into the New Hampshire welcome area just across the state line. Dan filed into the Burger King with the rest of the passengers, pausing only long enough to toss the paper bag into one of the trash containers. Stenciled on the side of the tall green can were the words IF YOU NO LONGER NEED IT, LEAVE IT HERE.
Wouldn't that be nice, Dan thought, hearing the clink as it landed. Oh God, wouldn't that be nice.
Excerpted from DOCTOR SLEEP by Stephen King. Copyright © 2013 by Stephen King. Excerpted with permission by Scribner, Division of Simon & Schuster, Inc.
Popular in the Community