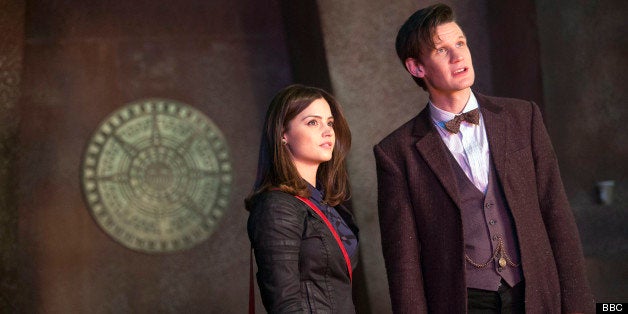 BBC America's "Doctor Who" panel at the Television Critics Association Summer press tour 2013 was yet another bittersweet send-off for Matt Smith with plenty of talk about him saying goodbye to the show and the search to replace him.
"It is going to be emotional," Smith said of giving up his gig as the Doctor. "I've done it for four years, and we shoot 9 to 10 months a year. I think the show has come to sort of a natural tipping point -- we're at the top of a cycle. But it was a hard choice ... It's transformed my career. It is my career, to a certain extent."
"I'm also slightly in denial about the fact that Matt is leaving," said co-star Jenna Coleman, who plays the Doctor's current companion, Clara.
But he can only be mourned for so long -- they still need to find his replacement. On the topic of finding a new Doctor, producer Marcus Wilson said, "The search is ongoing. You just want the best actor possible for the role. You just kind of cast the net wide and hope you find somebody brilliant."
But what if you're uninitiated in the ways of the great Doctor? Can you still watch and enjoy this big milestone 50th anniversary special, which airs on Sat., Nov. 23? "When we conceived the 50th, we wanted to make it a jumping off point for new fans," Wilson noted. "Anybody can jump on and understand the meaning of what was going on. It's a show about hope, about adventure, about excitement. It's very accessible. It's heroic ... You'll have a great time watching it."
The 50th anniversary special of "Doctor Who" airs Sat., Nov. 23 on BBC America.
PHOTO GALLERY
"Doctor Who" Season 7
Calling all HuffPost superfans!
Sign up for membership to become a founding member and help shape HuffPost's next chapter