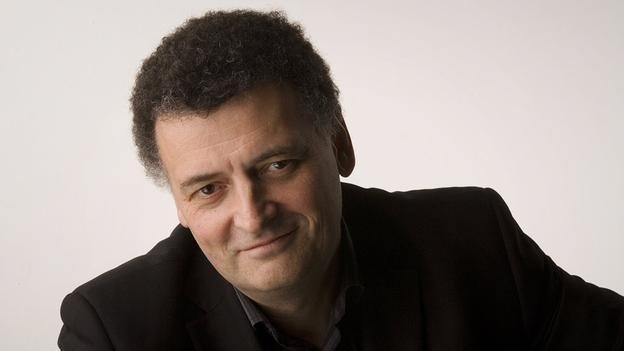 At the first official "Doctor Who" Convention of the new era in late March in Wales, stars and creators, including showrunner Steven Moffat and executive producer Caroline Skinner, gathered to give Whovians updates on all things TARDIS.
Teasing the upcoming Season 7 Moffat told reporters: "There'll be utter heartbreaking tragedy to knock about, silly fun ... But if you're laughing one minute, expect to be crying in five minutes."
But Moffat generally adhered to his spoiler-averse reputation and stuck to his maxim of, "If you want to know what happens in 'Doctor Who,' watch it!" However, both he and Skinner were more forthcoming in panel sessions where they and more members of the "Doctor Who" cast and crew took questions from attendees.
And, in a masterstroke that underlined the value they place on the knowledgeable and engaging Whovians, the pair even presented the world premiere of the Season 7 teaser trailer during a panel session when many reporters were sequestered away in another room.
What did Moffat have to say about new spin-off shows? Is there any chance of a "Sherlock" and "Doctor Who" crossover? What big-name U.S. star would the casting director really like to head to "Who"? And just what does Moffat make of "Community"s "Doctor Who" spoof, "Inspector Spacetime?" Find out below!
First, here's what HuffPost TV was able to get straight from The Moff's mouth:
Does the popularity of "Doctor Who" in the U.S. where, over the last couple of years, it's been building this incredible momentum, affect your choices about where to go in terms of storylines and casting?
Steven Moffat: Not at all. Not one bit. I think Americans in particular would feel patronized by me speaking down [to them]. I would be appalled if the makers of, I don't know, "The West Wing" or "Breaking Bad" decided to put in a British character to appeal to me. I think the American fans of the show want it to be what it is. And anyway, I wouldn't even know how to appeal to a British audience, I just make it appeal to me. So that's we do: We make it to appeal to us. If you'd seen us just watching that [Season 7] trailer you'd know how much it does appeal to us! [Laughs.] Oh god, we do love our show!
Do you have plans for any more spin-off shows?
[Laughs.] What, to occupy our many spare hours? Currently no, though I'm not against any. Spin-off shows happen because you think, "That would be such a good idea." But personally, I'm relatively busy.
Not even K-9?
[Laughs.] Look at this face.
So that's a "yes" then?
[Laughs.] You'll get nothing from me!
In a Sat., March 24 afternoon panel session at the "Doctor Who" Convention, Skinner and Moffat revealed that the old days of wobbly sets and amateurish special effects really are long gone, and that Season 7 will be much more cinematic than ever before. Shooting with state of the art equipment -- including the same cameras used for the "Bond" films -- director Julian Simpson ("The Rebel Flesh") described working on the well-resourced series as "making a mini-movie each week."
Simpson added "We're all influenced by movies and big American shows, the Joss Whedon stuff, and action movies."
However, Moffat ruled out extending future episodes to feature-length, saying that the current 45-minute running time is perfect for such a fast-paced show.
There was a real frisson of excitement in the auditorium when Skinner announced that Amy and Rory's exit will not only feature Matt Smith's favorite baddies, the Weeping Angels, but it will also be shot in New York City. Moffat, who has written the script, wouldn't give much away, of course, but he did say that he was originally going in a different direction, and that the Angels only became part of the equation "quite late in the day."
Moffat countered criticism that perhaps his two current shows -- "Doctor Who" and "Sherlock" -- might a bit too confusing for viewers. "The audience is incredibly smart," he said. "I thought we were worried about dumbing down on television."
So, is there any chance of a "Doctor Who"/"Sherlock" crossover? In a word, no. "It's a lovely idea," said Moffat, "[But] they'd just punch each other! ... 'Sherlock''s world wouldn't work if 'Doctor Who' was real."
Instead, how about a crossover with "Inspector Spacetime," the "Doctor Who" parody so beloved by Abed on NBC's "Community?" Moffat joked, "I'm not going to have those Americans taking the rip out of our show!" (But what a fantastic idea for 2012 Comic-Con, perhaps?)
One fan who'd traveled from the U.S. to attend the convention asked the creators how they think "Doctor Who" translates to the American audience. Moffat said that for him, it's "not a huge cultural problem," while casting director Andy Pryor echoed Moffat's previous sentiments, saying he'd never hire someone purely because he or she was American.
Check out HuffPost TV's full coverage of the "Doctor Who" Convention including:
"Doctor Who" Season 7 premieres in fall 2012 on BBC America.
Calling all HuffPost superfans!
Sign up for membership to become a founding member and help shape HuffPost's next chapter
BEFORE YOU GO